The latest update to Cookie Run Kingdom sees dragons riding into battle, including the new Epic Tier Royal Margarine Cookie, a handsome dragon tamer alongside his faithful steed Buttercream.
How does this dynamic duo do in the field of battle? Let's take a look at how they play and what their best toppings would be.
If you're interested in Cookie Run Kingdom, check out our previous 'Should You Use' Cooke Run Kingdom character guides:
The Skills of Royal Margarine Cookie
Royal Margarine Cookie is an ambush cookie, meaning his focus is on getting behind enemies' lines and attacking the weaker offense-oriented cookies in the middle and back rows. His skill is called Buttercream Blast and as you can imagine it involves the aforementioned dragon:
Royal Margarine Cookie soars on Buttercream's back and fires Buttercream Blasts at the 3 enemies with the highest ATK thrice. Buttercream Blasts deal damage, Poison the targets, reduce their ATK and DEF, and amplify the debuffs they gain. Next, Buttercream swoops down toward the enemies, dealing damage and additional damage in proportion to the number of periodic damage effects the targets' have applied. Buttercream Blasts target boss monsters first. While Royal Margarine Cookie is using his skill, he will briefly become resistant to interrupting effects
Buttercream Blast DMG: 29.7% per hit
Buttercream Blast Poison DMG: 12.2% (Cookies), 21.4% (Others) every 10 sec for 1 sec
Targets' ATK: -5.0% (Cookies), -15.0% (Others) for 10 sec; stacks up to x3
Targets' DEF: -7.0% (Cookies), -13.5% (Others) for 10 sec; stacks up to x3
Amplified Debuffs: +25.0% for 10 sec; stacks up to x1
Wyvern Swoop DMG: 142.8% + 70.0% per each periodic damage effect on target; stacks up to x5
The Best Use of Royal Margarine Cookie
Please note, that as with every new Cookie added to Cookie Run Kingdom, new strategies and uses are still being formed by the player base but this is what we found based on first impressions:
Like a lot of recent cookies, Royal Margarine Cookie strategy involves a number of smaller, weaker attacks that build up to a larger and more powerful blast in the form of the swoop.
Initially, Buttercream shoots three blasts at the enemy with the highest attack power. This move honestly doesn't do a lot of damage however the purpose is more to inflict stat debuffs, lowering opponents' attack and defense, as well as poisoning the targets. The swoop is a pretty strong move but can do even more damage based on how many periodic damage effects (damage that is gradually inflicted over time, like poison) the enemy has.
With this in mind, Royal Margarine seems almost like a utility cookie that benefits from having other utility cookies on the team so they can strike the enemy with slow damaging moves, and he can finish them off with the swoop. Considering the dragon also inflicts poison, the recently released Prune Juice Cookie might make for a good teammate as he also inflicts poison and debuffs foes.
Best Toppings
There are two builds we'd recommend for Royal Margarine, the first is a full Searing Raspberries set to maximize his damage output or a full Solid Almonds set to give him some extra health.
Either is viable but I prefer higher damage so I went for the Searing Raspberries, which can help boost the attack power of those initial Buttercream blasts.
Who is Royal Margarine Cookie
Royal Margarine Cookie arrives at Cookie Run Kingdom alongside another dragon-themed character, the legendary Pitaya Dragon Cookie. According to lore, Royal Margarine is the last descendant of the Dragon Clan, here's his bio for more information:
When the shadow of the golden dragon glides over Dragon City, it is not fear and dread that fills the old alleyways, but rather excitement and anticipation. The famous Royal Margarine Cookie has arrived! Look at those sleek locks, jaunty attire, and the shiny butter knife tucked under his belt— there is no doubt that this Cookie is the last descendant of the legendary Dragon Rider Clan. Indeed, any seasoned dragon hunter will immediately know that his companion Buttercream is no dragon but a wyvern. But as long as Royal Margarine Cookie is using his dazzling smile as a distraction, such details are no longer of importance. Be careful, however: just one look at that smile is enough to make anyone fall for this handsome Dragon Rider!
Cookie Run Kingdom is available for iOS and Android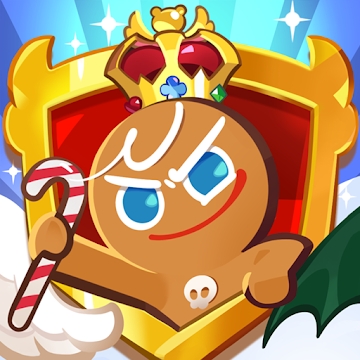 Cookie Run: Kingdom
Android, iOS
Build your dream Cookie Kingdom and reclaim the land lost against the evil that lingers in the shadows. Fresh out of the oven and from the Cookie Run: OvenBreak creators comes Cookie Run: Kingdom! Build a delectable Kingdom while battling against evil dessert monsters! Team up with friends in Guild Battles! Fight alongside other Guild Members and defeat new rivals. Battle against powerful enemies to level up together. Earn soul stones, guild level-up items, guild treasures, and more!
---
Check This Out Next
---