Blueberry Pie Cookie has boarded the train towards the Cookie Run Kingdom bringing powerful tomes of magic to lay waste upon her enemies.
How does his humble archivist play, and what toppings are best for her? Let's access some forbidden knowledge of our own and find out.
If you're interested in Cookie Run Kingdom, check out our previous 'Should You Use' Cooke Run Kingdom character guides:
The Skills of Blueberry Pie Cookie
Blueberry is a magic cookie that stands in the middle row in battle. Her skill is the 'Cursed Tome' which involves her summoning a big blue dragon spirit among other things.
An evil spirit appears from the Tome, dealing damage to the enemies and inflicting them with the Greed of the Tome debuff. It will also heal Blueberry Pie Cookie's HP and increase her DMG Resist. The Tome will gain a stack of Greed whenever the spirit deals damage to Cookies, or the target inflicted with the Greed of the Tome debuff becomes incapacitated. Once the Tome has enough stacks of Greed, it will unleash its Sealed Power, increasing Blueberry Pie Cookie's ATK and dealing DMG to the enemies. While Blueberry Pie Cookie is using her skill, she will briefly become resistant to interrupting effects. (DMG relative to Max HP is capped at 300,000)
Magic Tome DMG: 134.6 of ATK
Healing: 115.0% of ATK
DMG Resist: +25.0% for 12 sec
Greed of the Tome: whenever the target becomes incapacitated, it receives a stack of Greed, gaining Debuffs Amplified by 10.0% for 15 sec; stacks up to x1 and can't be dispelled
Greed: Sealed Power triggers upon x7 stacks
Sealed Power:
Periodic Area DMG: up to x6 ticks for 1.5 sec
Single hit DMG (Cookies): 87.3% + 0.95% True DMG relative to Max HP
Single hit DMG (Others): 17.7%
ATK Up: +25.0% for 3 sec
The Best Use of Blueberry Pie Cookie?
Please note, that as with every new Cookie added to Cookie Run Kingdom new strategies and uses are still being formed by the player base but this is what we found based on first impressions:
Blueberry Pie is a pretty difficult Cookie to talk about. Her initial attack with the dragon spirit isn't bad but it doesn't dish out as much direct damage as other magic cookies. The healing and damage resistance are likewise nice but nothing really stands out.
What makes Blueberry interesting is the stack of greed debuffs. Getting enough stacks of greed will cause Blueberry to start shooting lasers out at enemies along with getting an attack increase and immunity to interruptions. The laser is pretty devastating and will be what you mainly want to focus on setting up when using this cookie.

We should note that you can get stacks of greed not only by using Blueberry's dragon spirit but by hitting the enemies cursed with the spirit with any stun effect. This includes Frost Queen Cookie's freezing, or Moonlight Cookie's sleep effect, making these types of cookies almost essential for running Blueberry Pie Cookie.
Finally, she works a lot better in the PvP arena than in the PvE story mode. She won't be able to hit as many enemies due to them being more spread out and they'll likely be killed by her teammates before she can get the right amount of stacks. Once again if she gets those stacks, she can be very powerful.
Ultimately, it's a little hard for me to recommend Blueberry Pie Cookie currently when she's so reliant on setup to make her attack worth using. Her laser is good but if you've been playing a while, you'll likely have magic cookies that can do similar amounts of damage with more straightforward requirements. She isn't bad, and if you're running a team with cookies that have stun effects she could be a great addition but otherwise, she's a little too situational currently.
Best Toppings
Blueberry Pie Cookie follows along with most magic cookies in having Searing Raspberries and Swift Chocolate being their best toppings. The raspberries allow for higher damage, while the chocolates allow for lower cooldown so her skill can be used more often.
Considering you'll need to access her skill a lot to get the stacks of greed set up, I'd say the Switch Chocolates are the better of the two but I don't think you can really go wrong either way.
Who Is Blueberry Pie Cookie
Like many Cookies from across the franchise, Blueberry Pie was first introduced in Cookie Run Ovenbreak and is now coming to Cookie Run Kingdom. Here is her bio as presented in the game:
Somewhere within the abandoned and silent City of Wizards, a lone Cookie remains in the towering Archives. Blueberry Pie Cookie has kept watch over the Wizard Archives' dangerous tomes for countless years. Following her destiny, she continues to organize the endless shelves day by day. On a dark moonless night, when an oath to the Wizards had faded away with the light, Blueberry Pie Cookie's curiosity got the better of her: she opened and read one of the forbidden tomes… As days and nights of caretaking the Archives pass, she takes solace in a slender beam of moonlight that creeps in through a small window. Was forsaking an oath too much for a Cookie to handle?
Cookie Run Kingdom is available for iOS and Android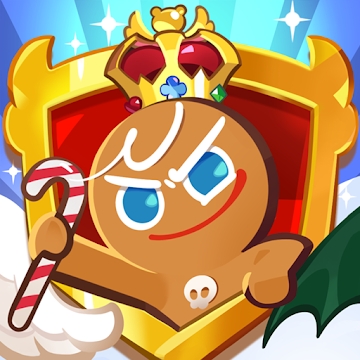 Cookie Run: Kingdom
Android, iOS
Build your dream Cookie Kingdom and reclaim the land lost against the evil that lingers in the shadows. Fresh out of the oven and from the Cookie Run: OvenBreak creators comes Cookie Run: Kingdom! Build a delectable Kingdom while battling against evil dessert monsters! Team up with friends in Guild Battles! Fight alongside other Guild Members and defeat new rivals. Battle against powerful enemies to level up together. Earn soul stones, guild level-up items, guild treasures, and more!
---
Check This Out Next
---