Cookie Run: Kingdom got a new update this November, which included two new cookies, one of whom is Cotton Cookie, a cute, fluffy gingerbread person who guides her way through the deep snow with the warmth of her lamp and the company of her sheep.
But is she a good unit to use in the game? Will this new Cookie make a good member of your team? Here are some ideas we recommend.
If you're interested in Cookie Run Kingdom, check out our other Cooke Run Kingdom character guides:
How Good is Cotton Cookie
Cotton Cookie is a support-type cookie that primarily stands on the back row, furthest away from the action. Being a support Cookie means she primarily is meant to buff the stats of DPS cookies so that they can defeat enemies. Cotton Cookie is pretty unique however in that her skill also has offensive capabilities.
Her move is called 'A Warm Light'. It involves Cotton using her lamp's warmth to heal her allies and raise their attack prowess, kind of like Pomegranate Cookie. Additionally, however, she also sends a herd of sheep charging forward to attack enemies. These sheep can briefly stun and push enemies back.
The skills stats are:
Healing: 15.1% every 1.0 sec for 9.0 sec
Attack Increase: 75.0% while the lantern is lit
Sheep Herd: 124.5% of the Cookie's attack, 157.8% of defense, 111.4% of HP
Sheep Stampede: stun for 1.0 sec
This makes her the fourth summoner in the game after Licorice, Snow Sugar, and Pumpkin Pie. This combo of both healing and summoning does make her extremely versatile. She has strong healing abilities and her sheep pack a real punch.
Admittedly, I found her healing wasn't quite as good as Parfait and her sheep aren't as durable as Pumpkin Pie's or Licorice's minions but she's so good at both that it probably won't matter much. I guess you could say Cotton is a jack of all trades. She's good at handling both healing and attacking but she isn't quite as specialized as some other cookies.
As a support cookie, she primarily works well with offensive units in the front row. The sheep's ability to briefly push back stunned enemies can help your front-liners to regain cooldown without being hit. Combined with her attack buff and healing means Cotton's allies are more prepared to face foes head-on.
Her usage will likely depend on what kind of team you want. Do you need units that are more specialized or one that's a strong all-rounder? If it's the latter, Cotten may be right for you.
PvE or PvP
Cotton Cookie is a solid unit for both PvE and PvP. She does a decent job keeping enemies at bay with her sheep so that charge and tanks Cookies can do their job.
Her actual offense and defense aren't that good, however, she is likely to be in the backrow, away from the action so that shouldn't be too much of a problem. This may however be more trouble in PvP where you are more likely to face Cookies that can attack behind enemy lines like Squid Ink Cookie or Twizzly Gummy Cookie.
Best Toppings
Like with most support cookies, you primarily want to give her is Swift Chocolate to reduce her cool-down time. With her being back row and having a little attack and defensive prowess, it's most important to keep her spamming her skills as often as needed.
The fact that she has offensive capabilities however means that it would also be worth adding one or two Spicy Raspberries just prop up her stampeding sheep and strengthen her healing abilities. With her low defense, bringing in some Solid Almonds could also be good to give her a little more bulk.
Team Composition
As I previously mentioned, Cotton seems to be specialized to support a strong front row, primarily with charge-type Cookies. Her skills allow her to boost their offense and give them some extra health. The sheep's ability to stun and fight also creates room for the front row to cool down briefly. Charge Cookies like Raspberry Cookie, Dark Choco Cookie, and Red Velvet Cookie could all benefit from this kind of support.
Cotten also works well with other support/healers like Parfait or Herb that can make up for her limits. Parfait in particular may be a good fit since she buffs defense, while Cotton buffs attack.
Similarly, she works very well with the other two summoners, Licorice and Pumpkin Pie with the three of them basically making a tiny army of minions. Cotton's buffs also raise the other minion's stats which makes the trio even more effective.
Who is Cotton Cookie
Cotton Cookie looks to be making an appearance in The Frost Queen Cookie's Story.
Here's what her bio says about her:
"The soft and warm cotton fluff in Cotton Cookie's dough granted her a heart so warm not even a raging blizzard could scare her off. The way she handles her flock of cute wooly sheep ever so gently with her tiny lantern in hand can make anyone feel at peace! Having a lantern in Cotton Cookie's land of constant snowfall is very important: not only stray sheep but also Cookies lost among the dreary white hills depend on it. Cotton Cookie can often be seen restlessly looking at the sky on snowy days—as though expecting to find something amidst the drifting snowflakes. Sometimes, she mentions a Cookie dear to her: her serene, calm face lightens up, making the listener wonder… what happened? Will we ever learn that someone out there is keeping a piece of these snowy plains in their heart? And that warm yellow light of the tiny lantern will always shine for that special someone. Always."
Cotton Cookie looks to be a warm-hearted addition to the Cookie Run Kingdom for this cold winter season. Will she warm Frost Queen Cookie's heart? We'll have to play and see.
Cookie Run: Kingdom and Cotton Cookie are available for mobile devices.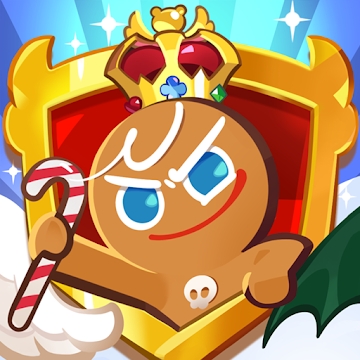 Cookie Run: Kingdom
Android, iOS
Build your dream Cookie Kingdom and reclaim the land lost against the evil that lingers in the shadows. Fresh out of the oven and from the Cookie Run: OvenBreak creators comes Cookie Run: Kingdom! Build a delectable Kingdom while battling against evil dessert monsters! Team up with friends in Guild Battles! Fight alongside other Guild Members and defeat new rivals. Battle against powerful enemies to level up together. Earn soul stones, guild level-up items, guild treasures, and more!
---
Check This Out Next
---