Cookie Run's latest character is the illusive Affogato Cookie, a new epic cookie launching alongside the ancient Dark Cacao Cookie.
What can this cold, coffee-flavored cookie do? What toppings are best for him (yes, he's a him). Find out below. 
If you're interested in Cookie Run Kingdom, check out our previous Cooke Run Kingdom character guides:
The Skills of Affogato Cookie
Affogato is a bomber-type cookie that fights in the middle row, meaning that he is meant to cause a large amount of damage to a wide area of enemies from the safety of the middle row.
His skill is called 'sweet scheme'. Affogato curses the enemy with the highest attack (and will prioritize cookies). The curse will inflict the target with a severe poison that causes damage over time and amplify debuffs. The poison will also spread to nearby enemies and cause them damage as well. During this time, the primary target will also not be able to receive any stat buffs
Here are the stat details of the skill:
Curse: Target can't receive buffs for 10.0 sec
Amplified Debuffs: 30.0% for 10.0 sec
Poison: DMG every 0.6 sec for 10.0 sec, a total of 500.4% DMG (+6.81% per level)
Area Poison: DMG every 1.0 sec for 10.0 sec, a total of 150.1% DMG (+2.04% per level)
Poison dispelled: 300.2% DMG (+4.09% per level) to nearby enemies
The Best Use of Affogato Cookie?
Please note, that as with every new Cookie added to Cookie Run Kingdom new strategies and uses are still being formed by the player base but this is what we found based on first impressions:
Affogato cookie can best be described as a dark version of Eclair Cookie and Poison Mushroom Cookie. His skills give him the ability to prevent buffs and he defeats enemies via passive poison damage. This poison also spreads easily making him useful for hitting a number of enemies at once, especially alongside units like Latte Cookie which can bring the enemies closer to each other.
He is particularly useful for boss battles as his poison can cause them a great amount of chip damage for long periods of time while also nullifying any buffs they might receive and spreading to damage any minions they may summon. If you need someone to help beat that Dragon in Guild Battle, Affogato may be the cookie you're looking for.
Speaking of Eclair Cookie, these two fabulous men make a pretty good team with one another. Eclair's debuff skills combined with Affogato's buff nullified and debuff amplifier means that they can slowly eat away at enemies' health during PvE.
The biggest downside of Affogato Cookie is that he's not so good in PvP arena mode as well as against cookie fights in general. Arena mode requires players to hit hard and fast and Affogato's slower passive damage simply takes too long to affect enemies especially when an enemy Pure Vanilla or Cotton could easily restore their allies back to full HP before the poison can rack up enough damage.
Best Toppings
Being a cookie primarily used for dealing damage, Affogato would work best with a tried and true blend of searing raspberry and switch chocolate toppings in order to buff his damage and quicken his cooldown period.
Which would of these you should use more off is up to you depending on what you need him for and your party dynamic.
Who is Affogato Cookie
Affogato Cookie will be appearing in the newly released chapter 13 of the main story mode. He is a seemingly shifty character that appears in the Dark Cacao Kingdom after King Cacao Cookie has disappeared following his fight with Dark Enchantress Cookie at the start of the game. What could he be plotting? You'll have to play and find out.
Here is more about him as seen in his game bio:
"One piping hot cup of dark roasted coffee and a frozen scoop of the sweetest vanilla ice cream! Born of two desserts—so different yet so delicious—Affogato Cookie's flavor is unparalleled! Neither coffee nor ice cream, Affogato Cookie spent restless years without a place to belong until he came up with a simple solution: to create a land of his own once and for all! He appeared out of nowhere on a frigid night in the Dark Cacao Kingdom and has been busy earning the trust and favor of the locals with the help of his strange concoctions and mysterious chants. These are troubling times for the Dark Cacao Kingdom and the throne is empty… What sinister intention is Affogato Cookie hiding behind his snide smile?"
Will you be using this mysterious sinister cookie?
Cookie Run Kingdom is available for mobile devices.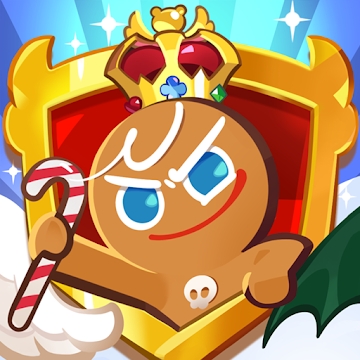 Cookie Run: Kingdom
Android, iOS
Build your dream Cookie Kingdom and reclaim the land lost against the evil that lingers in the shadows. Fresh out of the oven and from the Cookie Run: OvenBreak creators comes Cookie Run: Kingdom! Build a delectable Kingdom while battling against evil dessert monsters! Team up with friends in Guild Battles! Fight alongside other Guild Members and defeat new rivals. Battle against powerful enemies to level up together. Earn soul stones, guild level-up items, guild treasures, and more!
---
Check This Out Next
---