Cookie Run Kingdom has added a playable character who's dropped in from another world: Space Doughnut, the second non-cookie playable unit after Scwarzwalder.
Space Doughnut is certainly cute and squishy but will that translate into a good unit, and what toppings would be next for this alien jelly doughnut? Let's take a look.
If you're interested in Cookie Run Kingdom, check out our previous 'Should You Use' Cooke Run Kingdom character guides:
The Skills of Space Doughnut
Space Doughnut Cookie is a front-row charge cookie meaning they are designed to hit opponents as hard as possible. Their skill is called the great 'Doughnut Beam' which can give opponents the existential crisis of turning into a doughnut. Here's the game's description of that move in more detail:
Fires the Doughnut Beam, dealing damage, reducing the targets' DEF, and amplifying debuffs they receive. Hit targets will turn into donuts (excluding bosses and Cookies). The target will receive extra damage if they are already afflicted with a DEF-reducing debuff. When the targets turned to donuts reach a certain number, Space Doughnut will use Super Doughnut Blast, rolling over the enemies, dealing damage, and Stunning them. Space Doughnut does not take damage while using their skill.
Doughnut Beam DMG:
Cookies: up to 6 hits over 1.3 sec; 47.9% of Single hit DMG + 47.4% of extra DMG to targets under DEF-reducing debuffs
Others: up to 6 hits over 1.3 sec; 41.0% of Single hit DMG + 94.8% of extra DMG to targets under DEF-reducing debuffs
DEF Reduction: -40.0% for 10.0 sec; stacks up to x1
Debuff Amplification: 20.0% for 10.0 sec; stacks up to x1
Donut Transformation: 2.0 sec
Super Doughnut Blast: triggers at x10 Donut Transformations
Super Doughnut Blast DMG:
Cookies: 183.7% of ATK
Others: 229.6% of ATK
Stun: 1.5 sec
The Best Use of Space Doughnut?
Please note, that as with every new Cookie added to Cookie Run Kingdom new strategies and uses are still being formed by the player base but this is what we found based on first impressions:
Space Doughnut turns cookies into doughnuts and that is just funny to watch. Their main attack is their 'Doughnut Beam' with sends a classic alien death ray at enemies, taking off a good chunk of damage and debuffing their stats. If the beam comes in contact with an enemy, it'll also turn into a doughnut for a couple of seconds, stunning them and letting your team get in some free hits. The Beam also further amplifies any debuffs they have.
With more doughnuts on the screen will also stack a doughnut counter on space Doughnut and bringing that up to a certain number will also them to perform their "Supern Doughnut Blast" where they roll over certain enemies. It's another powerful blow that has a good chance of quickly getting rid of foes. This all adds up to a strong unit that can really sweep enemies off the screen.
One thing I've noticed about the doughnut transformation however is that if enemies get too close and start attacking, the Beam will often go over them so they won't transform. This is one unit where it may be better not to leave the game on auto and instead manually time when to activate the skill to ensure max doughnutization. That being said, Space Doughnut's attack damage is high that they can still hold their own against most foes.
The only issue real issue with Space Doughnut is that they can't turn bosses or other cookies into doughnuts. While the Beam's damages and debuffs still work, this means the brief stun, increased damage from previous debuffs, and rolling finisher can't be used on opponents in Arena Battles. As such Space Donut seems to be made more for sweeping through PoE as opposed to PvP.
Best Toppings
Almost all charge cookies benefit from Solid Almond toppings since they allow the Cookie to take more hits thanks to the damage reduction. It's important that a front-line cookie without the defense of a tank-type cookie be able to resist hits as much as possible.
Searing Raspberries can also make a decent alternative, allowing these hard-hitting cookies to hit even harder. If you're looking to make Space Doughnut a strong sweeper, throwing a couple of these on them could be a good strategy.
Who Is Space Doughnut
Space Doughnut was introduced to Cookie Run Kingdom in the Across the Galaxy of Dreams update Version 4.2. Living up to their name, they're a visitor from another planet who speaks in their own Space Doughnut language. They appear in the story events of the Explore The Universe event as a passenger of the Galaxy Express much to the chagrin of Stardust Cookie who is forced to share a seat with them. Here's their bio in the game:
Communication with this mysterious creature has proven to be a rather daunting task. We have yet to determine where they came from, where they are going, or even what they taste like… Does Space Doughnut know? Another mystery! However, nothing stops us from befriending this adorable being even though we don't share the same language. And it seems like the Space Doughnut has already made a bunch of flat friends on their way here!
Cookie Run Kingdom is available for iOS and Android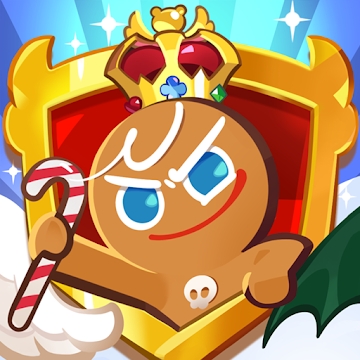 Cookie Run: Kingdom
Android, iOS
Build your dream Cookie Kingdom and reclaim the land lost against the evil that lingers in the shadows. Fresh out of the oven and from the Cookie Run: OvenBreak creators comes Cookie Run: Kingdom! Build a delectable Kingdom while battling against evil dessert monsters! Team up with friends in Guild Battles! Fight alongside other Guild Members and defeat new rivals. Battle against powerful enemies to level up together. Earn soul stones, guild level-up items, guild treasures, and more!
---
Check This Out Next
---