After his sad parting following the events of last Christmas, Sherbet Cookie is back, returning alongside the snow of the winter season.
So, how does this Jack Frost Cookie fair in a fight? Here we'll go over his skills, best toppings, and what he can do on your team.
If you're interested in Cookie Run Kingdom, check out our previous 'Should You Use' Cooke Run Kingdom character guides:
The Skills of Sherbet Cookie
Sherbet Cookie is a ranged cookie (the first male ranged cookie in the game) with a skill called 'Frost Shards'.
Summons 15 frost shards, divides them based on the number of targets and attacks the enemies, cycling between them in the order of the highest ATK. Frost shards deal additional damage depending on the number of Frost stacks. Targets with frost shards are inflicted with Frost and Nullify Debuff Resist debuffs. There is a chance of hit targets becoming Frozen as well. Frozen targets receive additional damage when thawed. The amount of this additional damage and the chance of becoming Frozen increases depending on the number of Frost stacks. Sherbet Cookie is partially immune to Freezing and, thanks to the Warm Light of Life effect, will convert healing that exceeds his Max HP to an HP Shield. While Sherbet Cookie is using his skill, he will briefly become resistant to interrupting effects
Frost Shards DMG: 39.3% per Shard (+0.53% per level)
Frost: ATK SPD -5.0%, Freezing DMG +50.0% (capped at 350%) for 16 sec
Additional DMG From Frost: 49.2% (Cookies), 15.0% (Others) per Shard
Nullify Debuff Resist: nullifies 30.0% of Debuff Resist for 16 sec; stacks up to x1
Freezing: freezes the target for 1 sec with an 8.0% chance; the chance is increased by 2.0% per stack of Frost
Freezing DMG: 42.2% of ATK
Frost Resistance: Sherbet Cookie gets -50.0% to Freezing DMG and duration
Warm Light of Life: 55.0% of Healing exceeding Max HP is converted to HP Shield (capacity is capped at 30.0% of Max HP)
The Best Use of Sherbet Cookie?
Please note, that as with every new Cookie added to Cookie Run Kingdom new strategies and uses are still being formed by the player base but this is what we found based on first impressions:
After what happened last Christmas, this guy certainly came back strong. His 15 frost shards hit really hard, especially if you're able to freeze any enemies which can net you a large chunk of bonus damage.
In terms of team dynamic, matching him up with Frost Queen Cookie has the potential to be downright broken. Since Sherbet's damage output increases with more frost stacks, having a cookie that instantly freezes the vast majority of enemies working with him can be pretty busted. This works particularly well for PvP since Sherbet deals extra damage to other cookies.
The only potential downside of Sherbet is that like a lot of middle and backrow cookies, he's a little low on damage resistance. The key solution here though is just to have a good tank up front like Financier Cookie or Wildberry Cookie.
Best Toppings
The best toppings for Sherbet Cookie are Swift Chocolate or Searing Raspberry. This is similar to other offense-based cookies, being able to activate Sherbet's incredibly powerful skill and making said skill stronger are important in making him more effective. I know I just said he has lower damage resistance but that just comes with the territory of being an offense-based unit. It's better they focus on knocking out opponents rather than keeping themselves alive.
Between the two I preferred having more swift chocolates so that I could freeze enemies more often but I don't think you can go wrong either way.
Who Is Sherbet Cookie
Sherbet Cookie was actually introduced as an NPC last year as part of the Frost Crystals Story Event when Cotton Cookie and Frost Queen Cookie were introduced. He appears as Cotton Cookies' sickly best friend who is abducted by Frost Queen (or so it seems, at least). He's now returned healthier and stronger. Here is full his description of Sherbet Cookie as a playable character:
Here comes winter, where all life falls asleep under the soft blanket of snow. If you suddenly feel a gust of warm breeze on a chilly day, the frost spirit might have passed you by! Sherbet Cookie is always where the glistening first snow is falling gently on your windowsill. He takes the coldest and harshest winds with him, leaving you with the gift of cozy winter. No wonder everyone is waiting for this bright and friendly spirit's arrival! Sherbet Cookie always dreamt of traveling the world, yet he was destined to become one with ice crystals.
A single drop of warmness helped him turn into the freedom-loving sherbet snow spirit. Now, Sherbet Cookie never stays long in one place, traveling across the lands wherever the wind takes him. Still, there always will be a special memory that fills his heart with hope and warmth-a stubborn lantern light that will never stop waiting for his return!
Cookie Run Kingdom is available for iOS and Android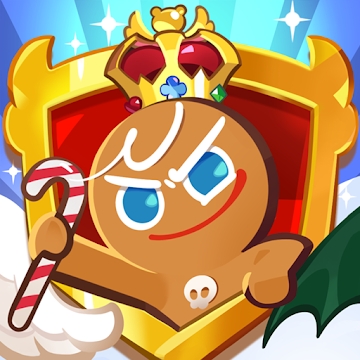 Cookie Run: Kingdom
Android, iOS
Build your dream Cookie Kingdom and reclaim the land lost against the evil that lingers in the shadows. Fresh out of the oven and from the Cookie Run: OvenBreak creators comes Cookie Run: Kingdom! Build a delectable Kingdom while battling against evil dessert monsters! Team up with friends in Guild Battles! Fight alongside other Guild Members and defeat new rivals. Battle against powerful enemies to level up together. Earn soul stones, guild level-up items, guild treasures, and more!
---
Check This Out Next
---