Milky Way Cookie is the latest unit to come to cookie run kingdom, a sweet little conductor riding through the cosmos just in time to celebrate the Lunar New Year.
But does being a good conductor translate to being a good combatant? Let's take a look at her skills, best toppings, and how she fairs in a fight.
If you're interested in Cookie Run Kingdom, check out our previous 'Should You Use' Cooke Run Kingdom character guides:
The Skills of Milky Way Cookie
Milky Way Cookie is a charge cookie that stands in the front row of your party. Her skill is called Sugarcloud Express, here's the description presented in-game:
Milky Way Cookie jumps onto her dream train, gaining a DMG Reduction buff and providing a Stun Resistance buff for the entire team. Then she will push back the enemies several times, applying a DEF Reduction debuff and dealing damage. Once she's done with her shift, Milky Way Cookie will cast a Shield onto herself and the rest of the team. While Milky Way Cookie is using her skill, she will briefly become resistant to interrupting effects. Being a dweller of the World of Dreams, Milky Way Cookie is not susceptible to the Beckoning Dreams effect.
Here are the stats of the skill:
Regular Self-healing: 57.7% of ATK
Locomotive Charge Periodic DMG: x12 ticks for 2.0 sec; 62.1% per tick
Locomotive Charge Extra DMG when the target has a Shield:
Single Hit DMG (Cookies): 114.1%
Single Hit DMG (Others): 38.0%
Locomotive Charge Single Hit DEF Reduction: -3.5% for 7.0 sec; bosses gain x3 hits stacking up to x25
DMG Resist: +40.0% for 10.0 sec
Stun Resistance: Stun duration -50.0% for 10.0 sec
HP Shield (Self): blocks 20.0% of Max HP for 3.0 sec
HP Shield (Allies): blocks 15.5% of Max HP for 3.0 sec
Passive: Healing received +15.0%
The Best Use of Milky Way Cookie?
Please note, that as with every new Cookie added to Cookie Run Kingdom new strategies and uses are still being formed by the player base but this is what we found based on first impressions:
Let me just start by saying, Milky Way's power is to literally summon a train to run over enemies. Just look at all those damage counters in the picture above, using her is satisfying as hell.
She's a great all-around charge Cookie with both solid offense and defense. The train being able to push enemies back is incredibly helpful. It hits for large AoE damage including enemies hidden away in the back row and creates a decent keep-away game that stops your team from getting hit more including stun resistance. Combine that with her damage-resist buffs and you have a cookie that's almost a hybrid between a tank and a charge, it's great.
Best Toppings
Milky Way Cookie is a charge cookie and if you want a charge cookie to charge effectively it's almost always best to give them some Solid Almond toppings. Since she primarily stands in the front row, she'll be taking the brunt of enemy attacks. With that in mind, you want to raise her defenses to keep her alive as long as possible.
For alternate toppings, Swift Chocolates and Searing Raspberries can be good for buffing her cooldown speed or damage output, both of which would be good considering how powerful her skill is but I would still mix these in with some Almonds just to give that extra defense.
Who Is Milky Way Cookie
Milky Way Cookie is a new character introduced to the Cookie Run franchise and was added to the game as part of the 2nd Anniversary celebrations and the first part of the Invitation from the Slumbering Moon update. Here is her bio:
Take a handful of star powder gathered from all over the Milky Way Galaxy, illuminate it with delicate moonlight—and voila! Meet Milky Way Cookie, the Slumbering Moon's faithful servant and the conductor of the Sugarcloud Express that will take you to your sweetest dreams and back. Don't be afraid and hop on: one sprinkle of Milky Way Cookie's star powder is enough for a colorful, vibrant dream-just like reality but better! Everything is possible in the World of Dreams, and accidents happen, too: every now and then, the train's floor disappears, and cars reshuffle randomly, leaving crowds of passengers in utter confusion. And right in the middle of the conductor's scheduled nap time! But professionalism never betrays, and there is no problem Milky Way Cookie can't sort out. Colorful hair neatly tied with a Star Jelly, conductor's hat on, and choo choo! The Sugarcloud Express will deliver you to your dreamy destination according to the schedule. Just make a wish upon a twinkling star…!
Cookie Run Kingdom is available for iOS and Android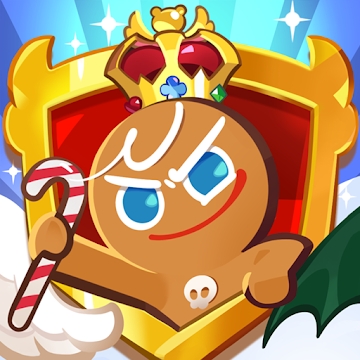 Cookie Run: Kingdom
Android, iOS
Build your dream Cookie Kingdom and reclaim the land lost against the evil that lingers in the shadows. Fresh out of the oven and from the Cookie Run: OvenBreak creators comes Cookie Run: Kingdom! Build a delectable Kingdom while battling against evil dessert monsters! Team up with friends in Guild Battles! Fight alongside other Guild Members and defeat new rivals. Battle against powerful enemies to level up together. Earn soul stones, guild level-up items, guild treasures, and more!
---
Check This Out Next
---