Emerging from the great wilderness, Pinecone Cookie drops into Cookie Run Kingdom just in time for the holidays.
How does this festive cookie fair as a playable unit, that's what we're here to look at alongside their skill, and what would be the best toppings for them?
If you're interested in Cookie Run Kingdom, check out our previous 'Should You Use' Cooke Run Kingdom character guides:
The Skills of Pinecone Cookie
Pinecone Cookie is a bomber cookie who, unlike most bomber cookies, stands in the front row. Their skill is called Pinecone Bomb. Here's how it's described in the game:
Pinecone Cookie gets up on the tree golem and simultaneously heals themselves and the two allies with the highest ATK. While Pinecone Cookie is riding the tree golem, their Max HP is increased. Pinecone Cookie then throws Pinecone bombs at the enemy Cookie with the highest ATK, Stunning them. The Pinecone Bombs deal area damage to nearby enemies. If there are targets suffering from Frost within the area damage range, they will also become Stunned. If a target is immune to Stun, it will receive additional DMG.
Here are the stats for the move:
Bomb Explosion DMG: 73.5% (+1.00% per level) + Stun 1.5 sec
Bomb Area DMG: 122.5% (+1.67% per level)
Area DMG ignoring DMG Resist: 25.0%
Bomb Explosion Stun for targets with Frost: 0.3 sec
Additional DMG to targets immune to Stun: 225.0%
Tree Golem: heals self for 50.0% of ATK once, increases Max HP by 200.0% during the ride
The Best Use of Pinecone Cookie?
Please note, that as with every new Cookie added to Cookie Run Kingdom new strategies and uses are still being formed by the player base but this is what we found based on first impressions:
When first looking at Pinecone, the obvious comparison to make is with Pumpkin Pie Cookie with both of them summoning a larger unit to fight for them in battle. From what I've played though, Pinecone does have some advantages over Pumpkin Pie. Summoning the Pine Golem raises their HP, and heals two allies bringing a good amount of support. I also like that the Golem especially attacks the enemy with the highest attack which can help bring down the biggest threat to your party.
The big downside of Pinecone however is that they stand in the front row. This leaves them incredibly exposed to an enemy attack when the golem isn't in action. They aren't the most sturdy of cookies so they'll lose HP quickly if you're not careful. I'd highly recommend a strong healer and tank to work alongside Pinecone or there's a good chance they're just going to drop.
Best Toppings
The best toppings for Pinecone Cookie would either be switch chocolates or solid almonds. Most bomber cookies tend to better with Switch chocolates to activate their devastatingly powerful skills and the same applies to Pinecone Cookie, you want to activate their skill as often as you can.
Where Pinecone differs from most other bombers however it standing in the front row. As previously stated, this makes them far more exposed to oncoming attacks, in which case using some solid almonds would also be a good plan to help them last longer. Which one you'd prefer is up to your judgment and what you think would work best with your team composition. I think these two toppings, or a mix of them would be best for Pinecone overall.
Who Is Pinecone Cookie
Pinecone Cookie first appeared as an NPC in the Warmer Together: Cookie Holidays Event that was added in the December 2022 update earlier this month. Here's a look at their Bio:
If you see a little Cookie running among the trees, it's probably Pinecone Cookie, the mighty keeper of the forest. Get outta the way! Busy, busy! The forest is so vast, yet there's only one Pinecone Cookie! There is so much to do: help the forest animals prepare for winter hibernation, straighten out the quarreling birds, find and scratch that itchy patch of bark for the oak tree, and much more! Each choco bark layer of Pinecone Cookie's imposing hat is filled with eagerness to protect their woodland home.
That's right: the forest has been their home for as long as they can remember—which is why they prefer the company of trees and animals. yes, the mighty forest keeper is hardly familiar with the ways of their fellow Cookies! But what does it matter when they know everything about the forest dwellers and can understand the language of the rustling leaves?!
Cookie Run Kingdom is available for iOS and Android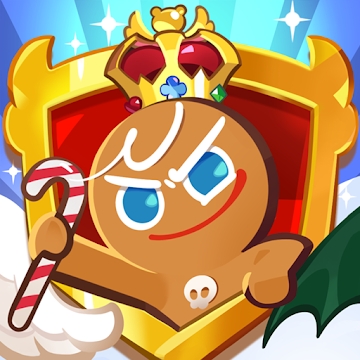 Cookie Run: Kingdom
Android, iOS
Build your dream Cookie Kingdom and reclaim the land lost against the evil that lingers in the shadows. Fresh out of the oven and from the Cookie Run: OvenBreak creators comes Cookie Run: Kingdom! Build a delectable Kingdom while battling against evil dessert monsters! Team up with friends in Guild Battles! Fight alongside other Guild Members and defeat new rivals. Battle against powerful enemies to level up together. Earn soul stones, guild level-up items, guild treasures, and more!
---
Check This Out Next
---