Kouign-Amann Cookie is pretty much the Cookie Run Kingdom equivalent of Saber. She leads a team of Cookie Knights, she wields a giant sword that shoots light beams, and her namesake "kouign-Amann" is a Breton cake (although Breton is a Celtic language spoken in Brittany, France).
She may have the giant sword but does she know how to use it? Let's take a look at her skill, what toppings are best, and how she fairs in battle.
If you're interested in Cookie Run Kingdom, check out our previous 'Should You Use' Cooke Run Kingdom character guides:
The Skills of Kouign-Amann Cookie
Kouign-Amann is a front-row defense cookie meaning she focuses on protecting the party behind her. Her skill is called "Paladin's Way".
"After using the skill, Kouign-Amann Cookie channels the Power of the Light, enhancing her regular attacks: they deal Light-type DMG and extra DMG whenever she gains an ATK SPD buff. Kouign-Amann Cookie will also increase the ATK SPD of the two Cookies with the highest ATK SPD, make all her allies resistant to ATK SPD debuffs, and increase the Light-type DMG dealt by other Cookies.
When the skill's duration reaches its end, Kouign-Amann Cookie will gather the Power of the Light and perform a powerful attack, partially ignoring the target's DMG Resist with a swing of her sword. Having no fear of defeat, Kouign-Amann Cookie will increase her DMG Resist and Regular Attack ATK SPD whenever she gains a debuff. While Kouign-Amann Cookie is using her skill, she will briefly become resistant to interrupting effects".
Stronger Regular Attacks: 182.0% of ATK
Extra DMG per ATK SPD Buffs: + 22.5% per x1 ATK SPD buff
ATK SPD: +25.0% for 8.0 sec; stacks up to x1
ATK SPD Debuff Resistance: +50.0% for 12.0 sec; stacks up to x1
Light-type DMG: + 20.0% for 10 sec; stacks up to x1
Light Strike DMG: 375.8%; ignores 17.5% of target's DMG Resist
Regular Attack ATK SPD: +4.0% for 8.0 sec; stacks up to x10
Paladin's Way: DMG Resist +12.5% for 15.0 sec upon gaining a debuff; stacks up to x2
The Best Use of Kouign-Amann Cookie
Please note, that as with every new Cookie added to Cookie Run Kingdom new strategies and uses are still being formed by the player base but this is what we found based on first impressions:
Kouign-Amann is an interesting good as her skill initially just gives her a power-up, it buffs her regularly and makes her sword swings hit pretty hard. It's pretty good for clearing regular enemies but can have a little trouble with tougher foes.
At the end of the skill, however, she basically uses the Excalibur Noble Phantasm from Fate, shooting a giant beam of light for massive amounts of damage. This has pros and cons, the power of the move is great but it does take a while for her to load it up and there were a few times enemies were able to knock her out before she could execute it. This means she doesn't bode quite as well as similar Defense cookies like Wildberry Cookie who has a similar powerful timed attack but doesn't take quite as long.
That being said, it can be really helpful against boss battles and stronger enemies. We should note that while she is buffed by her skill, she also buffs the attack speed of two allies with the highest attack speed. This means she can rely on the other party members to cover her while charging for the light beam. As such, you'll probably want a couple of strong middle-row cookies to assist her battle.
Good candidates to partner with her would be Clotted Cream Cookie and Financier Cookie, both of whom use light-type damage which Kouign-Amann increases the damage of with her skill.
Best Toppings
The main topping I'd recommend for any defense cookie is full Solid Almonds. If your cookie is in the front row and their primary goal is to take hits so the other units don't have to, then you'll want them to resist as many of those hits as possible.
Another viable option is to throw in some Swift Chocolate to activate her skill sooner after cooldown but for the most part, you want her defense to be strong and reliable.
Who is Kouign-Amann Cookie
Kouign-Amann is the leader of the Crème Knights, competing as one of the three factions in the Triple Cone Cup. Here is her bio as presented in the game:
The Crème Knights is a noble institution, known not only for its rich tradition of ceremony and good deportment but also for the frilly dress-wearing Paladin: Kouign-Amann Cookie! Don't let her lovely appearance distract you; this Cookie is blessed by the Light itself and can defeat even experienced Paladins with just a swing of her sword. Kouign-Amann Cookie always stays true to her path and fights with honor, so it's no wonder the whole school looks up to her. There was a time when the fear of defeat and disappointing those around her troubled Kouign-Amann Cookie greatly, but instead of running away she faced those fears and conquered the insecurity within herself. For those of you fearless enough to duel this honorable Paladin, may you have a strong conviction and a brave heart! After all, nothing motivates Kouign-Amann Cookie more than battling opponents who have already battled themselves!
Cookie Run Kingdom is available for iOS and Android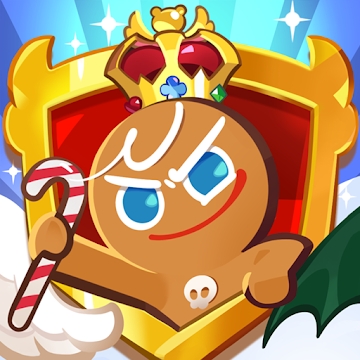 Cookie Run: Kingdom
Android, iOS
Build your dream Cookie Kingdom and reclaim the land lost against the evil that lingers in the shadows. Fresh out of the oven and from the Cookie Run: OvenBreak creators comes Cookie Run: Kingdom! Build a delectable Kingdom while battling against evil dessert monsters! Team up with friends in Guild Battles! Fight alongside other Guild Members and defeat new rivals. Battle against powerful enemies to level up together. Earn soul stones, guild level-up items, guild treasures, and more!
---
Check This Out Next
---