Raise the sail lads, Cookie Run Kingdom has introduced another unit in the form of Captain Caviar Cookie, the fearless explorer who has ventured into the Black Pearl Islands. 
So does this salty sea captain have what it takes? Let's go over his skills, and toppings to find out. 
If you're interested in Cookie Run Kingdom, check out our previous Cooke Run Kingdom character guides:
The Skills of Captain Caviar Cookie
Captain Caviar Cookie is an epic bomb cookie that fights on the middle row. His skill is called Black Shark Torpedo. The description of the skill goes as follows:
"Captain's orders! The Black Shark submarine will appear at Captain Caviar Cookie's call, shoot 3 Black Shark Torpedoes at the enemies, and grant all allies with Debuff Resist.
Augmented with the latest technology of the Republic, the torpedoes will aim for the enemy with the lowest HP (targets Cookies first) in descending order. Once the torpedo hits the target, it will cause an explosion, dealing area damage and inflicting DEF Reduction.
Captain Caviar Cookie is immune to any type of Fear, for he is a fearless sea wolf. While Captain Caviar Cookie is using his skill, he will briefly become resistant to interrupting effects."
Here are the stats of the Captain's skills:
15-second Cooldown
 Debuff Resist: +20.0% for 7.0 sec
Torpedo's Target DMG (Cookies): 331.1%
DMG (Others): 132.4%
Torpedo's Area DMG: 195.7%
Torpedo's Extra Area DMG (Summoned Creatures): 345.7%
DEF -42.0% for 8.0 sec, stacks up to x1
The Best Use of Captain Caviar Cookie?
Please note, that as with every new Cookie added to Cookie Run Kingdom new strategies and uses are still being formed by the player base but this is what we found based on first impressions:
The biggest thing this salty sea biscuit has going for him is his skill. Black Shark Torpedo hits hard and the fact that they can cause area damage is helpful, particularly in something like PvP where enemies tend to be close together.
The debuff resists and defense reduction is the cherry on top. The fact that he specifically targets the enemy with the lowest HP means that he'll likely be hitting enemy DPS cookies in PvP. Is built right, that could easily take out your opposition's main damage dealers pretty quickly. The reduced defense (still one of the best debuffs in the game) further means that ally cookies can come in after for an easier kill.
Overall Caviar Cookie, isn't quite Sea Fairy good but he still does his job as a bomb cookie: hitting a mass area of enemies with some powerful attacks.
Best Toppings
The best toppings for Captain Caviar Cookie are Searing Raspberries or Swift Chocolates. With such an offense-based skill, it's good to make sure he can hit as hard as possible and more easily finish off enemies and a full set of searing raspberries will give him a better chance at doing that.
On the other hand, the Swift chocolates are also a good idea. Caviar is very reliant on his skill so getting that skill ship-shape as soon as possible would greatly help. You can always try for a mixture of both if need be.
Who is Captain Caviar Cookie?
Captain Caviar Cookie was first introduced as an NPC in The Council of Heroes update. He's the head of House Caviar and an elder in the Crème Republic Convocation of Elders. In the Black Pearl Islands mode, he's requested by Oyster Cookie to explore the titular Black Pearl Islands and sets sail with his motley crew of rookie sailors.
" "Don't ya dare fear the waves as long as you have a Captain in me!" Captain Caviar Cookie's bellowing voice, louder than the squall itself, can inspire the most desperate and ragtag bunch of sailors! This sea wolf laughs in the face of gale and waves-after all, the very caviar in his dough was a gift of a tide much rougher. It is easy to mistake the ever frowning, sharp-toothed Cookie for a vile pirate, but make no mistake: this Cookie before you is a respected Elder, one of the Republic's most famed heroes, savior of Choco Mud Town, and the bane of all villains and monsters plaguing the seas. Captain Caviar Cookie's trusty ship, the Salty Shark, and its seasoned crew have weathered many a storm only to find a way out to a safe haven. What song will they sing today, sailing towards a new glorious adventure?"
Cookie Run Kingdom is available for iOS and Android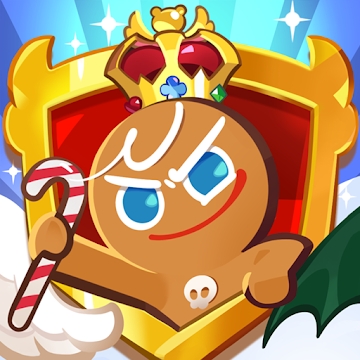 Cookie Run: Kingdom
Android, iOS
Build your dream Cookie Kingdom and reclaim the land lost against the evil that lingers in the shadows. Fresh out of the oven and from the Cookie Run: OvenBreak creators comes Cookie Run: Kingdom! Build a delectable Kingdom while battling against evil dessert monsters! Team up with friends in Guild Battles! Fight alongside other Guild Members and defeat new rivals. Battle against powerful enemies to level up together. Earn soul stones, guild level-up items, guild treasures, and more!
---
Check This Out Next
---