Wildberry Berry Cookie, loyal protector of the Hollyberry Kingdom now lends a gauntlet-covered hand to the Cookie Run Kingdom.
Let's take a look at how this Wildman plays, what toppings are best for him and how he is best utilized on a team? Can he step up to his great Queen Hollyberry and defend his kingdom, and more importantly, your party?
If you're interested in Cookie Run Kingdom, check out our previous Cooke Run Kingdom character guides:
The Skills of Wildberry Cookie
Wildberry Cookie is a defense cookie that stands in the front row.
His skill is called Wild Punch, and as you can imagine it involves him punching wildly multiple times. Not only are his attacks powerful but he will also awaken to his "battle rage" which will buff his attacks and cannot be dispelled. At the end of his battle rage, Wildberry will muster up the last of his strength for one incredibly strong final blow.
When his skill is activated, his offense will be buffed every time he is hit by an enemy and his final blow will become more powerful the more that he is hit. during the final blow, he is also immune to any interrupting effects.
Here are the stats of the skill:
10-second Cooldown
Single Hit DMG: 432.5% + Stun 1.3 Sec
Extra DMG to Knockback-resisting enemies: +100.0%
Wild: +35.3% to final blow for every hit, up to 30 stacks
DMG Resist: +15.0% to all allies during Battles Rage
Uppercut DMG: 19.3%
Final blow DMG: 141.6% + Wild's extra DMG
The Best Use of Wildberry Cookie?
Please note, that as with every new Cookie added to Cookie Run Kingdom new strategies and uses are still being formed by the player base but this is what we found based on first impressions:
This guy is built like a tank, with a higher damage output, that is buffed when his skill activates, and a lower cooldown time than Hollyberry Cookie, plus the ability to raise the party's defenses, and stun enemies. He has the potential to be one of the most OP defense cookies in the game.
But he's also an uncontrollable tank. Upon activating his skill, Wildberry doesn't simply perform an attack but rather enters a rage mode with a constantly decreasing meter. He'll continuously attack any enemy he comes in contact with until the meter finally ends. At which point he unleashes his final attack.
It should be noted that if there are no enemies to fight when his meter reaches zero, he'll only unleash the final blow when he's next in contact with an enemy so you don't have to worry about him attacking thin air. He is a little annoying for PvE since you won't be able to directly control what enemy he hits but with how hard all his hits are in general, it probably won't matter that much.
PvP and boss battles are where this Wildberry truly shines since he only needs to focus on punching the same few enemies. Here he can easily stack offensive buffs from continuous enemy attacks, leading to a powerful final blow. The final blow is especially good as if it stacks enough, it can knock back enemies and cause them to get dizzy.
His good offense is balanced by good defense. He can take a good few hits and buff the party's defense. His heavier build even means he's less affected by pushback or flying. That being said, he definitely needs a healer backing him up so he doesn't get too beat up from his masochistic skillset, so make sure Parfait or Cotton are behind him to help out.
Best Toppings
As a defense cookie that you actually want to get hit a lot, give him full solid almond cookies and get his damage resistance as high as possible. He has the high offense and low cooldown so you don't need to worry about those, just make him as beefy as he needs to be.
Who is Wildberry Cookie?
Wildberry Cookie is a loyal guard of the Hollyberry Kingdom. He is also a pivotal character in the new story mode 'Cookie Odyssey' and its first chapter 'The Council of Heroes'.
Here is his bio:
"Filled to the brim with wild tropical berries, Wildberry Cookie's ardent loyalty to the Hollyberry Kingdom is unquestionable. And the brightly gleaming jewel embedded into his mighty gauntlet is proof! Young Wildberry Cookie once roamed the ramshackle alleys of the Hollyberry capital until an unexpected savior offered him a helping hand. Insidious whispers have been following this knight of few words ever since: they claim he is prone to solving problems with brute force, but these rumors cannot be farther from the truth. Wildberry Cookie has sworn to do whatever it takes to protect his kingdom and its royal dynasty! Even though sometimes what it takes is serving generous amounts of berry juice!"
Are you planning on using Wildberry Cookie?
Cookie Run Kingdom is available for iOS and Android devices.
PS – You know the other Wildberry Cookie in the game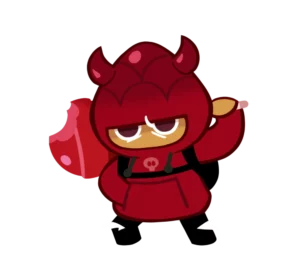 Yeah, her. Well, apparently she's been renamed 'Wild Strawberry Cookie' to differentiate her from this guy. Wildberry Cookie is guilty of identity theft.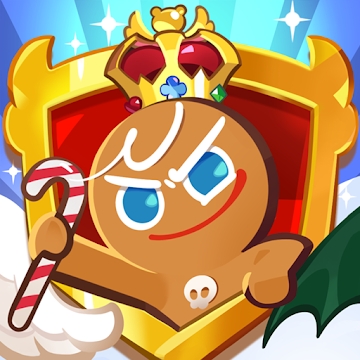 Cookie Run: Kingdom
Android, iOS
Build your dream Cookie Kingdom and reclaim the land lost against the evil that lingers in the shadows. Fresh out of the oven and from the Cookie Run: OvenBreak creators comes Cookie Run: Kingdom! Build a delectable Kingdom while battling against evil dessert monsters! Team up with friends in Guild Battles! Fight alongside other Guild Members and defeat new rivals. Battle against powerful enemies to level up together. Earn soul stones, guild level-up items, guild treasures, and more!
---
Check This Out Next
---