The idea of an oyster-flavored cookie sounds kind of disgusting in my opinion, but the prim and proper Lady Oyster Cookie, the newest addition to Cookie Run Kingdom is anything but.
Here's how we found using her in battle and what toppings would be best placed upon her silver oyster head.
If you're interested in Cookie Run Kingdom, check out our previous Cooke Run Kingdom character guides:
The Skills of Oyster Cookie
Oyster Cookie is a support unit that fights from the back row as well as another summoner cookie.
Her skill is called 'Might of House Oyster'. Here she summons a line of soldiers to attack enemies. The skill will also increase attack and critical attack stats for herself and her allies. The soldiers resist knockback and flying as well as have extra defense until their shields are destroyed.
Interestingly, if Oyster Cookie gets a cooldown buff it instead raises the number of soldiers she can summon and her attack.
Here are her stats:
17 second Cooldown
Soldiers' Charge DMG: 94.0%
Oyster Soldiers: caster's 42.9% ATK, 179.0% DEF, 118.0% HP
Additional Soldiers: get an extra Oyster Soldier for every -18.1% to Cooldown (up to 4 Oyster Soldiers in total)
Soldiers' ATK: get +0.9% ATK for every -1.0% to Cooldown (up to +50.0% ATK)
Soldiers' Shield: 60.0% of Oyster Soldiers' HP, DEF +30.0%, resistance to Knockback and Flying
 CRIT Boost: 16.5% for 17.0 sec
CRIT DMG Boost: 13.0% for 17.0 sec
The Best Use of Oyster Cookie?
Please note, that as with every new Cookie added to Cookie Run Kingdom new strategies and uses are still being formed by the player base but this is what we found based on first impressions:
As far as summoners go, I really like Oyster's Soldiers for PVE. They push back enemies away from your cookies which can be a great source of keep-away relief. They also push enemies into a neat line that makes it easy for allies like Sorbet Shark (who benefits nicely from the attack buff) to come in and take them out altogether. The fact that their charge cannot be stopped with knockback makes it even better.
I feel she will make for a great asset on a new summoner army alongside Pumpkin Pie, Cotton, and Crunchy Chip, creating a wall of summons to protect your cookies. Quite literally in her case. This is especially true with Cotton Cookie since her skill can buff the attack damage of summons, which would be greatly beneficial for Oyster's soldiers.
In general, she works well with tanks and offense-based cookies like Sorbet, and Dark Cacao as well as Twizzly Gummy. Cookies that can take advantage of the boosted damage and crit output she offers while being beefy enough to take a few hits.
In terms of negatives, outside of the summoner teams, she's a little less versatile in comparison to other support cookies like Cotton, Eclair, and Pomegranate, all of whom are currently considered top-tier characters.
For example, Oyster can't heal herself or her allies which puts her at a disadvantage compared to say Cotton who can cause heal, inflict damage, and boost attack output. This makes her more useful for a wider variety of team builds. It doesn't help that Oyster herself is very squishy and will likely need a healer and defensive unit in the party.
Best Toppings
The best toppings for Oyster Cookie would be to give her at least some swift chocolates. This is especially important for Oyster since not only is she heavily reliant on her skill but the cooldown directly affects how strong it'll be.
A couple of solid almonds would also be useful to deal with her weak defenses. You'll need to decide how many soldiers you want to sacrifice for that health assurance.
Who is Oyster Cookie?
Oyster Cookie is another member of the Council of Heroes, introduced in the first chapter of the new event. Here's her bio:
"Massive merchant vessels with mermaid statues adorning the stemhead fill the docks of the Creme Republic, all waiting for Oyster Cookie's command. All it takes is one single wave to signal the giant ships to cross the ocean and create new tides. With her noble allure and eloquent words that can steer the conversation the way she wishes, one can't help but be in awe of Oyster Cookie's presence.
Some Cookies wonder how a Cookie of the Sea could achieve such fame and prestige among the Republic's crème de la crème. One theory is that House Oyster is somehow connected to the underwater mermaids from the old legends, but no one knows the truth. Oyster Cookie is known to exert her power and influence to create a favorable tide whenever precious goods and valuable information are involved. Perhaps that's why the ambitious come knocking at Manor Oyster's doors. Because some offers are worth risking it all!"
Cookie Run Kingdom is available for iOS and Android.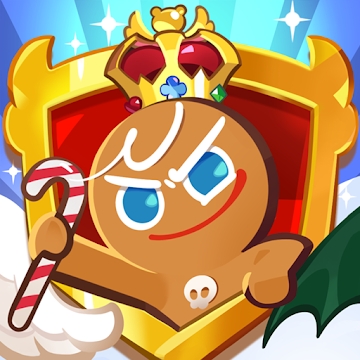 Cookie Run: Kingdom
Android, iOS
Build your dream Cookie Kingdom and reclaim the land lost against the evil that lingers in the shadows. Fresh out of the oven and from the Cookie Run: OvenBreak creators comes Cookie Run: Kingdom! Build a delectable Kingdom while battling against evil dessert monsters! Team up with friends in Guild Battles! Fight alongside other Guild Members and defeat new rivals. Battle against powerful enemies to level up together. Earn soul stones, guild level-up items, guild treasures, and more!
---
Check This Out Next
---