Another cookie that honestly doesn't sound too appetizing if their name is anything to go by but that doesn't mean Prune Juice Cookie isn't a worthy new edition to the Cookie Kingdom.
Here's a look at how this sour potion maker fairs in terms of skills, use in battle, and toppings.
If you're interested in Cookie Run Kingdom, check out our previous 'Should You Use' Cooke Run Kingdom character guides:
The Skills of Prune Juice Cookie

Prune Juice Cookie uses a skill simple called 'Prune Juice Potion'. He is a bomber cookie meaning that this skill is all about hitting hard and disrupting opponents. His attack is interesting as he combines poison effects with summoning a familiar.
"For Prune Juice Cookie's regular attack, he throws a Prune Juice Bottle at the farthest enemy, poisoning the target and nearby enemies. Upon using his Skill, Prune Juice Cookie will throw a giant Prune Juice Bottle containing poison. When the bottle shatters, it will inflict Poison DMG Boost, Sticky Goo, Poison, and summon Prune Jellies. The HP of summoned Prune Jellies is reduced by the number of hits. Summoned Prune Jellies will spread Prune Gas from time to time, poisoning nearby enemies. Summoned Prune Jellies are consisted of poison, immune to any kind of periodic effects, and are not affected by Shield or Healing".
Prune Juice Poisoning: 76.9% DMG every 2 sec for 10 sec
Giant Prune Juice Poisoning: 49.0% DMG every 1 sec for 10 sec
Poison DMG Boost: +30.0% Poison DMG for 10 sec
Sticky Goo: Sticky Goo debuff will be dispelled instead of other debuffs for 15 sec; stacks up to x1
Prune Jellies: 95.0% of ATK, withstands 30 hits
The Prune Jellies Poisoning: 45.9% DMG every 2 sec for 20 sec
Prune Jellies Prune Gas Poisoning: Activated every 3 sec, 36.7% DMG every 2 sec for 20 sec
The Best Use of Prune Juice Cookie
Please note, that as with every new Cookie added to Cookie Run Kingdom new strategies and uses are still being formed by the player base but this is what we found based on first impressions:
Prune Juice Cookie reminds me a lot of last year's Affogato Cookie, being a unit that specializes in poison. I will say I think he may actually be better than Affogato however as his poisonous potion eats away at enemy HP far faster and has a wider area of effect. This may be due to the fact that the potion also produces a buff for poison damage.
There's also the fact that he's a summoner with his Prune Jellies doing a decent amount of damage and poisoning enemies seven further. Much like Affogato, this makes him very helpful to use on bosses or foes with a larger amount of HP.
I actually used both him and Affogato together on my team and they were able to diminish many opponents' HP within seconds. Overall he's a good unit if you're looking for someone who can do a good amount of chip damage.
Best Toppings
To get the most out of Prune Juice Cookie it's best to give him either full Solid Almond Toppings, full Searing Raspberry Toppings, or full Swift Chocolate Toppings.
Solid Almonds can be helpful for PvP where Prune Juice will have to go up against much stronger opponents. That being said the other two may be more helpful for PvE since they'll also have his skill to be more effective and therefore helpful with knocking out enemies faster.
Who is Prune Juice Cookie
Prune Juice Cookie was introduced as one of the main cookies in the new Triple Cone Cup Begins! update. Here, he is the main representative of the Parfaedia faction. Here is his bio presented in the game:
When you smell the fragrant yet subtle scent of plums across the door at the top of the endlessly spiraling staircase, you know Prune Juice Cookie is brewing his magic potions! This Cookie, made from the richest and most potent prune juice, is the best potion maker at the Parfaedia Institute. His potions are amazingly effective-just a single sip will have you feeling the dizzying effects! They say that his outstanding talent is not the sole reason he picked the efficient minimalistic art of potions over fancy, sweet dessert magic… But perhaps it's not so smart to snoop around the genius potion maker, as his charms and theatrics will persuade you to buy all of his potions! Even if you don't understand his true intentions, the effort he puts into his potion-making is evident in the ever-boiling cauldron and notebooks covered in potion stains.
Cookie Run Kingdom is available for iOS and Android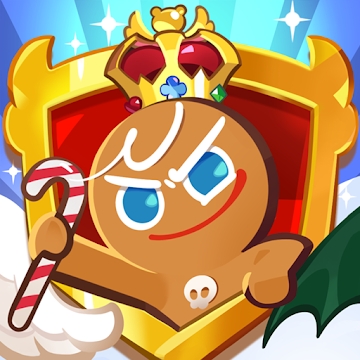 Cookie Run: Kingdom
Android, iOS
Build your dream Cookie Kingdom and reclaim the land lost against the evil that lingers in the shadows. Fresh out of the oven and from the Cookie Run: OvenBreak creators comes Cookie Run: Kingdom! Build a delectable Kingdom while battling against evil dessert monsters! Team up with friends in Guild Battles! Fight alongside other Guild Members and defeat new rivals. Battle against powerful enemies to level up together. Earn soul stones, guild level-up items, guild treasures, and more!
---
Check This Out Next
---