Christmas time has arrived and with it comes a new Cookie to bring in some cheer: Carol Cookie (Bard Cookie in the Korean version) bringing her melodic song through the town.
Here's a look at her skills, and best toppings to see if she could work for your team.
If you're interested in Cookie Run Kingdom, check out our previous Cooke Run Kingdom character guides:
The Skills of Carol Cookie
Carol Cookie is a healer cookie with a skill called 'Magic Songs.' Here's a description of her musical skill:
Sings the Song of Joy to restore the team's HP and increase their CRIT% and CRIT DMG. When only two or fewer Cookies, including Carol Cookie, switch to the Song of Change instead, her Cooldown immediately resets and decreased for the remainder of the battle. The Song of Change damages the enemies, increases the team's CRIT% and CRIT DMG, and reduces the Cooldown for the remaining team members. With each regular attack, Carol Cookie sings the Song of Energy and restores the entire team's HP. However, the fewer team members she needs to heal, the more healing each individual member will receive. While Carol Cookie uses her skill, she will briefly become resistant to interrupting effects.
Here are her skill attributes:
Healing: 82.4% of ATK (+1.12% per level)
CRIT%: +15.0% for 15 sec; stacks up to x1
CRIT DMG: +12.0% for 15 sec, stacks up to x1
Song of Change DMG: 180.4% (+2.45% per level)
Ally Cooldown: -2.5 sec
The Best Use of Carol Cookie?
Please note, that as with every new Cookie added to Cookie Run Kingdom new strategies and uses are still being formed by the player base but this is what we found based on first impressions:
Carol Cookie is both very straightforward and not at the same time. When having a full party, she's a pretty solid healer. She heals and buffs Crits and Crit damage. It does the job although there are other healers and support cookies that can do better.
What makes her really interesting is when she switches to 'Song of Change'. This is a kind of berserker mode that decreases her cool-down and allows her to unleash pretty heavy damage alongside further buffing her remaining allies. After doing this, she also heals regularly.
It's not the best for PvE since there are more enemies and losing allies means losing stars but for PvP where you can easily lose a couple of cookies, it could very much be a last-minute lifesaver, pushing through your opponents with a higher offense.
Best Toppings
The best toppings for Carol Cookie would be either Swift Chocolates or Solid Almonds. She's very dependent on her skill so Swift Chocolates can help her use it more often. On the other hand, being a healer means that she's pretty fragile so boosting her damage resistance is also a good option.
I would personally go for more or even full Swift Chocolate toppings since Carol will still be in the back of the party, further away from the action anyway. Not to mention if she's healing and buffing then there less chance of enemies killing her.
Who Is Carol Cookie
Carol Cookie was first introduced in the original Cookie Run LINE before eventually finding her way to the Cookie Run Kingdom. Here's her official description:
This gentle Cookie believes that the song is stronger than the sword! She knows how to exert great power with beautiful poetry and melodies only. "No matter what happens, I will always have my songs. My Song of Love will always be around, my Song of Peace will case darkness away, and my Song of Comfort will bring a smile to a tired face!"
Cookie Run Kingdom is available for iOS and Android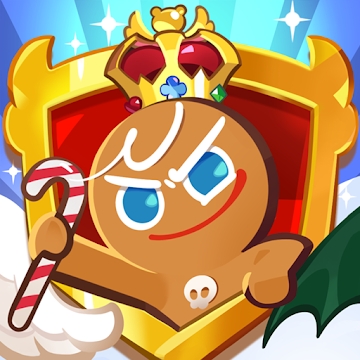 Cookie Run: Kingdom
Android, iOS
Build your dream Cookie Kingdom and reclaim the land lost against the evil that lingers in the shadows. Fresh out of the oven and from the Cookie Run: OvenBreak creators comes Cookie Run: Kingdom! Build a delectable Kingdom while battling against evil dessert monsters! Team up with friends in Guild Battles! Fight alongside other Guild Members and defeat new rivals. Battle against powerful enemies to level up together. Earn soul stones, guild level-up items, guild treasures, and more!
---
Check This Out Next
---