Crunchy Chip Cookie has made his way to the Cookie Run Kingdom in the game's latest update. This beastly new cookie comes with a cream wolf at his side and it is an elite member of the Dark Cacao Kingdom.
How does this pack leader fight and what are his best toppings? Let's take a look.
If you're interested in Cookie Run Kingdom, check out our previous Cooke Run Kingdom character guides:
The Skills of Crunchy Chip Cookie
Crunchy Chip is a charge cookie that fights in the front row.
His skill is called Wolf Squadron. Crunchy Chip's regular attacks leave claw marks on the enemy with the highest attack output. When his skill is activated, he will charge forwards alongside a ravenous cream wolf partner and attack that one enemy.
Even if he dies, his wolves will become enraged and continue to battle even harder until they are put down. In this state, the wolf will not be affected by incapacitating effects.
Here are his overall stats:
15 second base Cooldown
Tamer: receives 25.0% of Summoned Creature buffs
Single hit DMG: 88.6% (+1.2% DMG per level) + 185.0% of CRIT%
Summoned Wolf: 70.0% of ATK, 60.0% of DEF, 85.0% of HP, 100.0% of CRIT%
Tamed Wolf: 102.9% (+1.4% ATK per level) of ATK, 138.0% of DEF, 230.0% of HP, 100.0% of CRIT%
Claw Mark: 30.0 sec duration, activated upon 3 stacks
Claw Mark: removes buffs, ATK SPD -25.0% for 18.0 sec (stacks up to 2 times), 217.0% DMG
The Best Use of Crunchy Chip Cookie?
Please note, that as with every new Cookie added to Cookie Run Kingdom new strategies and uses are still being formed by the player base but this is what we found based on first impressions:
I'm not gonna lie, while Crunchy Chip Cookie is a solid unit, I feel that he's not quite as good as other charge cookies, most notably Dark Cacao and Wildberry Cookie, the latter of which appeared in the banner just before Crunchy. These two as well as defense cookies like Hollyberry do a better job at either tearing through enemies or keeping middle row cookies safe.
That isn't to say that Crunchy Chip Cookie is bad, however. He is still a good charge cookie with a sturdy build, overall sound damage output, and a versatile ability.
His strongest point is that he's a summoner. His wolves do a great amount of damage and he can stack multiple wolves as he uses his skill more. If he dies, the wolves go feral, getting even tanker and dishing out more damage meaning that just because Crunchy is down, doesn't mean that he's out.
His summoner skill makes him perfect for working with other summon cookies like Pumpkin Pie, Cotton Cookie, and Black Licorice Cookie. Between all of them, you can truly make an army of summons that can mow down your enemies and protect your units at the same time.
The wolves aren't PonPon levels of good, but Crunchip Chip isn't as fragile as Pumpkin Pie on his own. He's a good and balanced unit that can certainly lead your team into battle as a charge. His biggest issue is just that others can do his job a little better but that doesn't mean he can't get it done.
Best Toppings
Full almond, as with pretty much all charge and defense cookies. If you're going to stand in the front row, you going to want as much defense as possible to tank the enemies coming at you.
You could also throw a couple of searing raspberries on him for an extra damage boost but from what I've seen with charge cookies, they almost always benefit from having a better defense than offense.
Who is Crunchy Chip Cookie?
Crunchy Chip is an elite soldier in the Dark Cacao Cookie as well as Dark Cacao's personal guard. He is the third playable character to appear in The Council of Heroes update.
"One howl is all it takes to prep the Cream Wolves for battle, even in the middle of the night. Led by Crunchy Chip Cookie, this elite squad protects the frozen borders of the Dark Cacao Kingdom. The squad captain may be famous for his quick temper—which is not surprising given the sheer amount of the crunchiest choco chips in his dough—but rest assured: Crunchy Chip Cookie is loyal and reliable, just like his white-maned wolf companion. His oath to his king has kept him and his comrades persevering through piercing winds and snowstorms to ensure the kingdom's safety from the Licorice Sea. No other squadron stands a chance against these ferocious warriors that race through the mountains on the back of their wolves, defeating every monster they come across. Another serene morning in the Dark Cacao Kingdom; perhaps, we have to thank Captain Crunchy Chip Cookie for it!"
Will you be using this Crunchy Cookie and his wolf pack?
Cookie Run Kingdom is available for iOS and Android.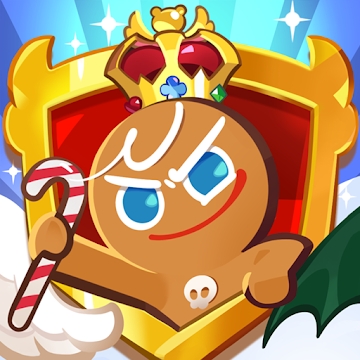 Cookie Run: Kingdom
Android, iOS
Build your dream Cookie Kingdom and reclaim the land lost against the evil that lingers in the shadows. Fresh out of the oven and from the Cookie Run: OvenBreak creators comes Cookie Run: Kingdom! Build a delectable Kingdom while battling against evil dessert monsters! Team up with friends in Guild Battles! Fight alongside other Guild Members and defeat new rivals. Battle against powerful enemies to level up together. Earn soul stones, guild level-up items, guild treasures, and more!
---
Check This Out Next
---