Macaron Cookie marches to the beat of her drum into the Cookie Run Kingdom. Another traveler from Ovenbake, she summons her magic macaron animals into the heart of battle.
Here's a look at how her skill, best toppings, and how she plays as a unit overall.
If you're interested in Cookie Run Kingdom, check out our previous Cooke Run Kingdom character guides:
The Skills of Macaron Cookie
In Cookie Run Kingdom, Macaron Cookie is a magic cookie that stands on the middle row. Her skill is called Mighty Macaron Parade and it summons some tasty macaron animals:
Following Macaron Cookie's exciting cheer, the Macaron Animals will start marching, dealing DMG to nearby enemies. Non-Cookie enemies will receive additional DMG. Her contagious enthusiasm will increase the ATK and CRIT% of her allies and restore their HP. Depending on the number of hits from the Macaron Animals. Macaron Cookie will gain a stack of the Happy Parade buff. Macaron Cookie will then restore the HP of her allies proportional to the number of stacks of Happy Parade once the parade is over.
Here are the skills stats:
Periodic Area DMG: up to 20 hits over a span of 5.0 sec
Single Hit DMG (Cookies): 15.5%
Single Hit DMG (Others): 24.5%
After every 5 hits, a single enemy receives 5.0% less DMG (does not go below -20.0% of DMG)
CRIT%: +11.5% for 10 sec; stacks up to x2
ATK: +11.5% for 10 sec; stacks up to x2
Healing: 5.8% of ATK every 1 sec for 5 sec
Bonus Healing: 5.0% + 0.4% of ATK per Happy Parade stack
Happy Parade: stacks with 3 hits dealt by the Macaron Animals; stacks up to x30
The Best Use of Macaron Cookie?
Please note, that as with every new Cookie added to Cookie Run Kingdom new strategies and uses are still being formed by the player base but this is what we found based on first impressions:
The best thing about Macaron Cookie from what I've played with her is her skills AOE. Her macaron animal army takes up the entire screen and hits past every enemy from front to back pretty much-guaranteeing damage. Damage-wise, she isn't going to one-shot most enemies, but she can take a solid chunk of life while leaving her allies in the front row to take care of the rest.
The more hits she gets in on the enemies, the more points are added to her happy parade stack which means more healing for your team. The healing doesn't do a lot, she certainly doesn't substitute for an actual healer but it's a nice cherry on the macaron cake.
The factors combined with the fact that her attack does extra damage to non-cookies, make her seem especially built for PvE. She does still have some use in PvP but the close-knit combat with Cookie opponents means she can't really take full advantage of her strengths.
The biggest challenge that Macaron has is that she has to compete with the other middle-row magic users and when that includes people like Clotted Cream Cooke, Squid Ink Cookie, and Pumpkin Pie Cookie it could be harder to justify building her to catch up with the rest of your team.
Best Toppings
The best toppings for Macaron are Swift Cholcates. This will shorten her cool-down and allow her to attack and heal more often.
While you could also give her some searing raspberries for a higher attack, I feel her greatest strength is the range of her attacks meaning she would benefit from using her skill more often. This also allows her to buff your team more frequently, keeping them all stronger in general.
Who Is Macaron Cookie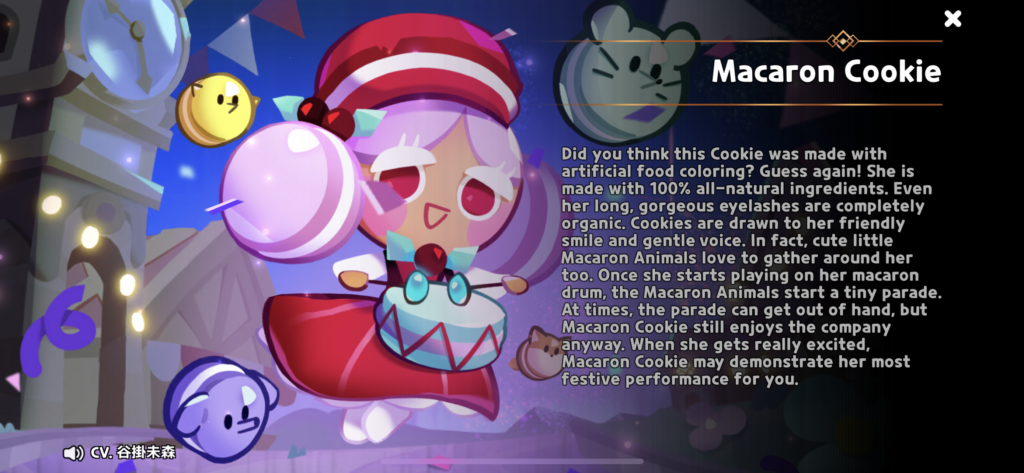 Macaron Cookie originates from Cookie Run Ovenbake. She's a spritely member of a marching band, here's her bio:
Did you think this Cookie was made with artificial food colorings? Guess again! She is made with 100% all-natural ingredients. Even her long, gorgeous eyelashes are completely organic. Cookies are drawn to her friendly smile and gentle voice. In fact, cute little Macaron Animals love to gather around her too. Once she starts playing her macaron drum, the Macaron Animals start a tiny parade. At times, the parade can get out of hand, but Macaron Cookie still enjoys the company anyway. When she gets really excited, Macaron Cookie may demonstrate her most festive performance for you.
Cookie Run Kingdom is available for iOS and Android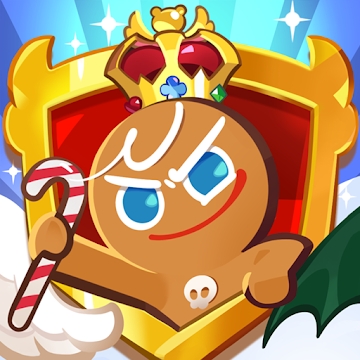 Cookie Run: Kingdom
Android, iOS
Build your dream Cookie Kingdom and reclaim the land lost against the evil that lingers in the shadows. Fresh out of the oven and from the Cookie Run: OvenBreak creators comes Cookie Run: Kingdom! Build a delectable Kingdom while battling against evil dessert monsters! Team up with friends in Guild Battles! Fight alongside other Guild Members and defeat new rivals. Battle against powerful enemies to level up together. Earn soul stones, guild level-up items, guild treasures, and more!
---
Check This Out Next
---