According to Hobby Watch, new figures based on the popular multi-media project Uma Musume Pretty Derby by Cygames have been revealed with designs from companies like Good Smile, Alter, and Kotobukiya.
Tokai Teio Beyond the Horizon Ver
This is a 1/7 figure done by Alter. As of writing this article, Alter have not announced a release period or price.
Tokai Teio Race Outfit
This is another 1/7 figure-based on Takai Teio but this time based on her support card. As with the previous figure, the release period and price are unconfirmed.
Nendoroid Gold Ship
The latest in Good Smile Company's Nendoroid Chibi Figure Line, we have Gold Ship. Pre-orders status and prices are unconfirmed.
Pop Up Parade
Finally, Good Smile Company will be adding three new figures based on the characters Gold Ship, Mejiro McQueen, and Tokai Teio for their Pop Up Parade line.
It is confirmed that these three figures will cost 3,900 yen and will depict the three girls in their school uniforms, contained the line's appeal of well-made statue figures at cheaper prices than usual.
As you can see these Uma Musume figures are still in very early production however we will likely receive updates on them sometime in the future.
Uma Musume Pretty Derby is about great racehorses that have been reborn as 'horse girls'. The franchise started as a mobile gatcha game for ios and android that has also been adapted into anime and manga.
Also apparently Uma Musume is collaborating with Top Gun of all things since one of the horse girls is named Mayano Top Gun.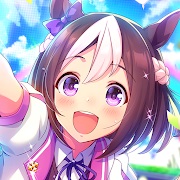 Uma Musume: Pretty Derby
Android, iOS
Horse girls take to the track! Train up these cute horse girls to be the best of the best.
---
Check This Out Next
---