An anime horsegirl from Uma Musume Pretty Derby will serve as the ambassador for upcoming Tom Cruise film, Top Gun: Maverick. The horsegirl in question is none other than Mayano Top Gun, who wears an aviator jacket herself and parachutes off a plane in her skill animation.
Do note that despite her having "Top Gun" in her name, she is in no way part of the Top Gun IP. In fact, like all Uma Musume characters (and its mobile game, Pretty Derby), Mayano Top Gun is based on a real-life racehorse. Just like popular gacha games Azur Lane and Girls' Frontline which have cute anime girls based on real-life warships and firearms respectively, Uma Musume is based on actual racehorses. The game is so successful in Japan that it even managed to dethrone Genshin Impact in terms of earnings.
Mayano Top Gun will feature as a promotional pilot for the upcoming movie. It is still uncertain exactly how she will advertise the film, but it was revealed on the Uma Musume Twitter account over the weekend.
Top Gun: Maverick is the sequel to the 1986 action-drama film Top Gun that has Tom Cruise playing the role of the leading man and fighter pilot. Top Gun: Maverick is set to release in theatres on November 19, 2011.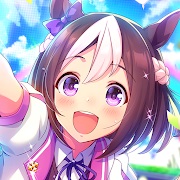 Uma Musume: Pretty Derby
Android, iOS
Horse girls take to the track! Train up these cute horse girls to be the best of the best.