A story of a hundred years needs to start somewhere, and start we did with The Centennial Case: A Shijima Story Demo Version. The demo contains only a single chapter of the mystery-adventure, live action game, wherein you follow protagonist Haruka Kagami to investigate murders and uncover the truth.
AS YOU KNOW…
Famous mystery novelist Haruka Kagami has been invited by her friend, Eiji Shijima, to his family's estate. The storied Shijima family has spent generations in medical research, investigating a so-called "Fruit of Youth", one that has been inherited by members of the family. This research comes with baggage, where a skeleton has been uncovered in the estate's garden.
This is the first incident that occurred in 1922. They have a novel from that year, believed to be the real story to solving the murder. The "time travel" is done through Haruka Kagami placing herself and Eiji Shijima as the characters of the novel, and the investigation goes from there.
DRAMATIS PERSONAE
The live action 'movie' makes the game. Not only do you watch the story unfold, the clues and details you need to solve the case are sprinkled in here. Fortunately, there is no need to actually memorize every single clue you may have found: the game will help you collect them and mark the scene where it's found. It's like a handy dandy Q-Class notebook! (Okay, that was forced, but I will not take it back.)
As this is a key feature in finding the answers, you will be able to pause and rewind these scenes. Whenever any relevant information is obtained, it will show up at the bottom of your screen. You can then pause and digest this information as needed.
The game can be fully controlled using the keyboard with the occasional mouse clicks if needed. Having all the clues labelled with their respective keys and functions is incredibly helpful simply for ease of access, more so if you find it hard to remember a lot of information at once. Additionally, any important decisions require a long press, so you avoid any accidental taps to wrong answers.
IN THE NAME OF MY NOVELIST'S PRIDE
Once you obtain enough clues, you will then enter Haruka Kagami's mind. The deduction process is separated into Mystery, Clue and Hypotheses. The Mystery section is your case in hand, so you will need to link it to clues and place it in the correct columns to bring up the hypotheses.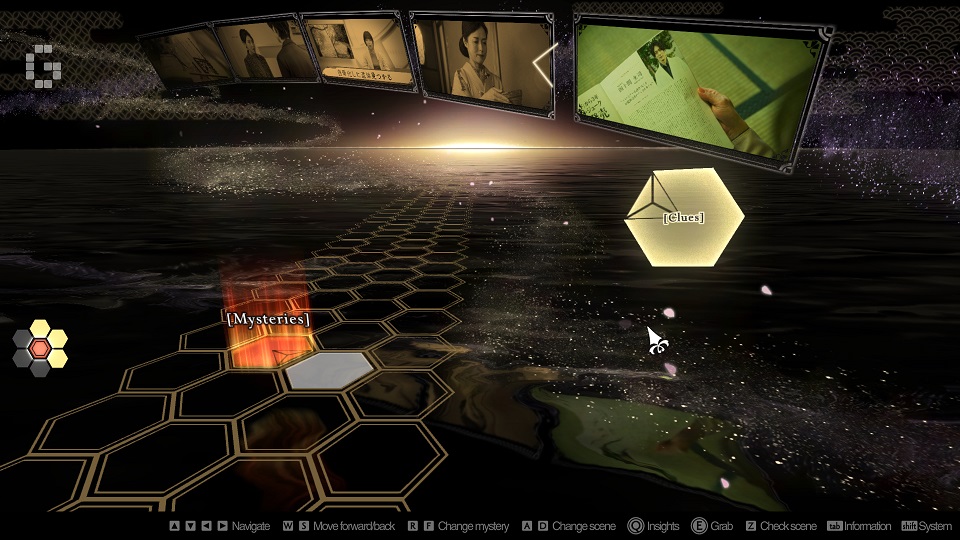 The hypotheses could also lead to more mysteries, which could prompt you to double-check your clues. Revisit the relevant scene at the top of the screen; since the clues are already tagged with their respective scenes, it's easy to refresh your memory. Should you have enough hypotheses to make a conclusion, you will be allowed to "complete" your deduction.
You can still continue the process to get even more possibilities if you so wish. You will require these Hypotheses to ascertain the truth, so it would be beneficial to get them all, unless you're absolutely confident of your answer. After all, some hypotheses can lead you to a red herring.
During a scene, you may be prompted to make a decision. For at least the first chapter, this choice does not appear to make any impact, but it is nice for interactivity's sake.
Q.E.D.?
If you enjoy dramas, The Centennial Case: A Shijima Story should be on your radar. I enjoy mystery stories, so this is up my alley too. The whole setting, acting, props, etc. are all executed well, which only strengthens the story telling and suspense required for this genre.
Letting you into the mind of Haruka Kagami is also a visual treat besides being a cool concept: her process is depicted as a 'road', with hypotheses branching out from clues, and any doubts further pushing her along the path of the truth. It's laid out very cleanly and colour-coded (red for the mystery, gold for the clues, and white for the hypotheses), making for a beautiful equation, of sorts.
On obtaining the hypotheses, the game grants you a summary section for you to review your literal road to the truth. All this backed with Yuki Hayashi's music that truly immerses you in the whole deductive process.
As wonderful as the presentation is, The Centennial Case: A Shijima Story is not completely flawless. While your 'material' is colour-coded, the clues must be placed in their precise columns, or you won't be allowed to. There is a triangle mark on the clue piece that gives a hint to the correct column, if you're really stuck. This in itself is both a positive and a negative: should you make mistakes, this trial-and-error gameplay means you can brute force a case. The game is intended to be easy to pick up, which is great, which unfortunately comes at the cost of challenge when that is arguably one of the selling points of a mystery title.
Then again, overall, The Centennial Case: A Shijima Story is an experience that is well worth trying. The demo notes that some elements may differ from the full version, and there are yet more stories to pursue. Will you be able to shine the light on skeletons long buried? There is only one truth, as they say.
| PROS | CONS |
| --- | --- |
| Great presentation, in aesthetics and user interface | Trial-and-error gameplay allows for brute force solutions |
| Easy to follow deductive process | Still room for improvement in UI |
The Centennial Case: A Shijima Story
Microsoft Windows, Nintendo Switch, PlayStation 4, PlayStation 5
The Centennial Case: A Shijima Story is a new unique mystery-adventure game. Directed by Koichiro Ito, and with Yasuhito Tachibana as the Cinematographer and Scenario Director, beautiful yet thrilling live-action footage intertwines with mysteries to solve, creating highly immersive gameplay.