The next mainline game in Nihon Falcom's long running The Legend of Heroes series, Kuro no Kiseki, has released its first trailer alongside pre-orders opening for Japan. Kuro no Kiseki will be released on the PS4 in Japan 30 September 2021, just over a year after Hajimari's release August 2020.
Pre-orders are open through the Dengekiya Store, with a limited Spriggan Edition available. Dengekiya's special edition comes with Agnès Orbment, besides a B2 size tapestry, clear files and other goods.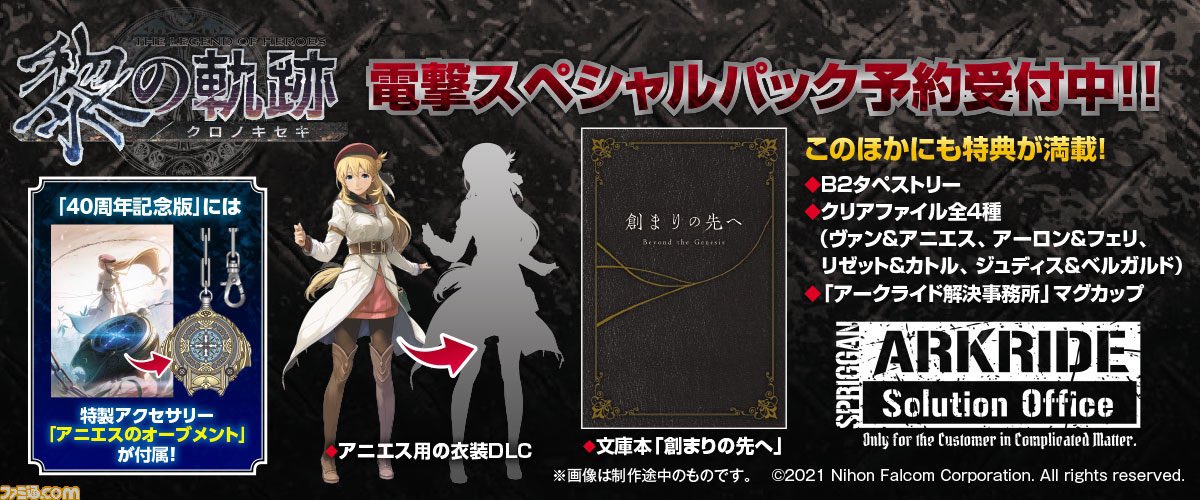 With Hajimari yet to be available in English, Kuro is also unlikely to be available for English readers anytime soon. In any case, fans can look forward to the next installment whenever it comes. The prologue is given as follows:
"Spriggan" – A type of underground business born from the diversity that is the Calvard Republic. At times as a detective, at times as a negotiator, at other times as a bounty hunter, they accept all types of requests from anyone. Subcontract work from the police on request that they can't handle, consultations about things "can't see the light of day" from civilians, even "legitimate" requests from criminals and underground groups. That is the way of those that are called the "Spriggan".

The year is 1208 of the Septian Calendar. In the slums of the capital city of Calvard, in a rundown old building, a refined looking girl wearing the uniform of renowned school was paying visit. "Arkride Resolution Office" She stared dignified at the simple letters on the plate. She swallowed audibly and knocked on the door three times … "(YAAAWN), a visitor before lunch… that's unusual…" At a glance, lazy but composed, seemingly mature but rather quite the young man's voice rang out and the doorknob turned slowly. -Here is the beginning of a new "Trails (story)".