Getting into the closed beta for that Fire Force game also got me its officially romanized title: Fire Force: Ennbu no Shou. I was initially surprised at the incredibly short testing period, which runs from 3 October 2022, 12:00 JST to 5 October 2022, 20:00 JST. As it turns out, they really were testing the bare minimum…
PHONE ON FIRE
The minimum specifications asked of testers are:
Android 9.0 or later, 4GB RAM or more
iOS 13.0 or later, iPhone 8 or later
I don't know how big it's going to end up being, but the game at this state is very definitely not optimized. I won't hold it against them until the game actually comes out.
It uses a blend of 3D chibi models and the usual 2D art, as well as live2D. However, I can't tell how prevalent the live2D use will be, or if the story will be fully voiced as again, this felt like the barest minimum of what you can expect from the game.
SPONTANEOUS CREDIT CARD COMBUSTION
The tutorial sets you upon some hapless Infernals in a turn-based combat system. Skills appear to have their respective costs to utilize. I can't really tell what triggers it, but presumably two skills of the same type will trigger a Link Burst attack, which lets the associated characters tag team on a target or attack one after another if the first target goes down. There's naturally the ultimates, complete with cut-in.
The homescreen will feature the four characters in your party in chibi form in random order. Besides hiding the UI, you're allowed to move the camera around to see a bit more of the fire station. Mechanically, the team leader grants the party boosts as well.
The stages playable now are just the material quests and a battle tower thing. I did one material quest and I already ran out of stamina, which is great.
Character growth consists of:
Raising character levels, up to the star rank cap.
Raising star rank of characters up to 5-stars: 100 to 3-star, 200 to 4-star, 600 to 5-star. Character specific orbs can be exchanged for.
Raising skill levels individually, each with their own level caps and material usage. Some skills are locked behind star rank.
Raising affection up to level 15 using gifts, for premium currency and other things.
From a character's profile page, you can read an excerpt about them, see their 3D model, their static art, stats and skills. There's the typical elemental chart, with bonuses you can get to further boost certain parameters; the latter of which seems to be from specific quests themselves or hitting certain milestones.
Skill cards are equippable on characters, with their own passive effects. To fully uncap one of these cards, you need 4 more copies which increases their level cap. The cards don't all have the same distribution of stats, so that's another aspect to think about.
The one other thing I could tell you can do is an expedition thing, sending people out for a number of hours for resources. There's the battle pass, because of course there is one.
You can buy an EXP boost, as well as five (??) ranks to a VIP system. The shop has VIP exclusive items too, so yeah. I'm not even going to try touch that.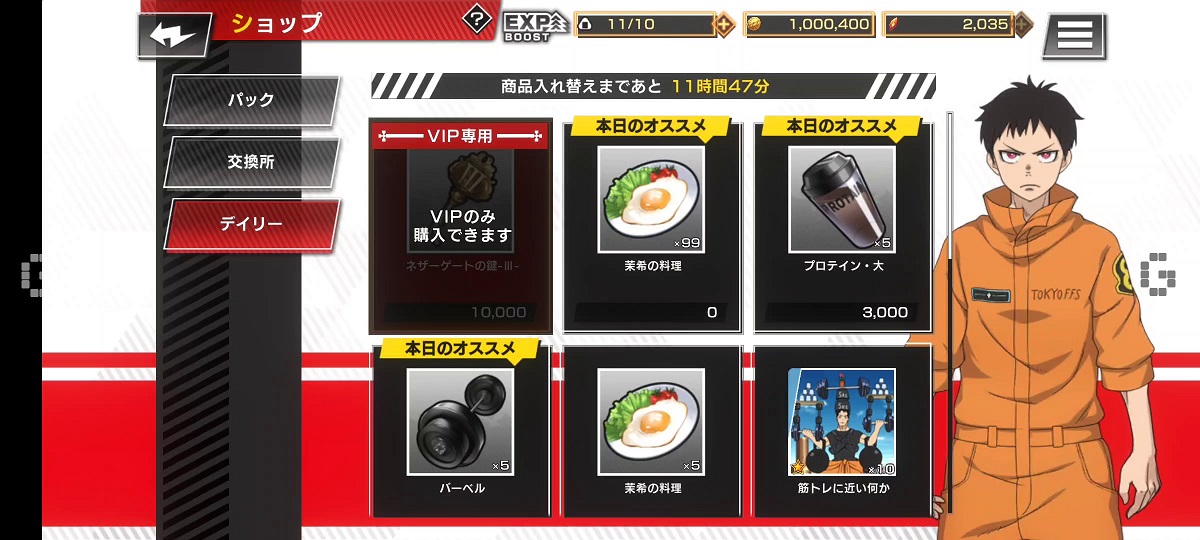 GACHA
There's an infinite reroll, with non-fixed results. Whether this will change in the full version, we'll see. It includes characters and skill cards, up to 3-star maximum rarity. At a 4% rate, it's on the higher end of things. Duplicates of characters grant 100 per 2-star character, and 200 for a 3-star character. A spark requires up to 250 total pulls for a character, up to 150 for a skill card. It takes 500 currency for a 10-pull.
CLOSING THOUGHTS
With how bare this closed beta is, I don't feel like I can say all that much about it. Of course, that hasn't stopped them from putting the foundation of the monetization system which isn't the greatest…
It's a bit more feature-filled than the previous Fire Force mobile game so I suppose, we'll just wait and see.
---
Check This Out Next
---