Dorothy comes with spear in hand as she pierces into the roster of SINoALICE characters in her Paladin job later today after the maintenance. Together with the new banner, a new conquest event and Twilight Crystal promotion will be available.
The maintenance will be from 6.00 am to 7.00 am UTC+0. Once it is over, Dorothy/Paladin will be obtainable via the Radiant Cage Grimoire. To unlock her, simply pull her SR weapon, Spear of Curiosity, which enjoys a rate up in the banner. Other SR weapons with rate up include Axe of Shadows (heavy), Iceberg Staff (staff) and Specimen Codex (tome).
Besides Dorothy/Paladin, SINoALICE players will be able to take on a new Conquest Event.
The new Conquest Event, Bewitching Mischief, pits players against the Nightmare, Gremlin. Completing the event stage gives players a chance of obtaining Gremlin. Furthermore, Red Riding Hood will have increased effectiveness when used in this event.
In addition, a new Twilight Crystal and Nightmare set will be available in the shop. Players will be able to purchase 354 Twilight Crystals together with Ulysses, Wings of Enchantment.
Finally, the dev team confirmed that there will be back-to-back collaborations for this month and June. In the meantime, follow the game on Twitter to stay tuned.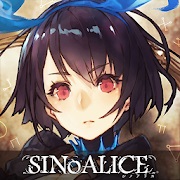 SINoALICE
Android, iOS
Fairy tale characters fight to "revive their author". Enter the dark world of SINoALICE as imagined by Yoko Taro (Drakengard, NieR).