In the lead up to Little Hope, the next game of the Dark Pictures Anthology, we received the opportunity to view a keynote talking about the upcoming title from Supermassive Games, due for Summer 2020. Most of you would have seen the trailer by now, but here it is again:
The game has kept the control schemes of its predecessors, from Man of Medan and Until Dawn. You will come up against choices which you need to decide within a limited time. Even choosing nothing at all, is a choice, and whatever you do, it will reflect in the events to come. There will be new additions to the system to make it easier to play:
There will now be contextual info, also guiding players to a character's immediate goals
More fluid transitions
Alerts to upcoming Quick Time Events (QTE)

As well as actions performed by characters should it be successful

There will also be more varied walkspeeds to fit the environment
However, what you're here for is the story, no? Let us put on our best Curator impression, and dive right into Little Hope, as we head deeper into the Dark Pictures Anthology… note that covering the key note may spoil some of the mysteries, so tread cautiously if you wish to experience the game blind.
Pete Samuels, Supermassive's CEO and Director of the Dark Pictures Anthology, confirms that Little Hope is based off the Andover Witch Trials. As usual, there will be multiple endings, that you can play solo, couch co-op or online shared story with one other friend. Little Hope aims to capture more horror fans, and with this mystical background, how will you fare?
Tag along with a college field trip in Massachusetts, with Taylor, Andrew, Daniel, Angela and their professor John. Stranded due to their bus crashing, they have no other choice but to make it through the titular town of Little Hope. They certainly get more than they have bargained for, as you follow them into the unnatural fog reminiscent of Silent Hill. Already, there's a more "fantasy" feel, with witches as the "main" theme for this game.
There will be elements of "time travel", as our unwitting cast members will be meeting apparent alternate versions of themselves, conversing with them. They'll have to figure out why this is the case, all the while avoiding gruesome deaths. Will they be able to change the course of the past for the future? Are there real witches? Is the devil behind everything? Or is there a "normal" explanation that you won't find out until it's too late?
20 minutes of a theatrical cut prologue was shown off in the keynote, where for most of it, you follow a family some time in the past. They're not held together very well, with four children of varying ages having been adopted by Anne and James Clarke. The prologue notes that the game will be from Tanya's point of view, where this cut is on Anthony. The other two children are Dennis and Megan, the latter of whom is the youngest daughter and seemingly "off".
James is an alcoholic, who tries to escape his problems with the drink and blaming his stress on possibly losing his job. Anne is the homemaker, trying to get him more involved and is especially concerned about Megan. They argue, and the issue is left unresolved, once again. Anthony may be the only other person who seems to care about Megan, but alas, things were not meant to be.
In trying to find Megan, the girl locks her sister, Tanya, out onto the balcony. The girl seems like she's talking to an unseen entity, purposely leaving her doll on a lit stove. The fire spreads quickly through the house, and one thing quickly leads to another. Anthony tries to help Tanya, but her scarf gets caught trying to climb down a drainpipe and dies from getting choked. Dennis, previously in the attic, tries to climb out and impales himself on the spiked fence. Megan dies, roasted by the fires. Anne dies from smoke inhalation. The burning ceiling falls onto James, killing him. Anthony himself runs into the burning home, trying to save Megan, and the house collapses onto him.
Now, that doesn't seem to relate very much to witches, does it? Even the most unrelated things is just a piece of the whole, as Samuels tells us from earlier in the keynote. Going back to present day, John reveals he's a former alcoholic, sober 3 months – aha, a thread begins – and Angela expresses her admiration. John also has a chip he holds on to, which I expect we'd see be lost, signalling John's tip back into the alcohol. Who can say?
I do think the use of "time travel" is interesting though. It's open to the floor how much of this is grounded in our "reality", with plenty of time till summer for us to speculate. The demons featured this time are "Cenobite-esque" demons, all human-like, but wrong.
Little Hope itself as a setting sees that it has a historical ruin, an execution site, massacre memorial, church, museum, and Tilly Johnson's home and memorial. I suppose we can expect Tilly Johnson to be important, or is it a red herring?
Even though I'm not the biggest horror fan, I do think there is a lot of potential here to appeal to a broader audience of horror fans. Especially you guys who're calling out for the characters to do something else and not be stupid (hah!). With the interactive medium of a game, there's more possibility to be had. We'll see you in Little Hope, shall we?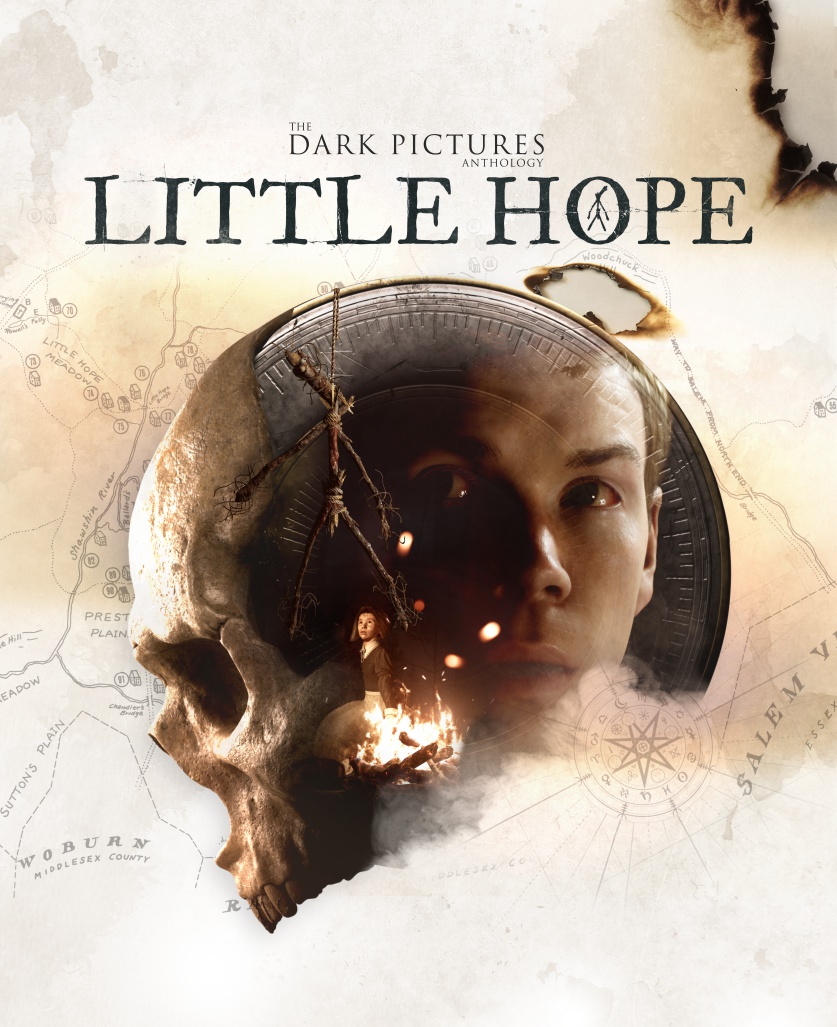 Little Hope
PlayStation 4, Steam, Xbox One
Little Hope - the second game in the Dark Pictures Anthology
- Witness terrifying visions of the past whilst trying to escape the streets of Little Hope.
Abandon Hope - all who enter here...
---
Check This Out Next
---