Move over Captain Caviar Cookie, there's another cannon-slinging pirate (or at least she looks like a pirate) in the Cookie Run Kingdom: the dragon hunter Tarte Tatin Cookie.
In this guide, we'll go over her skill, stats, best toppings, and how she performs in battle overall.
If you're interested in Cookie Run Kingdom, check out our previous 'Should You Use' Cooke Run Kingdom character guides:
The Skills of Tarte Tatin Cookie
Tarte Tatin is a range cookie, the first new range cookie in a long time, meaning she fights in the back row. Her skill is called "Cannonade" and as you can imagine, it involves her using her cannon.
"When Tarte Tatin Cookie fires her cannon, she reduces her own Cooldown and Shackles her enemies after a certain number of hits. Upon using her skill, she will fire a cannonball straight toward the center Cookie in the enemy team. Hit enemies suffer from Burn and Bosses receive extra damage. After a certain number of skill uses, Tarte Tatin Cookie will fire an enhanced cannonball. During the battle, when Tarte Tatin Cookie successfully defeats an enemy or a boss, her ATK will increase. While Tarte Tatin Cookie is using her skill, she will briefly become resistant to interrupting effects".
Cooldown: -1.5 sec with each Regular Attack hit
Shackles: 3 sec after x3 Regular Attack hits
Cannonball Explosion DMG:
271.1% of ATK (Cookies)
417.1% of ATK (Others)
Extra DMG to Bosses: 785.5% of ATK
Enhanced Cannonball DMG: Total Cannonball Explosion DMG x1.5
Burn DMG: 17.7% of every 0.5 sec for 8 sec
ATK upon Defeating an Enemy +10.0% for 15 sec; stacks up to x10
The Best Use of Tarte Tatin Cookie
Please note, that as with every new Cookie added to Cookie Run Kingdom, new strategies and uses are still being formed by the player base but this is what we found based on first impressions:
Tarte Tatin is a cookie all about hitting hard and sweeping enemies fast. She does a good deal of damage and can decrease her cooldown which encourages players to keep using her. The fact that knocking out enemies increases her attack power also shows means she could be very useful for PvP especially when combined with her ability to burn opponents.
That being said, I feel she's a unit specially made for boss battles. It would make sense considering she's supposed to be a dragon slayer and was introduced in an event all about slaying a boss dragon. Her fast cooldown, burn effects, and increased damage on bosses means she should be able to whittle them down faster during battles alongside her team.
Best Toppings
Like most offense-based cookies, Tarte Tatin benefits from a build of full Searing Raspberries or Solid Almonds depending on the role you want them to play on the team. If you're like me and want to focus on damage, go for the raspberries but you'll need to hide them behind a strong tank and have a good healer on hand.
Solid almonds will raise their damage resistance and allow them to last longer but with lower damage output.
Who is Tarte Tatin Cookie
According to the lore, Tarte Tatin Cookie is an old friend of Hollyberry Cookie and a famous dragon slayer. She now plays a role alongside Hollyberry and other Cookies in the recent Legend of the Red Dragon event. Here is her bio for more information:
Whether it's the past or the future of dragon hunting, you can be sure that Tarte Tatin Cookie is part of it! Years and years of carrying around her customized cannon on dragon hunts far and wide have helped build Tarte Tatin Cookie's reputation as an extremely skilled and experienced dragon hunter. The way she confronts the dragons, massive threats to all Cookiekind, without even a trace of fear is reminiscent of the Ancient Heroes. It inspires the Cookies around her and sets their battle spirit aflame! Tarte Tatin may seem hard to approach because of her aloof personality and serious attitude. But unlike her cold exterior, she has a warm side to her which means she never forgets a friend. After all, the best hunters are those who have a lot to protect. You're sure to find Tarte Tatin fighting another enormous beast somewhere again today, firing her cannon without hesitation. BOOM!
Cookie Run Kingdom is available for iOS and Android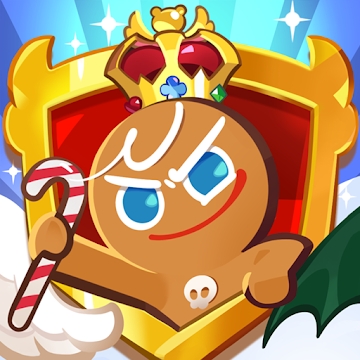 Cookie Run: Kingdom
Android, iOS
Build your dream Cookie Kingdom and reclaim the land lost against the evil that lingers in the shadows. Fresh out of the oven and from the Cookie Run: OvenBreak creators comes Cookie Run: Kingdom! Build a delectable Kingdom while battling against evil dessert monsters! Team up with friends in Guild Battles! Fight alongside other Guild Members and defeat new rivals. Battle against powerful enemies to level up together. Earn soul stones, guild level-up items, guild treasures, and more!
---
Check This Out Next
---