BanG Dream fans can look forward to an upcoming Hololive collab, featuring three of Hololive's talents in the JP version of the game.
Details are still scarce on the collab- more information is coming on the 14th of October, with no release date set just yet. From what we know, however, it looks like there will be special Hololive covers in the game, with several key Hololive talents and the girls from BanG Dream.
UPDATE: You can read more about the collab here
What we do know, however, was announced via a special livestream for the game that took place last night. While the event is confirmed for the Japanese version of the game, there's no word yet on if this would be coming to the EN version as well.
Here are the currently announced pairings:
Poppin Party / Tokino Sora
Pastel Palettes / Minato Aqua
Hello Happy World / Shirakami Fubuki
It's no secret that Bushiroad and Hololive have a close relationship- Bushiroad produced Hololive's live show Beyond the Stage, and Hololive has previously done a collab with D4DJ, Bushiroad's other mixed media franchise. The game also features an extensive library of original Hololive music.
Considering the D4DJ event also featured promotional cards featuring characters from the game dressed as Hololive members, it's not hard to believe the same could be expected of BanG Dream. That being said, we'll have to wait until the 14th to find out more about the in-game event.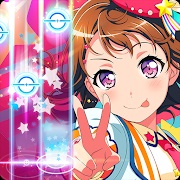 BanG Dream! Girls Band Party!
Android, iOS
Popular rhythm game in Japan! Tap to the rhythm of over 140 songs to choose from. Play both original and cover songs from popular J-Pop artists and anime songs! Play your favorite songs on a level of difficulty that suits you!
---
Check This Out Next
---