Bushiroad has finally revealed more information about the upcoming Hololive BanG Dream collaboration, including new key art from the game of the various band girls hanging out with the popular Vtubers.
The event features Hololive's songs, as well as new live costumes, illustrations as well as stickers featuring the girls and the Vtuber they've been assigned.
It will start on the 22nd of October, and the featured Hololive talents will also be playing the game on their own channels to promote the event.
As previously announced, the Hololive BanG Dream Collaboration will feature three of the game's bands, each paired up with a different Vtuber:
Tokino Sora will be paired with Poppin Party
Minato Aqua will be paired with Pastel Palettes
Shirakami Fubuki will be pared with Hello Happy World.
The Hololive talents also recorded their own promo for the collaboration, which you can view below:
The event promises 15 new Live Costumes, which should be enough for one per band member, each modeled after their partnered Vtuber. You can check out some samples here:
The costumes will be given out every day over 3 days, so you'll want to make sure to log in every day to collect all of them.
While they haven't shown what the live costumes for the other members will look like, you can sneak a peak at them with these stickers also coming to the event.
Finally, they also released new key art illustrations, which you'll also be able to buy as part of a collaboration with Craft Egg.
The collaboration is significantly more elaborate than their previous one with fellow Bushiroad title D4DJ– which only just got the event on its worldwide servers several weeks ago.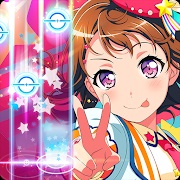 BanG Dream! Girls Band Party!
Android, iOS
Popular rhythm game in Japan! Tap to the rhythm of over 140 songs to choose from. Play both original and cover songs from popular J-Pop artists and anime songs! Play your favorite songs on a level of difficulty that suits you!
---
Check This Out Next
---