NOTE: This feature was originally released as part of our weekly newsletter. You can subscribe to it for free.
---
Genshin Impact is a property that anyone with an internet connection will likely have heard of, even if they have no interest in it. If you're unfamiliar with it, it's an anime-styled, free to start, always online, open world, single player game with online elements from miHoYo, a China-based company. Since its worldwide simultaneous release in September 2021, it has enjoyed explosive popularity and corresponding financial success. Such widespread reach was – and arguably still is – an anomaly, more so for a China-made game. 
Most recently, we have Tower of Fantasy from Hotta Studio, another China-based developer. It's an open world MMORPG that first launched in China, before finally arriving on global shores 11 August 2022. While Tower of Fantasy isn't the first to take on the juggernaut that is Genshin, it seems to be the one that is getting the most buzz about being "the Genshin killer". 
Whether Tower of Fantasy can really "kill" Genshin Impact will have to be seen. There's no doubt that Genshin is by far the most successful of its kind, so if any other game were to truly compete and triumph, it will need to both match what it does well, and improve where it lacks.
WHAT GENSHIN DOES RIGHT
CHARACTER DESIGNS
First impressions are important, and this can't be reflected any better than in Genshin's character designs. When you first set your eyes on them, you can probably already tell if you'd like this character. Being able to sell these characters to people on looks alone is a science that other games need to equal, if not surpass. It doesn't have to appeal to you, specifically, of course. As long as you can get a character's name trending on social media on basically nothing but a single image, you've got a winner.
Just consider the preview art here, removed from any context. They're full body pieces, with a simple background that allows many of the details to pop. There are bright spots or features that your eyes can be easily drawn to. From here, you can probably make some educated guesses on what this character might do, or what theme is being leaned on. 
SIMULTANEOUS GLOBAL RELEASE, ON MULTIPLE PLATFORMS
The phrase "you must spend money to make money" can be applied in this case. This is undeniably a large undertaking especially if you're a smaller developer. However, when there is no foresight to releases, you can imagine the conversation can flow continuously as everyone learns off each other. Such ideals aside, an investment in a worldwide release means you also have access to the global financial streams off the bat.
Everyone gets to get excited and surprised together and there'll be less potential lulls of activity. Take for example miHoYo's own Honkai Impact 3rd, where the Chinese version is about 3 weeks ahead of the rest of the world. People will be able to plan ahead and consider skipping certain updates for something they want more.
Tying in with the simultaneous global release, if you're going to be multi-platform, have seamless account linking across the supported platforms. Your players will appreciate the convenience to play the game however they like at any given point. From there, let them be able to play with their friends – or anyone else for that matter – on those other platforms. This is especially important if your game has social aspects, for either cooperative or competitive play.
WHAT GENSHIN STANDS TO LEARN
You can by all means consider Genshin a pioneer of its genre. Its popularity is unlikely to fall drastically anytime soon, but if Hoyoverse is complacent about its market share, it stands to lose to the shinier game on the horizon. It's time to see how Tower of Fantasy tries to improve on a winning formula.
BETTER COMBAT SYSTEM
Despite the different weapon types in Genshin, if it weren't for the characters, there's basically not much variety in how they're used. This can make combat feel stale and uninteresting once you've optimized a team formation.
Tower of Fantasy only has you control one character, with 3 weapon slots and 2 relic slots. Weapons come with a Discharge effect, as well as an active skill effect. When you hit an enemy enough times with one weapon, swapping to another one can unleash additional effects. You might opt to use a lower rarity weapon not just because they're easier to upgrade, but because of their other properties and their moveset.
The different weapons do actually feel distinct and their combo chain appropriately weighty. It has air combos you could potentially use to reposition yourself, with certain weapons having air combos that can pull you towards enemies. Since you unlock the character with the weapon, it's like an additional bonus where you have a character's signature weapon with them, too. 
You can find glimpses of this combat potential in Genshin where someone like Rosaria has a repositioning skill to strike opponent's backs which increases her Crit Rate, Klee's "optimal" combo chain includes jumps to cancel animations, Jean being able to send opponents skywards but can't otherwise do any follow-ups… the combat can remain simple so as to accommodate mobile players. However, giving players the option to perform more complex moves, even if not necessarily to kill enemies, is hardly a bad thing. Think about it: being able to show off the cool moves your favourite character can do could be the driving reason to get you to stay for a game.
CONVENIENT TRAVERSAL
There's no denying exploration in Genshin can feel quite slow and cumbersome. You consume stamina when you sprint, so new players will be finding themselves trudging along trying to upgrade their stamina so that they can explore more. The party Anemo Resonance is only a stop-gap measure: only the Traveler has Anemo for free, so you're out of luck if you don't get another one.
Tower of Fantasy alleviates this by allowing you to sprint automatically. Dodges are separate charges, so you can use those to cover more ground. It also has a double jump and a jetpack that lets you gain more vertical height. On top of all that, it has a mount and relic system for even faster travel across the world. When exploration of an open world is one of your key selling points, make it fun and less tedious to get to the destination.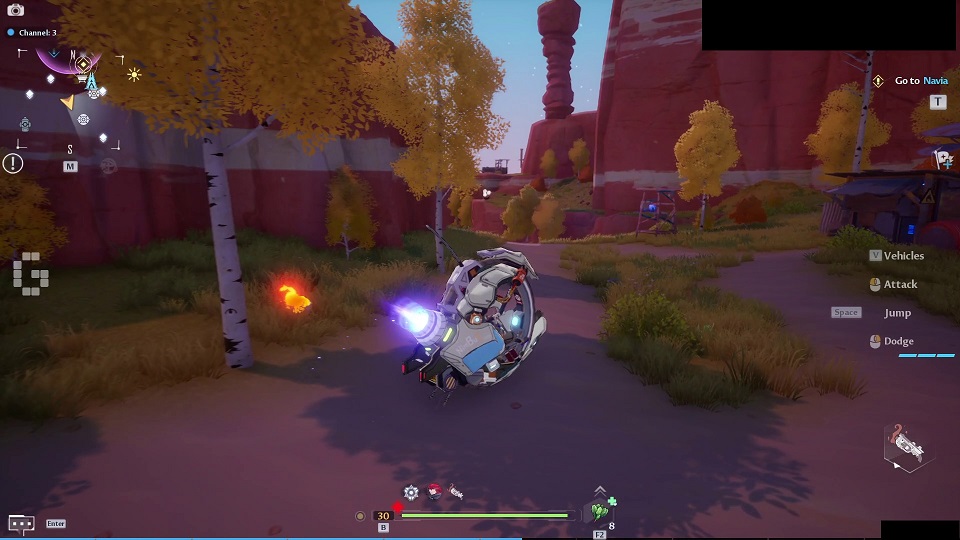 LESS DAILY ROUTINE PRESSURE
When you don't log in for a day in Genshin Impact, you miss out on the commissions and their rewards. The daily check-in is on an external website, so if you've forgotten that, you miss that too. Personally speaking, they become chores that I don't enjoy, so I disregard the game entirely so that I can play something else that I actually like.
Make no mistake: there are definitely still daily grinds in Tower of Fantasy. However, you can log in after an extended period to redeem items you have missed. You will at least get to have a little bit of breathing room and not need to worry about your video game chores and potentially prevent burn out with one less thing to think about. Not getting punished when you want a little break could make you more willing to return, over the unnecessary stress of feeling like you're falling behind.
SO, ARE "GENSHIN KILLERS" A NET GOOD?
Making a "Genshin killer" isn't as easy as sticking to a list of bullet points and expecting to succeed. There are definitely many other factors to consider to create a financial success and have deep pop culture impact. However, innovation is needed to make you stand out. It's also what's needed to keep you relevant. Think of the chain from Honkai Impact 3rd's action gameplay, to KUROGAME's Punishing: Gray Raven iterating on those systems, and other mobile action games of its kind enjoying their own success.
In such a highly competitive market, developers and publishers will need to figure out their strategy should they want to even be considered by the general public. For players, having different options can only be a net good so that they can broaden their horizons, have more choices. Developers and publishers alike will have the incentive to make the user experience better to keep their player base and cash flow, lest they move on.
I certainly do believe that Genshin has much room to improve. With competition as the primary impetus, I want to see the game become even better and work to keep deserving its fanbase. I'll look forward to seeing how far it's come in the future. 
WHAT WE LEARNED
Recognizable characters are key for great first impressions and interest

Simultaneous global launch and multi-platform capabilities allows for more reach across the board

Innovation in systems and general convenience will make you stand out, or keep you relevant