vivo's V Series range finally reached V21. Unlike most adults who just turned 21, the vivo V21 is a reliable device that gets the job done—here's our review of it.
What's the job of the V21, you're wondering? Taking incredible photos, running your apps smoothly and many more! We put the vivo V21 to various tests to see how it performs for our review.
That said, let's dive into our review of the vivo V21!
---
Specifications
| | |
| --- | --- |
| Display | AMOLED FHD+ 6.44 90 Hz |
| Operating System | Android v11 |
| Performance | 7nm octa-core MTK 800U |
| RAM | 8 GB + 3 GB |
| Storage | 128 GB |
| Rear Camera | 64 MP + 8 MP + 2 MP |
| Front Camera | 44 MP |
| Battery | 4000 mAh |
| Price | RM 1,599 |
Shines and sparkles
In terms of its design, the first thing that will catch your eye is the back of the phone. In particular, the Sunset Dazzle variant has a vibrant and sparkling surface. This effect is thanks to its dual-tone step design. As a result, the phone can create a rainbow-like effect when light touches the back panel at different angles. Note that it is easy to leave fingerprints on the surface, but users will be able to clean it easily. For those looking for a less eye-catching design, then the Dusk Blue variant of the vivo V21 should do the trick.
As for its dimensions, the smartphone is unbelievably thin. With a depth of 7.38 mm, it is as thin as some pencils. The Vivo V21 also weighs in at only 177 grams, living up to its overall "feather-light" themed design. After using the phone for a few days, it never felt heavy or tiring to use thanks to its weight, even when using the device with one hand.
Note that the dimensions above are for the Sunset Dazzle variant. For Dusk Blue, the depth is 7.29 mm and the weight is 176 grams.
Furthermore, the part of the phone where the camera protrudes is never an issue given how flat it is. The device remains comfortably still when placed on a flat surface while vibrating.
The smartphone's design is really sleek and stylish considering its price. However, it does have a few drawbacks, namely a smaller battery and the lack of a headphone jack.
Display
The vivo V21 proudly shows off its 6.44 inch AMOLED FHD+ display in front. Colours are bright and images are crisp. The display still works well under sunlight and colours remain consistent even when viewed from odd angles. However, the colours sometimes look a tad bit too sharp on a standard colour display scheme.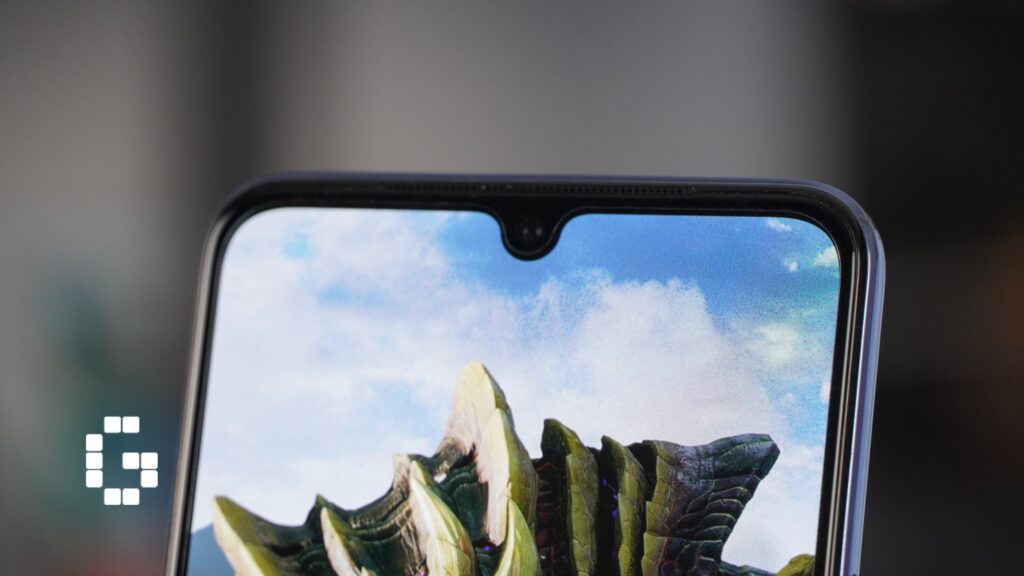 Gamers will be excited to know that the smartphone's screen supports refresh rate as high as 90Hz, excellent for playing games smoothly and clearly. It is also a brilliant device for watching videos on.
In addition, the screen is made of AG matte glass. Not only does it give higher durability, but it is also scratch-resistant and anti-slip. Furthermore, it does not leave fingerprints easily, which is easily another win.
The Selfie King
The vivo V21's camera is by far its most prolific asset. It boasts a 44MP OIS (Optical Image Stabilization) camera with Superior Night-time selfie feature. Currently, this is the only front camera with Optical Image Stabilization technology in the market right now. The phone prides itself in taking stable shots without shaking while retaining high-quality selfies in low-light conditions. Add that with its Dual Selfie Spotlight and Screen Spotlight, the vivo V21 is a real contender for the king of selfies.
The biggest surprise for me was that its selfie camera is actually able to record videos in 4K! Its 4K-capable selfie camera, coupled with its OIS and EIS technology makes it the most advanced front camera that I know of. Its rear camera sports a 64 MP triple main camera setup + 8 MP Multi-Function (wide-angle) camera + 2 MP super macro camera.
Obviously, we had to put the vivo V21 and its camera to the test to see how it performs for this review. Firstly, the camera function is quite user-friendly. Day and indoor pictures are sharp, but do experience a bit of saturation. The camera's focus is really precise thanks to its vivo eye-autofocus system. By focusing on a subject's eyes instead of the entire subject, the phone's camera ensures that the face is perfectly focused on.
Landscape shots are also pretty detailed as the camera tends to enhance the colour. Images look almost perfect, but the camera softens shadows slightly probably due to its AI.
As for nighttime photography, the camera's standard mode has a tendency to overexpose shots, especially when there are a lot of bright street lights, or car headlights. Luckily, its night mode does a great job in keeping everything under control, allowing it to capture sharp pictures no matter the lighting condition. As a result, users can easily get quality images perfect for social media with minimal editing. 
As for video recording, users can record footage at 4K and 1080p resolutions at 30 and 60 fps respectively. Regardless of the setting, the output looks stable accompanied by a stable bitrate. Its focus is fast and smooth even as we switch from dark to light scenes.
Gaming
We know its camera is great, but can the vivo V21's gaming performance keep up? The device runs a 7nm octa-core MTK 800U processor that works at speeds up to 2.4 GHz. Storage-wise, it has a capacity of 128 GB. A unique asset that the V21 has is its new memory management system. It has 8GB of internal RAM and an additional 3GB of Virtual RAM.
For those who are wondering what is Virtual RAM, the way it works is that if the phone needs more RAM, it can borrow space from storage and move it to internal RAM. This aids the device in giving more power to important applications like games so that users. As a result, performance is more stable, even while accessing various applications and gaming on high graphics.
To review its gaming performance, I tested three games on the vivo V21—League of Legends: Wild Rift, PUBG Mobile, and Genshin Impact. The V21 runs Wild Rift at Very High graphics setting while maintaining stable frame rates. 
On PUBG Mobile on the other hand, it reached UHD graphic settings. However, the game was not able to make use of the screen's 90Hz refresh rate. Unfortunately, I am not sure why this is the case.
Lastly, Genshin Impact—one of the most demanding mobile games currently available. As expected, the vivo V21 was only able to run the game smoothly on lowest settings. However, this is still impressive considering that the device is not an "all-rounder smartphone", but a smartphone that emphasizes on its camera.
The smartphone also boasts high resolution audio as third-party earphones and headphones still work well, delivering clear and satisfying sound. However, I found the speakers at the bottom of the device to be problematic. It is indeed loud, but there is a lack of bass when listening to music or watching videos.
In addition, the vivo V21 supports UFS 2.2. As a result, it offers 110% faster read speeds and 95% faster write speeds when compared to V20 technology. According to vivo, the installation speed for large applications such as games is 10% faster while the time taken to copy files is reduced by 20%.

Battery and 33W FlashCharge
The vivo V21 comes equipped with a 4,000 mAh battery. Surprisingly, it was still able to last a respectable duration of 6-7 hours with its screen turned on the whole time. Together with the vivo Funtouch OS software optimization, users will be able to enjoy gaming sessions at maximum settings without worrying too much about its battery.
If the battery does run out, the 33W FlashCharge fast charger will come to your rescue. It can recharge an empty battery to 63% in just 30 minutes!
vivo Wireless Sport Lite
vivo also sent us their latest accessory, the vivo Wireless Sport Lite to be paired with the V21! It is a pair of neckband-shaped wireless earphones and is actually a lower-spec version of the vivo Wireless Sport that is already available in the market.
Its design is simple, not too flashy, but ergonomically shaped and really comfortable. It weighs 23.9 grams, making it great for those looking to work out while listening to music. A great part of its design is its flexible and soft wire. If you are not listening to music, both sides of the earphones can be magnetically plug in, preventing the wires from disturbing the user while walking around with the gadget around the neck.
The Wireless Sport Lite uses 11.2mm drivers and GoldenEar technology. Users can connect to their devices via Bluetooth 5.0 where it supports low latencies up to 80ms. Also, it is waterproof with an IPX4 value. That means that if you are under the rain or prone to heavy sweating while exercising, the earphones will not get damaged easily.
As for its audio quality, the Wireless Sport Lite has powerful audio and can hit high frequencies. It does not have much in the sound department beyond that, however. The earphones do not deliver deep and immersive sound and that is fine considering that it is designed to be a lower-spec version of the vivo Wireless Sport. Rather than enjoying 100% audio quality, the Wireless Sport Lite is for those who still want to enjoy decent sound without worrying too much about the device breaking down. However, note that the audio is also relatively loud, so be wary not to turn it up to full blast to protect your hearing.
The earphones can be charged via a USB Type-C port, where a single full charge provides a lifespan of up to 18 hours. If the battery is almost depleted, a short charge of 10 minutes will already allow users to enjoy an extra 5 hours of usage.
Wearing the earphones is really simple for vivo smartphone owners. Simply bring the earphones closer to the smartphone and they will connect automatically.
You can get a vivo Wireless Sport Lite for yourself on the vivo online store and authorized distributors at a price of RM159.
Verdict
As the review comes to a close, the most important question still remains—should you buy the vivo V21? The answer is yes. For a smartphone with one of the best cameras around, a great 90 Hz AMOLED display, solid gaming performance and super-fast charging, the vivo V21 can grant you all that for an affordable price of RM 1,599. It is stylish and snaps great photos—what's not to love?
If you like what we said in this review, then you can get yourself a vivo V21 by heading to Shopee, Lazada and vivo online stores, or visit the nearest authorized vivo distributor.
---
Review Unit provided by vivo