Ahead of its launch on Wednesday, Uma Musume: Pretty Derby can now be pre-loaded on your mobile device of choice, in a clever move from Cygames, which is anticipating an influx of users. The game will take about over 3GB of installation space, so make sure you have some prepared for it.
To recap, Uma Musume: Pretty Derby was first announced in 2016 and was originally scheduled for a launch in winter 2018. Of course, that never happened and the game was pushed back for polishing. The team issued an apology and thanked fans for supporting the franchise still. At first glance, the game seems to be a cross between the famed [email protected] series (it's the same producer after all) and your traditional horse racing game. Akihiro Ishihara, who previously served as [email protected] game series director left Bandai Namco to pursue his dreams to work on this so it will be interesting to see if it was a good decision. At least that was the narrative when the paragraph was previously written in 2018. Said director has since departed the company, although the game, as it looks, is still being worked on. See gameplay here, and drop by the official website for details and further information as always.
The game definitely has a monumental task ahead of it to win over an audience that have been denied the game for a long time already, with many new distractions since. With the visionary behind the game gone, it would definitely be interesting to see how the game will turn out now. While upsetting, it is definitely a good move by Cygames to delay the game in retrospect, since rushing a half baked product would be more detrimental to the franchise than having it come out late. Pre-registrations are still open, so be sure to sign up for all that sweet early bird rewards.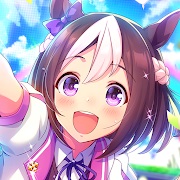 Uma Musume: Pretty Derby
Android, iOS
Horse girls take to the track! Train up these cute horse girls to be the best of the best.