Uma Musume: Pretty Derby will finally be launching soon after seemingly languishing in development hell, and pre-registrations for the game are finally open! There's no specific milestone, but there are two separate ones that you can chip in for:
Every 50,000 pre-registrations will give enough currency for 1 gacha pull along with 1 "start dash" item
Achieving 250,000 pre-registrations will give out currency for 10 gacha pulls
Apparently the currency name has been changed to Jewels, but it will not affect the item in any way. For now, there's no notice of a potential worldwide release of Uma Musume: Pretty Derby, so you'd have to join in the pre-registrations train for the Japan release and maybe they'll consider importing it someday. The official website notes that the release date for the game may still be subject to change, but hopefully that won't be coming to pass.
The game will also be made available on PC via DMM Games scheduled for a 10 March 2021 release. Players will be able to link their accounts for cross-platform play.
Pretty Derby sees the player take on the role of a trainer to raise these horse girls to success both on the track and on the stage. There is also an element of PVP where your horse girls will go head to head against another player's, with associated ranking system.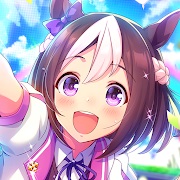 Uma Musume: Pretty Derby
Android, iOS
Horse girls take to the track! Train up these cute horse girls to be the best of the best.