Uma Musume Pretty Derby has had its April Earnings published, putting the horse girl game above juggernauts like Genshin Impact
The report comes from Sensor Tower, who didn't disclose how much the game made in the past month. However, it sits just behind PUBG Mobile and Honor Of Kings, and is the highest non-Tencent Games published title on the list.
Interestingly, Uma Musume has even overthrown Genshin Impact, who had the third spot in the prior month. Genshin Impact moved down a whopping three spots last month, sitting at sixth place overall. That being said, Sensor Tower's readings don't account for PlayStation Network sales for Genshin Impact, so we can't get an accurate reading of how much the game has made overall.
What's especially interesting about the Uma Musume April Earnings is that unlike Genshin Impact, the game has done this with minimal international support. The game still doesn't have an English release date, although the Korean release is scheduled for either 2021 or 2022. This is in stark contrast to Genshin Impact's multiple language support both in text and audio, with a Chinese, Korean, Japanese and English dub.
Uma Musume features anthropomorphized versions of real-life race horses, depicted as anime girls. The game's been a smash hit in Japan, where both horse racing and anime girls are a big part of the local culture in some circles.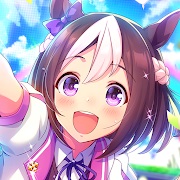 Uma Musume: Pretty Derby
Android, iOS
Horse girls take to the track! Train up these cute horse girls to be the best of the best.