Not long since the official launch of Uma Musume for Japan – which was in fact just a mere week ago give or take – Kakao Games has signed on a publishing deal with Cygames to release the game in South Korea. As the article from Inven notes, Kakao Games is also publishing World Flipper and Princess Connect Re: Dive in the country. Cygames itself has likewise been active in registering for related trademarks in the country since 2018.
Considering the popularity of the title be it anime or the brand new game in Japan, this is hardly an unexpected move, but it might be surprising to some to see the speed of which the deal has been reached. Uma Musume getting published and localized in Korea can easily open the path to equally swift releases for more global territories, pending publishing parties willing to pick it up.
Kakao Games will also be handling the global launch of World Flipper, set for a release sometime 2021, while Princess Connect Re: Dive's English release is under Crunchyroll Games.
You can check out our first impressions of the horse girl training simulator game here. After the game having been stuck in development hell for a while, it's a good thing it's being enthusiastically received. We'll keep an eye out for the game's potential English release.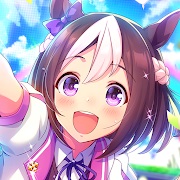 Uma Musume: Pretty Derby
Android, iOS
Horse girls take to the track! Train up these cute horse girls to be the best of the best.