The day of horse girls has arrived at last with the launch of Uma Musume: Pretty Derby! The game is, as advertised, primarily a training simulator ft. horse racing. It's been a long time coming, having been originally announced to launch in 2018. Well, it's back to the non-Japanese to bumble through another game, let's go!
---
PRESENTATION
I have to say the production value here is pretty high, besides the cute horse girls of a different flavour from Arknights. The models look great, on the track and on the stage. The gacha animation is even them dashing out of their starting gates with white, gold or rainbow doors. With how many parameters you'll need to raise, expect to do quite a bit of menuing, even if the layout itself is pretty nice and clean. Ah, it's like Granblue all over again (mostly joking).
Not helping the fact is my lack of knowledge in the language so I have no idea if I can fully auto this game. It reminds me of Mahoyaku, with similar training systems and stats to raise. The girls have costumes you can set on your homescreen, and you can place them in other areas as well, so you can see them hanging out. Presumably more outfits should be unlockable through maybe the story and at the very least, the gacha, as natural 3-star girls will have their 3-star outfit off the bat.
As your girls race across the track, there'll even be a, uh, running commentary, giving you that real hyped atmosphere. Don't people usually come here to bet…? The main story is fully voiced, which surprisingly enough, is more of a rarity in the mobile game landscape.
The game will mostly be in portrait mode, with the stage performances defaulting to landscape. You can have those performances play on portrait as well, but it doesn't look as nice.
GAMEPLAY
I honestly half expected there to be a rhythm game thrown in with the post race live show, but no, it was just an MV. The gameplay is focused on you managing the limited turns to raise your horse girl's numbers and tap through the events that come in between. Your main horse girl will be assisted up to six other horse girls, and five support cards with the sixth support card coming from a friend.
Once you begin training, you can choose what stats to raise, which will use up energy. You'll need to spend a turn to rest to replenish it, and what I assume is somewhat like a mood gauge can go up and down. Your support cards will help in giving additional boosts every now and again in certain training options, and those can also level up the more you run the course. As far as I can tell, both your support horse girls and the cards contribute to what events you'll come across during training. Some of these will have options which will raise or lower parameters too.
You'll want to raise your team's overall score to go through the ranks of the derby. The training mode focuses only on one girl, but there's also the team races. There's an in-game hint system but if you don't know how to read Japanese, they might as well do nothing for you. Prior to the solo races, you'll also be able to distribute additional skill points to improve the skills.
The highest rarity you can obtain from the gacha is a 3-star for a horse girl, and SSR for a support card. Support cards can be further uncapped four times, while horse girls currently go up to 5-stars, with increasingly higher shard requirements of course (200 to 4-star, 600 to 5-star). You'll get some amount of shards through the gacha to raise their star ranking, like a 3-star unit giving 60 shards on obtaining them. Get grinding, people!
GACHA
For both 3-star girls and SSRs, the rates are 3%. It takes 1,500 Jewels to do a 10-pull with sparking available at 200 pulls. I would have expected it was 300 much like Granblue or Princess Connect, but it seems the gods are kinder in the world of horse girls. 3% is pretty average in the world of gacha, so good luck to everyone who's rerolling for their favourite.
---
Training simulator games have never been my cup of tea, but then again, there are plenty of popular games that have similar gameplay anyway, so it depends. If you enjoyed the anime and want to play something relatively low maintenance and see your girls moving around, then by all means, try it out.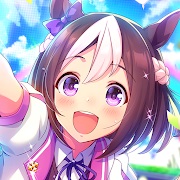 Uma Musume: Pretty Derby
Android, iOS
Horse girls take to the track! Train up these cute horse girls to be the best of the best.