Top War: Battle Game is a free-to-play strategy game developed by ReaverGames where the main appeal is with its merge to upgrade gameplay feature. An interesting and refreshing spin to your usual city builder games. While this gameplay feature serves as the game's forefront, Top War: Battle Game has plenty more to offer!
Getting On Top
In Top War: Battle Game, players are stationed on an island covered with clouds and your goal is to build up your base by recruiting heroes and units to take on the Dark Legion that rules the world in tyranny.
Players start off in a small area that serves as their base of operations along with a couple of units at the ready. There will be some areas which are highlighted and once interacted with, will trigger a battle. Clearing these highlighted areas and portions of the clouds covering the island will disappear, in turn opening up the map even more as well as giving players access to more building options.
This feature gives off a nice feeling of achievement as you're able to see the fruits of your labour by winning battle after battle and seeing your map open up gradually.
In terms of the combat gameplay section of Top War: Battle Game, the battles mostly run on auto for most of the time. Players will need to set down their units onto the 5 slots available and choose two heroes to lead your units. Players are also able to fit in multiple of the same units in 1 slot up to 3 times from the front two and 2 times on the back row.
Levelling up your player level also means being able to unlock new areas and buildings that are level gated. There are various ways for players to earn exp in Top War: Battle Game, from battling enemies, creating and upgrading buildings as well as from the Radar Missions.
The Base Island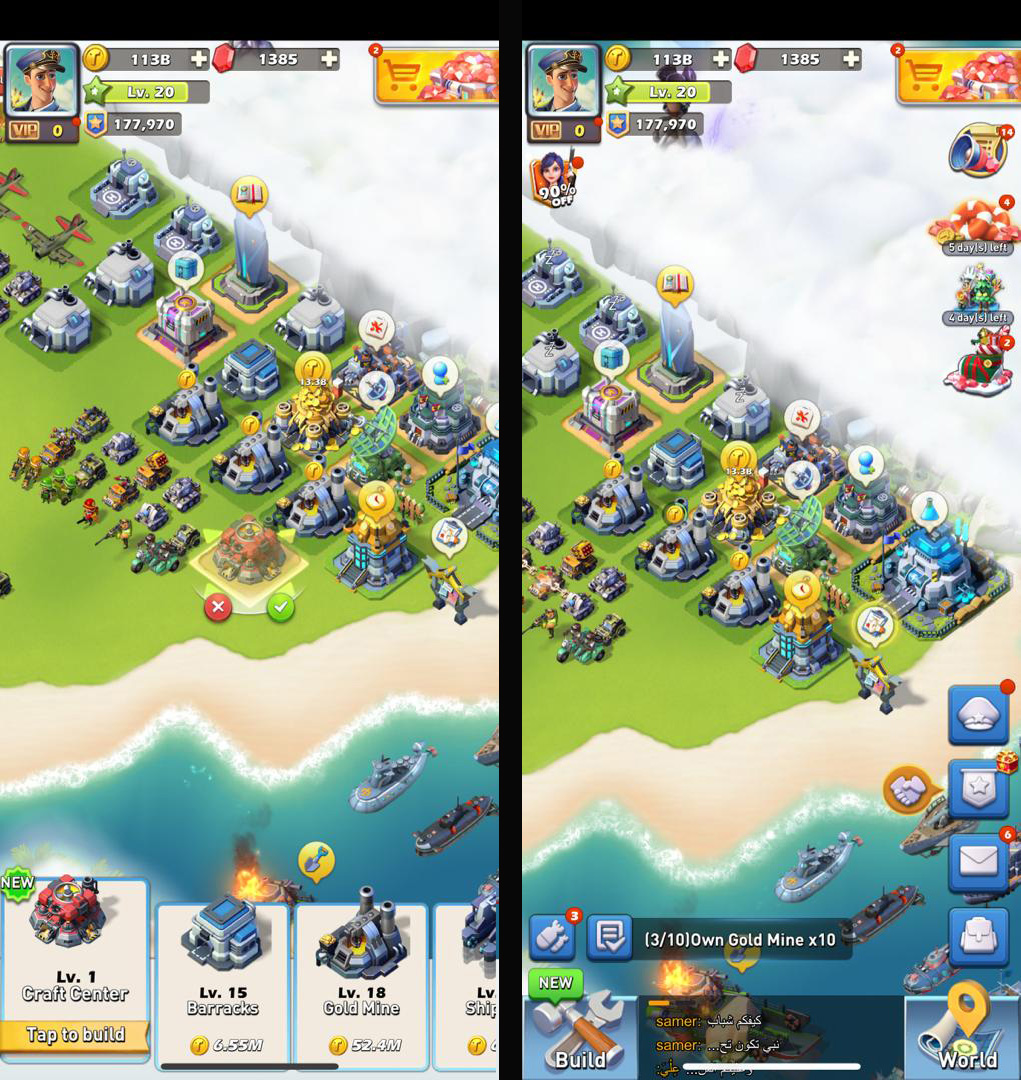 In your base island, aside from just creating buildings that are essential for advancing your island, players are also able to decorate their island to creatively express themselves, like being able to change the lush grassy tiles with fine ceramics and so on. The customisation doesn't stop there either, players can even change up the whole theme of the island into a futuristic city or even just a whole volcano. The possibilities are limitless!
Personally speaking, I adore games that let the players be able to customise their main base to however the players like. To me, having a change of scenery to something that you always look at, like your main base in this case with different visuals is a great deal for me!
Command Your Troops
No successful commander is without their army, and in Top War: Battle Game, there's a plethora of units players can raise and train. The units in the game may vary from soldiers, to submarines and even fighter jets. Players will mainly use these units to take on battles to expand their bases, taking on Attack missions, so on and so forth.
Units are divided into three main types: Army, Navy and Air Force. Army consists of land units, from foot soldiers, to tanks and war machines. Whereas the Navy are sea units from submarines to boats while the Air Force are mostly fighter jets.
To create these Units, players will need the corresponding buildings. Each of the buildings can create a maximum of five units at a time and you're able to build these buildings as much as you want provided you have enough resources.
Units and Buildings you use to create them have levels and the higher the level, the higher the level these units are, the stronger they'll become. A level 1 Barrack can only create level 1 Army units while a level 4 Barrack creates level 4 Army units.
As for levelling up Units and Buildings, this is where Top War: Battle Game shines the most with its merge to upgrade feature! Players will be able to take two units or buildings of the same level and type, merge them together to get a higher level.
It's such a simple yet very satisfying feeling where you get to see all the buildings and units of the same level and type be combined together as it frees up space on your island and turns into a stronger version!
Heroes That Lead To Victory
Heroes in Top War: Battle Game are essentially the player's assigned commanders that will lead the units to battle. These heroes passively increase the stats of the player's units and even have their own unique skills to help in battle through applying buffs or dealing damage.
As previously mentioned, heroes have skills that players can equip for additional bonuses. Some skills offer passive buffs in battle while some skills help out in other ways like gathering resources. One of the examples being the Navy Hit skill which increases the Hit stat when your Navy unit is in battle.
Victory Comes To Those Who Unite
To summarise, Top War: Battle Game is a fun and casual game to pick up that offers engaging battles as well as an addicting gameplay loop where players can easily spend hours playing the game.
I often find myself booting up the game from time to time when I have some spare time to kill, such as waiting to board the public transport or even waiting for my food to arrive in a restaurant. I especially enjoy the aspect where you can easily go in and out of the game without much effort!
In terms of its art-style, the game has a vibrant and colourful palette that I think fits in very well with its cartoon-ish and unique visual design for both the characters and buildings that are present in Top War: Battle Game.
I am personally a big fan of the various character designs of the many heroes in the game, having such a distinct and also memorable style to them!
---
What are you waiting for? Rise to the top with Top War: Battle Game, which is available to download on the GameCentre.
---
Check This Out Next
---