Welcome back to Marvel's Midnight Suns! Following the preview, I've since spent more time with the game, so here we are. Do check out the preview here.
---
SKY HIGH
I want to approach this from a subjective angle first. I've heard plenty of one-liners by now, and I have to say, I'm still enjoying it. I can't say I have the same enthusiasm for the variety of lore pieces scattered around which might be taken as sacrilegious, but I would like to explain why I've skimmed through them when discussing more about the game later.
There's the growing pains of a ragtag group of apparent teenagers and the "Earth's Mightiest Heroes" forced to come together to stop a world ending threat, with the crux of their plan being the child of said world ending threat. The Hunter has to be the heart, despite being dead for the past 300 years.
BUILD-A-HUNTER
Upgrading and research pretty much feed into each other. Researching will get you the materials needed for upgrades, which in turn fulfills conditions in order to research new things. You need the upgrades for your heroes' cards to get stronger, so that you can take them out on missions for other research prerequisites. You can get these resources as you explore the Abbey, but at the early stage, it's hardly worth the effort to pick up such miniscule drops.
The Hunter will be able to lean "Light" or "Dark", and unlock respective passives for doing so (and changing the colour of the collar). This Balance is affected not just in certain dialogue choices, but also the skills you use most frequently in combat. From what I can see, the Balance in turn affects how affective your cards are in that certain alignment. For example, my Heal started off at restoring 60, but has grown to 117 following an upgrade.
More passive stats can be gained through helping out the heroes in the Abbey, or as you upgrade stuff, potentially from sparring as well (for the respective heroes). There's a lot of incremental stuff that encourages you to mix around with your fellow Midnight Suns / Avengers to really liven the place up (and get more suits via Research for helpful passives).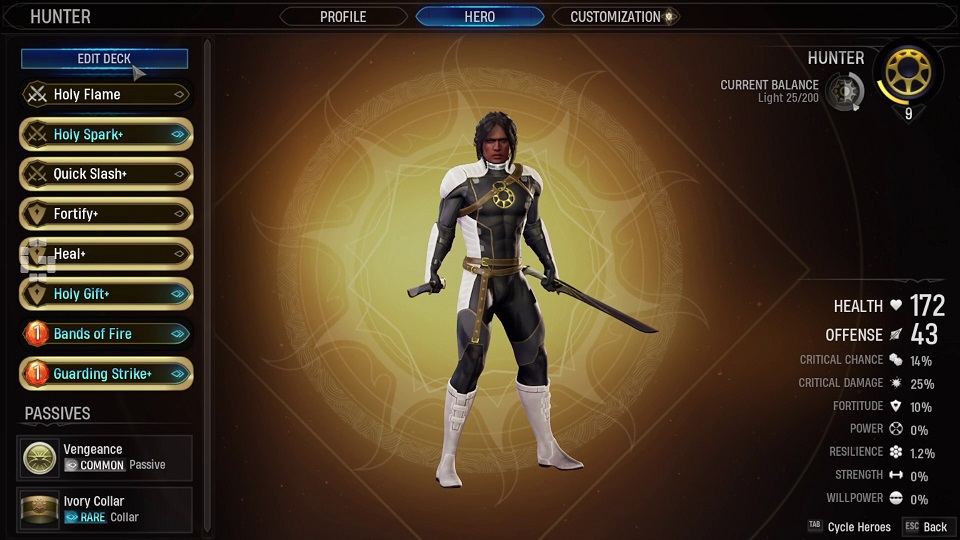 Unfortunately, this honestly can feel like a drag; grinding for the nitty gritty in between some enjoyable combat and conversation dampens the fun a touch.
ABBEY IN THE WOODS
I mentioned in the preview that the story and the characters are what I like best about Midnight Suns, and I stand by that. I'm sure there are bound to be complaints about the exposition dumps, the long conversations, but I enjoy how they're delivered.
The combat and gameplay loop is enjoyable, up to a point. There's a whole bunch of things that interconnect, which can be both a strength and weakness:
Facility and ability upgrades, sparring, hero ops, all have their respective resource cost. It adds a layer of grinding I don't particularly enjoy
However, you need to hit the pre-requisites so that you can unlock other stuff, namely the other facilities for some sweet bonuses, team combo attacks in battle
Cards from coils feature the heroes you took for a previous mission. Overlevelling aside, the fact that you have to discard half the cards you get means there'll be that other grind for whoever else you want to use
Exploration will net you small resource pick-ups and other crafting items for extracurricular activities; while they're optional, they do unlock nifty bonuses
Story missions may require you to do one regular mission before you dive into progressing the narrative, which may feel like it's slowing down the narrative tension
Backtracking is necessary not just to get the random resources around; places do update themselves with more unique collectibles. While running around isn't that slow, it does mean needing to re-exploring places that aren't necessarily populated
INTO LIMBO
I don't want to talk too much about the story seeing as that's what I insist is the strongest part of the game, aside from the combat. I'm torn in wholeheartedly recommending this game with the rich lore you can find scattered around because of the sheer amount of honestly un-fun tedium that drags things down during the in-between. The pace becomes glacial with all the random resource gates I come across trying to fix up the place or get some upgrades.
It's good for moderate gaming sessions. As cool as they are, I think the canned animations and busy work wear on you eventually that holds Marvel's Midnight Suns back from being a possibly campy, pretty great fun.
| PROS | CONS |
| --- | --- |
| Engaging narrative complemented by voice performance | Pace becomes glacial between missions |
| Combat is a fun twist to strategy, and card game | Additional grind from resource gathering |
Code provided by 2K. Game reviewed on PC.