Marvel's Midnight Suns promises to be an exciting new entry into the general Marvel ecosystem, pooling characters across its multiverse into one card-based tactics game and backed with what feels like an ambitious narrative. Launching 2 December 2022 for Windows PC, Xbox Series X|S and PlayStation 5, how does the game feel in the early game?
---
CALIBRATING SEQUENCE
As usual, it's time for the options menu dive! Ahead of the tweaking, the game gives a health warning for photosensitivity.
The general options don't stand out all that much, offering:
Difficulty (can't be selected from the menu itself)

Look Sensitivity Mouse / Controller

Invert Camera Vertical / Horizontal

Focus Hero on Ability Activation / Cycling

KO Voice Frequency
Accessibility has the bare essentials with:
Camera Shake slider

Controller Vibration

Tone Indicators 

Colour Blind Mode: Deuteranopia, Tritanopia, Protanopia, Achromatopsia

There's also Colour Blind Strength
As for Video:
GPU

Renderer

Monitor

Max FPS (Vsync)

Gamma slider

Window Mode, Resolution, Resolution Scaling, Scaling Quality
Graphical options include:
Master Quality (Master settings, goes up to Epic while most others cap out at High)

Textures and Effects: World Detail, Draw Distance, Textures, Effects, Foliage
Post Processing: Post Processing, Anti-Aliasing, Screen Space Reflections, Ray Tracing Reflections, Ray Tracing Ambient Occlusion, Depth of Field, Motion Blur
Lighting: Number of Shadows, Shadows, Volumetric Fog
Then, for Sound:
Master, Music, Voice, Sound Effects, Mute when not Focused
Last but not least, the Controls. I didn't try plugging in a controller so all I saw are the keybinds for the keyboard. Between the Menus, Tactical and Strategy segments of the game, you could set separate shortcuts for them.
WELCOME HOME, HUNTER
There's been quite a bit of focus on the narrative, what with the prequel shorts and the fact that you have an eclectic cast to play around with. I have minimal knowledge about the overall Marvel universe and I have to say, the opening hours have done a good job in hooking me in. Doctor Strange and Iron Man approach Johnny Blaze (Ghost Rider) who in no uncertain terms tell them to piss off, saving the world be damned, which then transitions into the tutorial sequence.
Into this uncertain fold is you, The Hunter, basically resurrected to fight back against the evils of Hydra and Lilith. Lilith, incidentally, happens to be mother dearest.
From what little I know of the Cinematic Universe, the banter in Midnight Suns is pretty much in a similar vein, with their little quips and snarks in conversation. Thus far, I haven't found them to be excessive or obnoxious, and have in fact, enjoyed them, but I will understand if you'd prefer them to tone it down a notch in the wake of impending apocalypse.
Since you've just returned to the corporeal realm, there's plenty of exposition to get you up to speed to this universe. Much with the banter, I do quite like how they do it to ease me into the narrative, getting you to talk to the titular Midnight Suns to learn about both themselves, and the multiverse at large. I'm sure a more die-hard Marvel fan would be able to pick out all the finer touches / references here; I'm just here for the ride.
FLIPPING THROUGH THE PAGES
I played the game at Medium Quality on a setup with an 11th Gen Intel(R) Core(TM) i7-11370H @ 3.30GHz CPU, 16GB RAM and NVIDIA GeForce RTX 3060 Laptop GPU. In this early build, there are definitely frame drops and some popping. Loading times are mostly fine, though screen transitions might have some jitters, besides other smaller visual errors. I would expect these to get ironed out over time.
The Hunter is customizable, but the starting character creation is quite middling, with more unlocks to obtain through playing the game itself. On Medium quality, the graphics are mostly quite well done, with some sweet action shots, animations and the sound design to go with it.
The Abbey and the Limbo are both beautiful in their own ways: the more lush Abbey to the swirling emptiness that is Limbo. The environments you get transported to are also quite fetching, themselves lending as accessories to destruction.
What especially impressed me is the voice acting. These games don't generally bring on their movie cast to voice their game counterparts, with the difference in intonation potentially be jarring to a subset of fans. However, I've really enjoyed how the cast have portrayed their characters here. I suppose it helps I am not familiar with even the movie incarnations, but that doesn't detract from the fact I do like the performances here.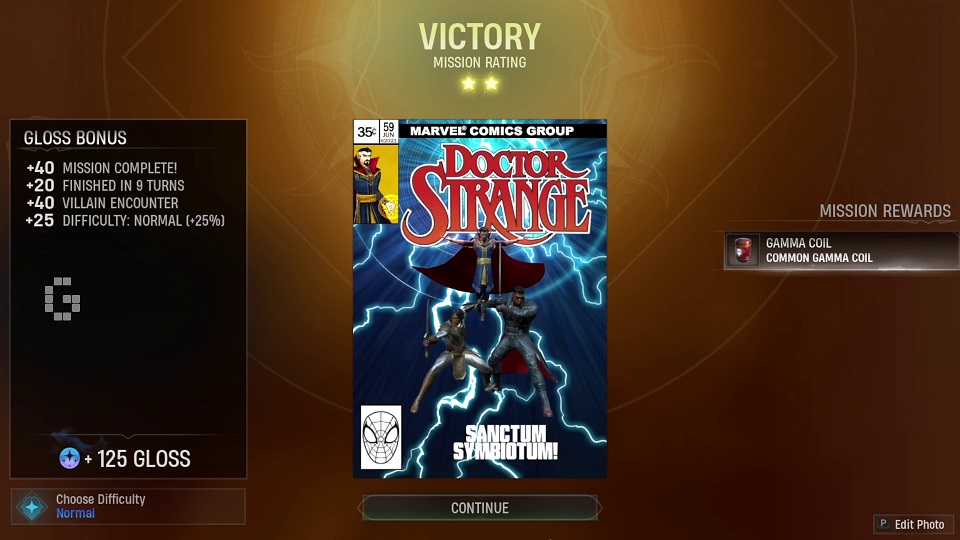 IT'S TIME TO D-D-DUEL
The short of Midnight Suns' game mechanics is a blend of "tactical RPG" and "card game".
At the baseline, during your turn you can do things like:
Moving one character across the field to reposition them. They can Move as long as they don't use an ability
Various effects e.g. Knockback, typically depends on your character's position, providing a strategic layer to your Move
Positioning also applies to various interactable environmental items, whether to throw an enemy into them, or applying brick to enemy
You start with 3 card plays; once you've played 3 cards, your turn is usually over. Any cards in your hand are kept unless stated otherwise
You can choose to redraw a selected card a limited amount of times
Enemies which are not bosses will indicate their target above their heads. Bosses can take multiple actions in a turn, as well
Normal difficulty offers 2 Revives to start should any of your units fall in battle
The Hunter has greater flexibility in their deck build, but it's not something that will come up much in the early game
Using cards can add to other resources or mechanics; Heroics is used for 'ultimate' attacks, while heroes like Captain Marvel can utilize her Binary form
As you might expect, there will be various ways you can upgrade yourself and your cards. For the Hunter and playable heroes, it can be as easy as levelling up for more stats. As for cards, you need to have duplicates that are not equipped in order to upgrade them. Cards are obtained from "Gamma Coils", obtainable from missions: for example, the common rarity ones contain 3 cards, of which you can only pick ONE to keep. Artifacts can be obtained a little later on for even more resources, and unlocks Research opportunities which take in-game time.
The Hunter will be able to form bonds with the other playable characters to unlock, among other things, exclusive cosmetics. You can raise affinity through conversation, taking them on missions or through sparring – the last can only be done once per character every 4 days. Around the Abbey are random resources you can pick up depending on time of day.
Friendship seems pretty slow to gain if you don't get them gifts they like, the ability to purchase them not opening up immediately. The lore nerds will absolutely want to become buddies.
GALILEO MAGNIFICO
Overall, I feel that the game is decently simple to pick up. Positioning is important, but not weighted as much as typical TRPGs, no accuracy checks (looking at you, XCOM), and you always have that degree of control over the flow of the battlefield.
Difficulty can only be unlocked over time when you do better at the game. For beginners, this ensures you can ramp it up as you like, but I suppose some veterans will find it annoying they can't just throw themselves into the deep end right away. I played on Normal difficulty, which so far, feels pretty good enough.
Aside from the smaller technical bugs, tactical/strategy game fans and Marvel fans alike should be able to find something they like in here. More thoughts will come once I play through more, so stay tuned.
Code provided by 2K. Game reviewed on PC.
---
Check This Out Next
---