The Hues of the Violet Garden event has finally begun in Genshin Impact, kicking off the Irodori Festival in Inazuma! It will run from 7 April 2022, 10:00 to 25 April 2022, 03:59 server time.
STARTING HUES OF THE VIOLET GARDEN
You'll be starting off with "True Tales of the Violet Garden: Act 1" with "The Strange Tales of Suikou's Tipsy Tincture". Meet Inazuma Katheryne in the Festive Elegance quest and follow through the dialogue.
When this comes up, the answer chosen for this guide was "In his hat".
IRODORI POETRY
PART 1
The theme is "nostalgia", and requires you to photograph Inazuman specialties. While you can complete the quest with only the four minimum requirements, you can unlock all the poem stanzas when you capture all nine specialties, namely: Sakura Bloom, Naku Weed, Dendrobrium, Crystal Marrow, Onikabuto, Sango Pearl, Fluorescent Fungus, Amakumo Fruit and Sea Ganoderma.
You can photograph the specialties as long as the Kamera says "Appropriate Target Found". You need to use the Take Photo function, NOT the Kamera Gadget.
Sakura Bloom: Outside Inazuma City
Naku Weed: Grand Narukami Shrine
Dendrobrium: Nazuchi Beach
Crystal Marrow: Musoujin Gorge
Onikabuto: Under the Tenshukaku
Sango Pearl: Sangonomiya Shrine
Fluorescent Fungus: In the hollow of Shirikoro Peak
Amakumo Fruit: Amakumo Peak
Sea Ganoderma: Waters north of Tatarasuna
PART 2
This time, the theme is "friendship", and asks you to photograph wildlife. You DO NOT need to photograph ALL of them, just enough to unlock the four stanzas. Refer to our Omni-Ubiquity Animal locations and Fishing guides to find them.
Valid targets:
Violet Ibis
Crow
Kitsune
Electro Crystalfly
Sunset Loach
Sunny Loach
General Crab
Pale Red Crab
Pith Lizard
Adorned Unagi
Red-finned Unagi
Glazed Medaka
Lunged Stickleback
Purple Shirakodai
Raimei Angelfish
PART 3
It's time to photograph Mondstadt's regional specialties for a poignant farewell, namely: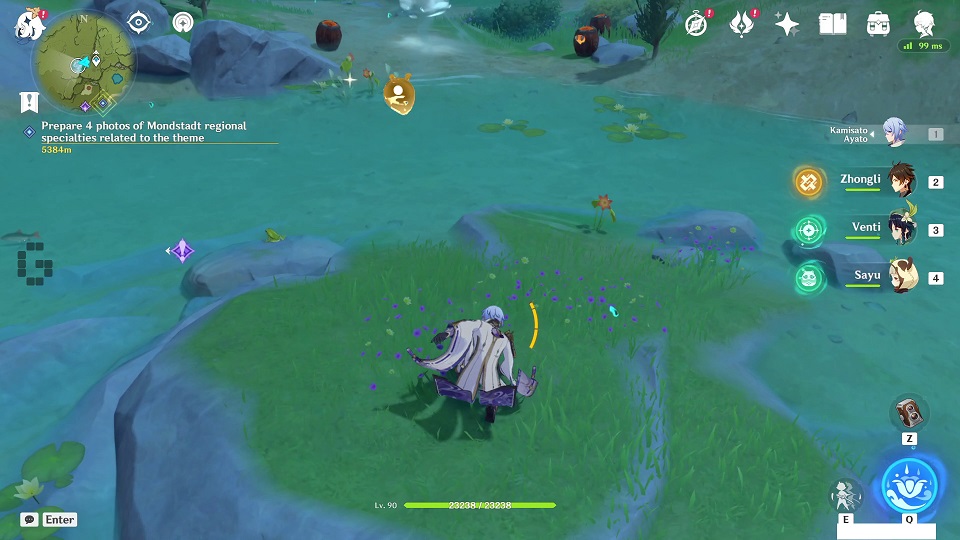 Dandelion Seed: Outside Mondstadt
Calla Lily: South Thousand Winds Temple
Valberry: Near the Anemo Cube
Small Lamp Grass: North of Cecilia Garden domain, Wolvendom
Wolfhook: Wolvendom
Philanemo Mushroom: Springvale
Windwheel Aster: Dawn Winery Statue of the Seven
Cecilia: Starsnatch Mountain
THEATHER MECHANICUS
Suggested formations and Stick loadouts.
WHITHER THE WIND WENDS
Close the Adeptus Bridges to drop enemies for Veneficus Points.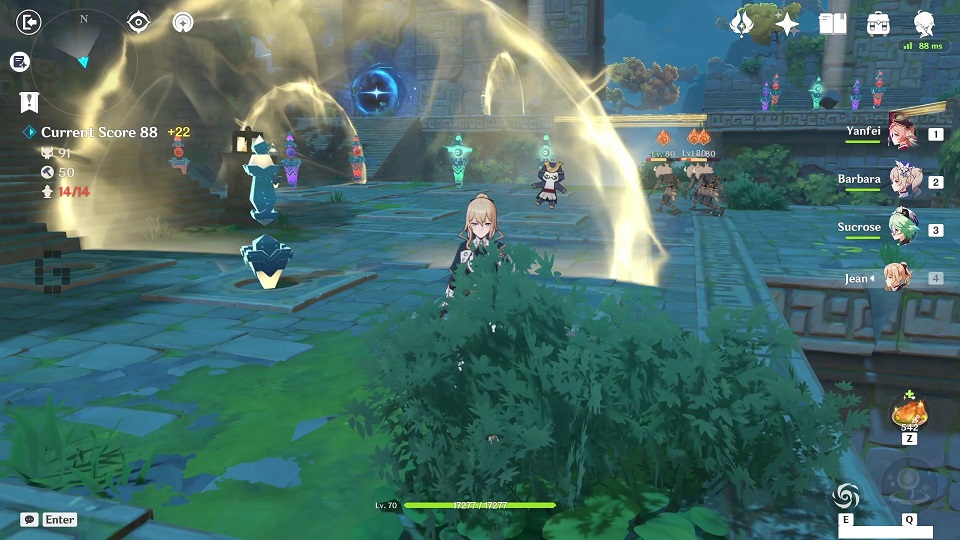 SHOW OF FORCE:
Pyro Orb
Embers
Heavenly Tumult
Thunder-charred
Falling
Reinforcement
ENTER THE HORDE:
Pyro Orb
Embers
Spring Gust
Heavenly Tumult
Bombardier
Thunder-charred
Falling
Reinforcement
SLUMBER SPIRIT'S BRIDGE
If you're using a Freezing loadout, stand as close to the enemies as possible for Deterrence to take effect.
SHOW OF FORCE:
Rolling Thunder
Siege
Constancy
Deterrence
Arrow Shower
ENTER THE HORDE:
Hailstones
Rolling Thunder
Long Arm
Constancy
Brambles
Deterrence
Arrow Shower
Grueling Battle
AUTUMNAL RESPLENDENCE
The inner tiles (i.e. closer to the center) will be safe from the Linebreakers.
SHOW OF FORCE:
Pyro Orb
Continuous Carnage
Faint Thunder
Culling
Grueling Battle
ENTER THE HORDE:
Blaze
Crumbling
Arbalest
Bullseye
Fusillade
Continuous Carnage
Faint Thunder
Culling
Grueling Battle
SPRINGTIME ADVENT
SHOW OF FORCE:
Rapids
Silver Lining
Vengeance
Jolt
Stoic Thunder
Lightning Speed
Howling Tides
ENTER THE HORDE:
Rapids
Hailstones
Frozen Fog
Frost Pellet
Uninhibited
Silver Lining
Vengeance
Jolt
Stoic Thunder
THE CLASH OF LONE BLADES
For this one, you'll need to learn timing!
OOKUBO SANZAEMON
His specialty is a thrusting attack, so keep a little distance and hit the Parry skill.
YASUHIKO TAROU
You need to beat down on him to trigger the counter, needing you to be in close range. Hit the parry when you see him swing down!
MISHIMA MICHITOSHI
This will make you practice what you've learnt from the previous two bouts, with both ranged and close combat parries.
Even though this doesn't have a blue flash, you can still parry it. It's two hits, but you only need to hit the parry once.
When he enters this stance, he will strike back with a counter.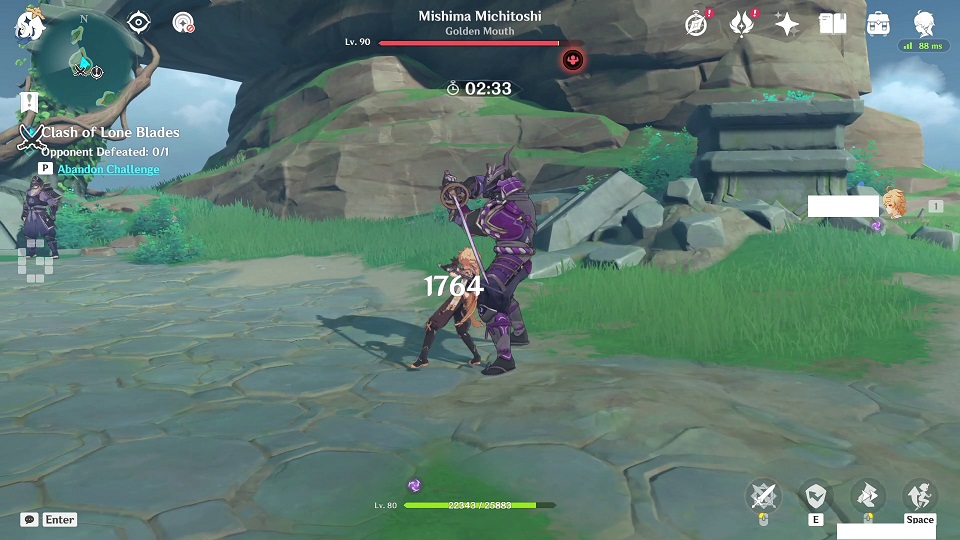 As with Ookubo's thrust attacks, you'd want some distance so that you can react on time to reflect the Electro attacks.
TAROUMARU
The goodest boy will grow larger to give you a better shot at seeing his tells. He has a similar moveset to Kageroumaru.
The level 90 version of this attack has Three parts, parrying the first one will still get you hit by the next two, so you could choose to parry only the third strike.
Taroumaru also has Electro attacks that you can parry, be it the forward slashes or downwards AOE.
The bombs can also be parried, but I find them unreliable.
When Taroumaru starts blocking, keep hitting at him to trigger the counter!
THE FLORAL COURTYARD
The arrangements will see you needing to set the base, floral theme, main flowers and the flower's heights.
THE PURPLE SAKURA LIES SPARSE, THE CLEAR SAND IS FRAGRANT
Base: Moonlight on Sand
Floral scene: Swaying Shion
Front-left: Short Champagne Bloom
Front-center: Medium Champagne Bloom
Front-right: Short Champagne Bloom
Back-left: Medium Champagne Bloom
Back-center: Tall Champagne Bloom
Back-right: Tall Champagne Bloom
SILKEN AND STURDY, THE LOTUS IN THE POND
Base: Crystal Ripples
Floral scene: Dewdrop Cabochon
Front-left: Tall Water Lily's Dreams
Front-center: Tall Lotus in the Rain
Front-right: Short Pale Blush of Brush
Back-left: Medium Pale Blush of Brush
Back-center: Tall Pale Blush of Brush
Back-right: Medium Pale Blush of Brush
THE JADE LEAVES DO REPOSE, THE FLOWERS ARE BORN IN THE WIND
Base: Wild Laurel
Floral scene: Verdant Leaves in the Balmy Breeze
Front-left: Short Promise of Blue Skies
Front-center: Medium Silhouette of the Wind's Reverie
Front-right: Short Promise of Blue Skies
Back-left: Medium Sunset Shadows
Back-center: Tall Silhouette of the Wind's Reverie
Back-right: Medium Promise of Blue Skies
THE BRANCHES, CURVED LIKE RAINBOWS, ARE DYED IN MYRIAD COLORS
Base: Flourishing Bloom
Floral scene: Flowing Melodies and Rainbow Branches
Front-left: Short Ring of Hearts
Front-center: Short Silhouette of the Wind's Reverie
Front-right: Short Ring of Hearts
Back-left: Medium Mirror of the Sun
Back-center: Tall Mirror of the Sun
Back-right: Medium Plume of Wishes
IRODORI ANECDOTES
For the most part, you only need to follow through with the story.
ABOUT THAT TIME WE SAVED THE TANUKI PHOTO BOARD
You'd be losing for the story to continue, but here's where to find the Temari.
---
See how your friends are doing post the Sakoku Decree!
That's all of the Hues of the Violet Garden event in Genshin Impact. Enjoy!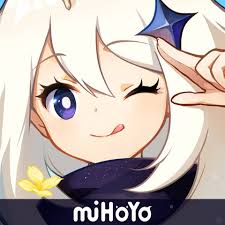 Genshin Impact
Android, iOS, PlayStation 4
Step into Teyvat, a vast world teeming with life and flowing with elemental energy. You and your sibling arrived here from another world. Separated by an unknown god, stripped of your powers, and cast into a deep slumber, you now awake to a world very different from when you first arrived.