The Granblue Fantasy Summer Stream 2020 has concluded, bringing with it the usual glut of statistics, news and of course, goodies! The stream would have originally been for the Granblue Fantasy Extra Fes in Osaka, which had since been cancelled due to COVID-19 concerns. The full stream with its shenanigans can be viewed below:
With thanks to Granblue_EN providing unofficial translations, let's get into the biggest news!
---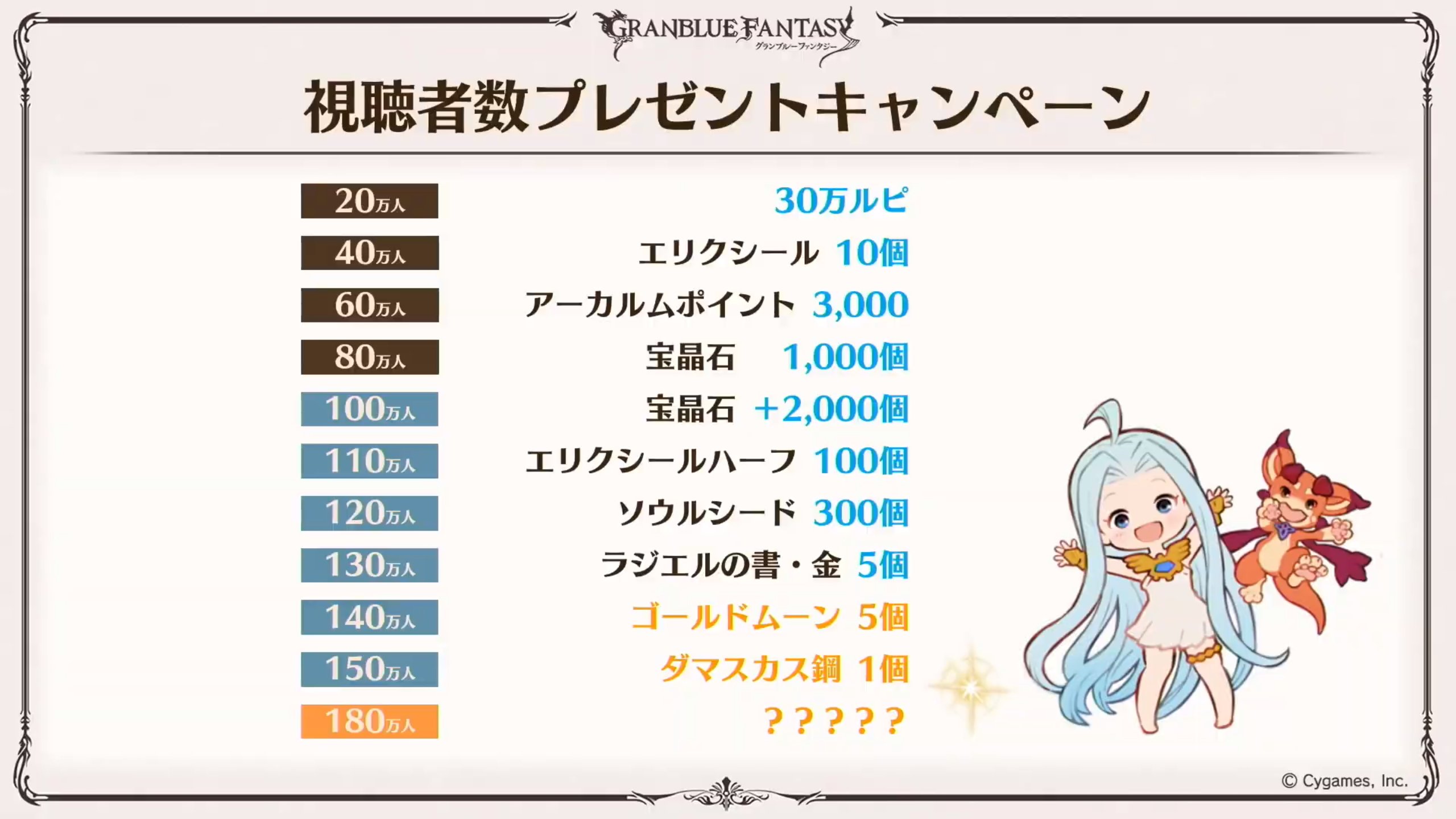 The total list of prizes from achieving over 1.8 million views are:
300,000 Rupees
10 Elixirs
3,000 Arcarum Points
1,000 Crystals
2,000 Crystals
100 Half-Elixirs
300 Soul Berries
5 Gold EXP Books
5 Gold Moons
1 Damascus Ingot
10,000 Crystals
As part of a retweet campaign, One Sunlight Stone was also given out.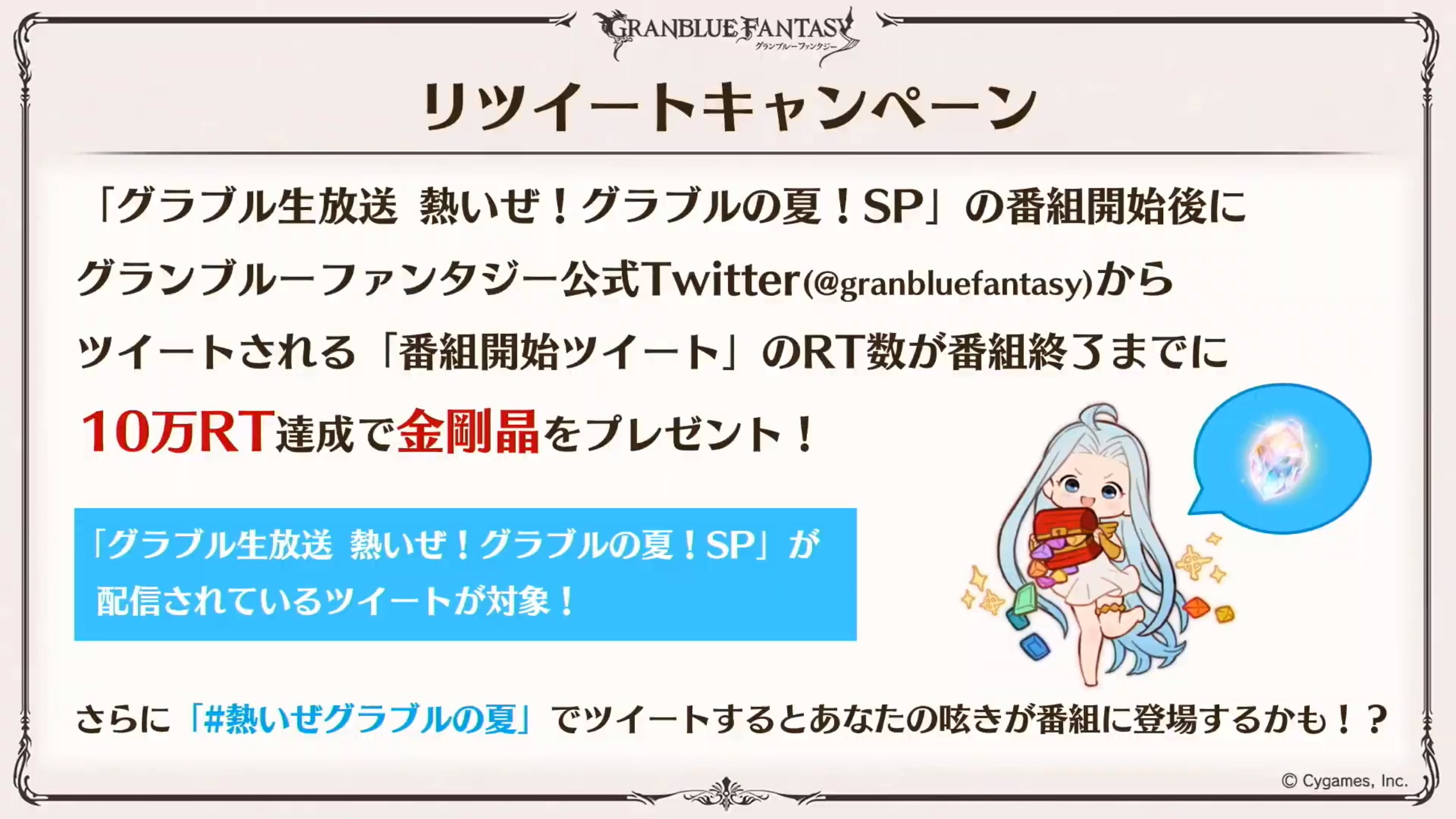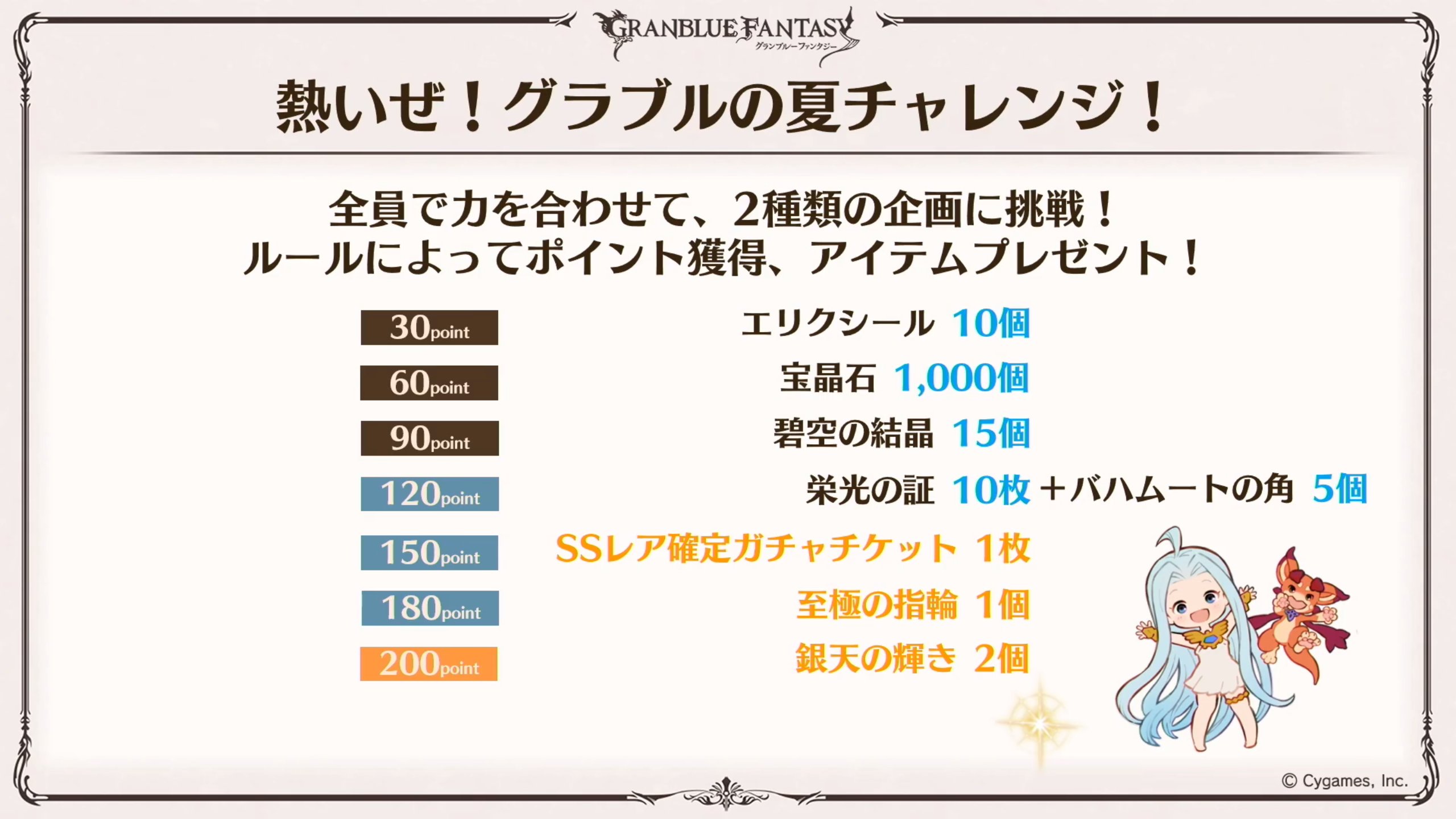 Further rewards were also given out thanks to the stream guests participating and earning points through games. The full list of rewards given are:
10 Elixirs
1,000 Crystals
15 Blue Sky Crystals
10 Champion Merits, 5 Horn of Bahamut
1 July 2020 Proving Grounds SSR Ticket
1 Intricacy Ring
2 Silver Centrums
Bonus 5 Damascus Crystals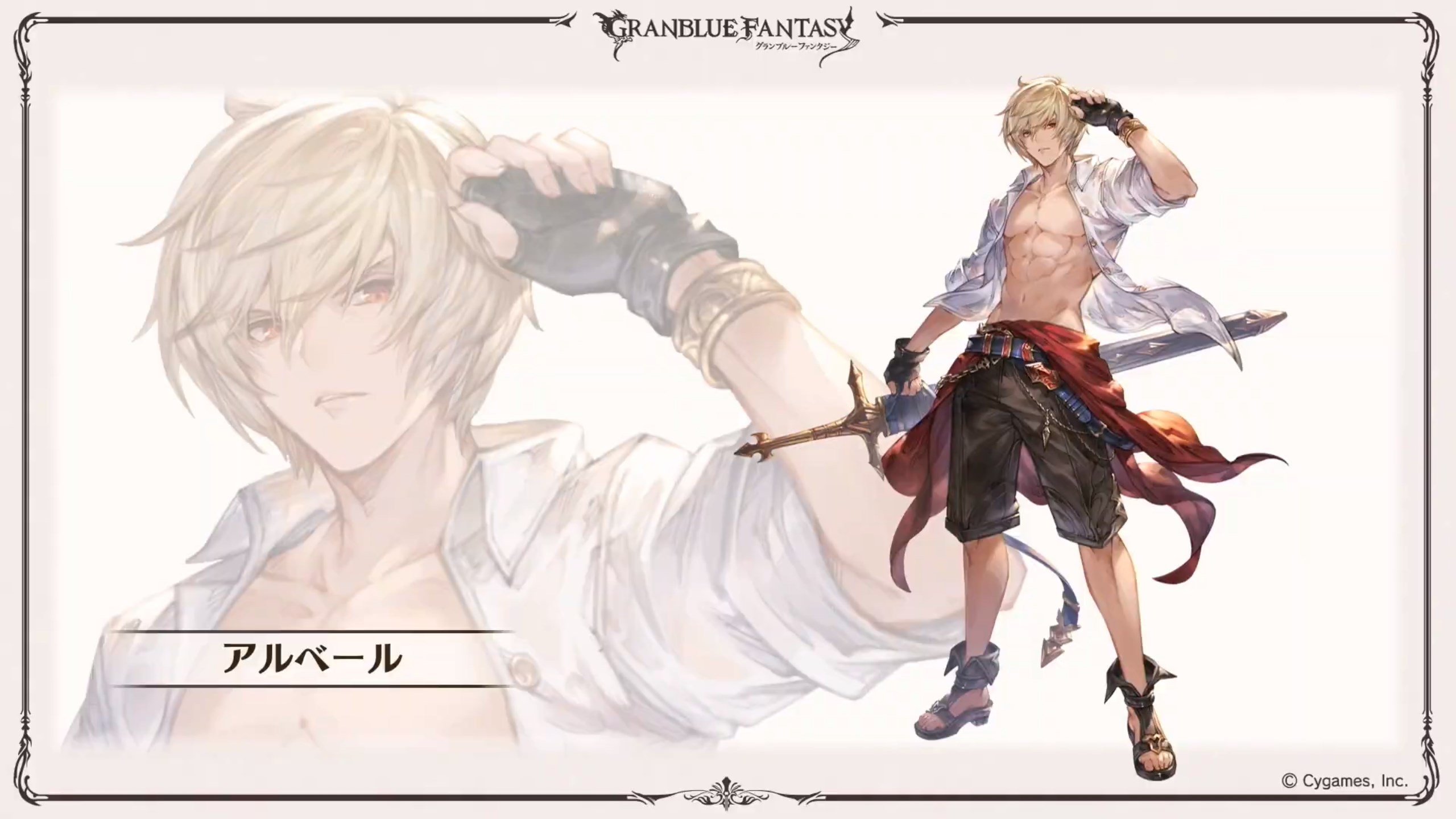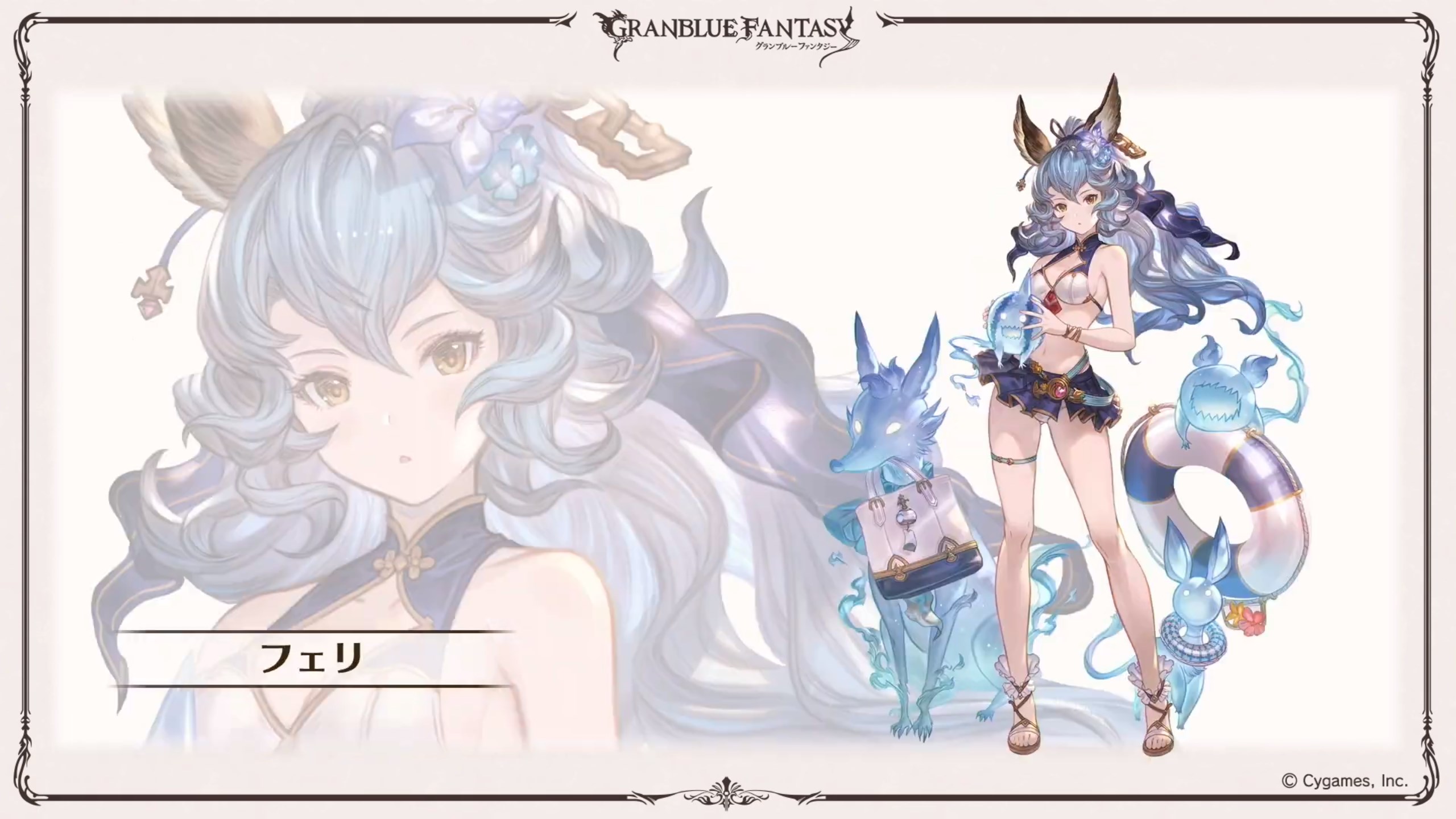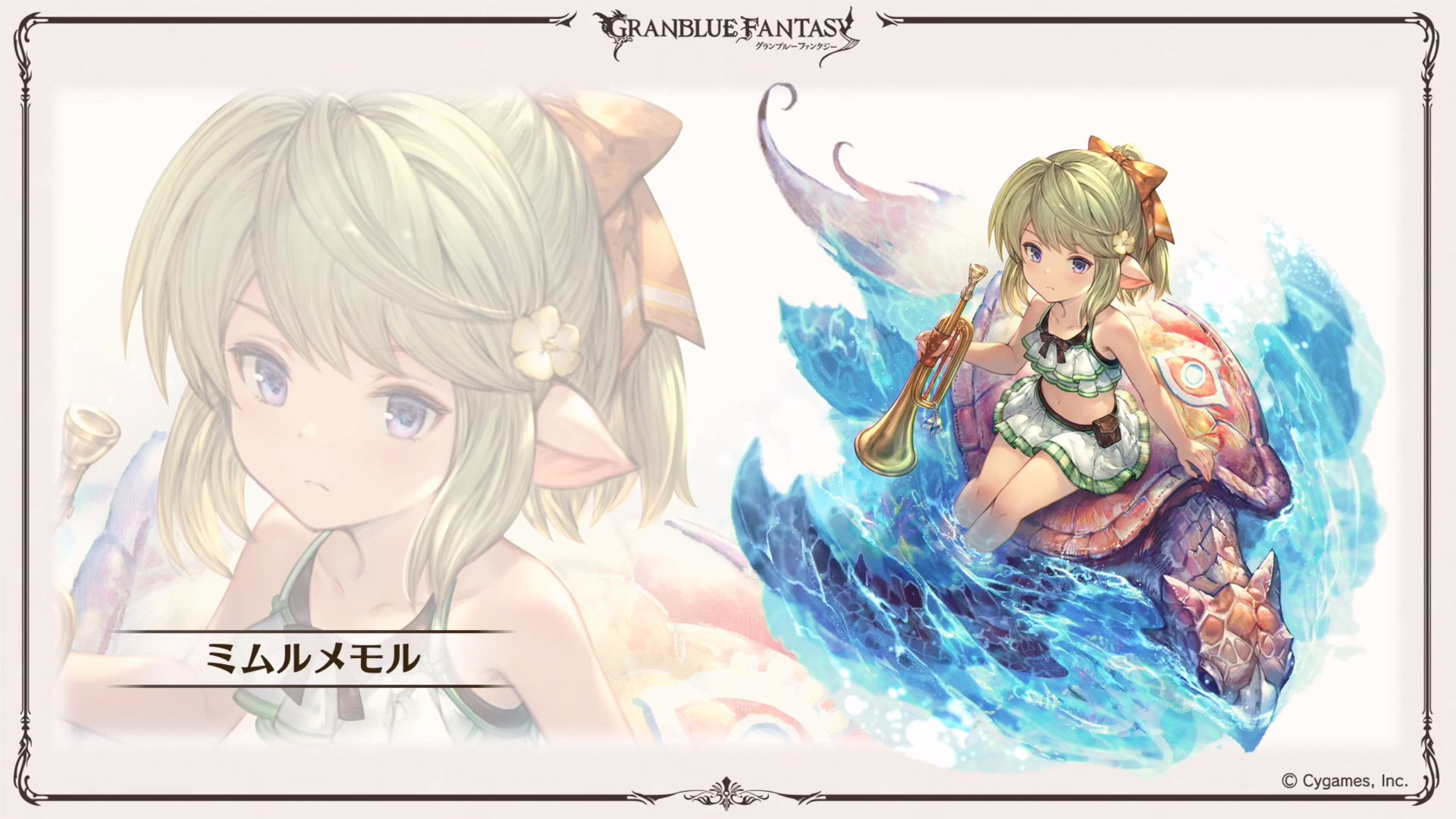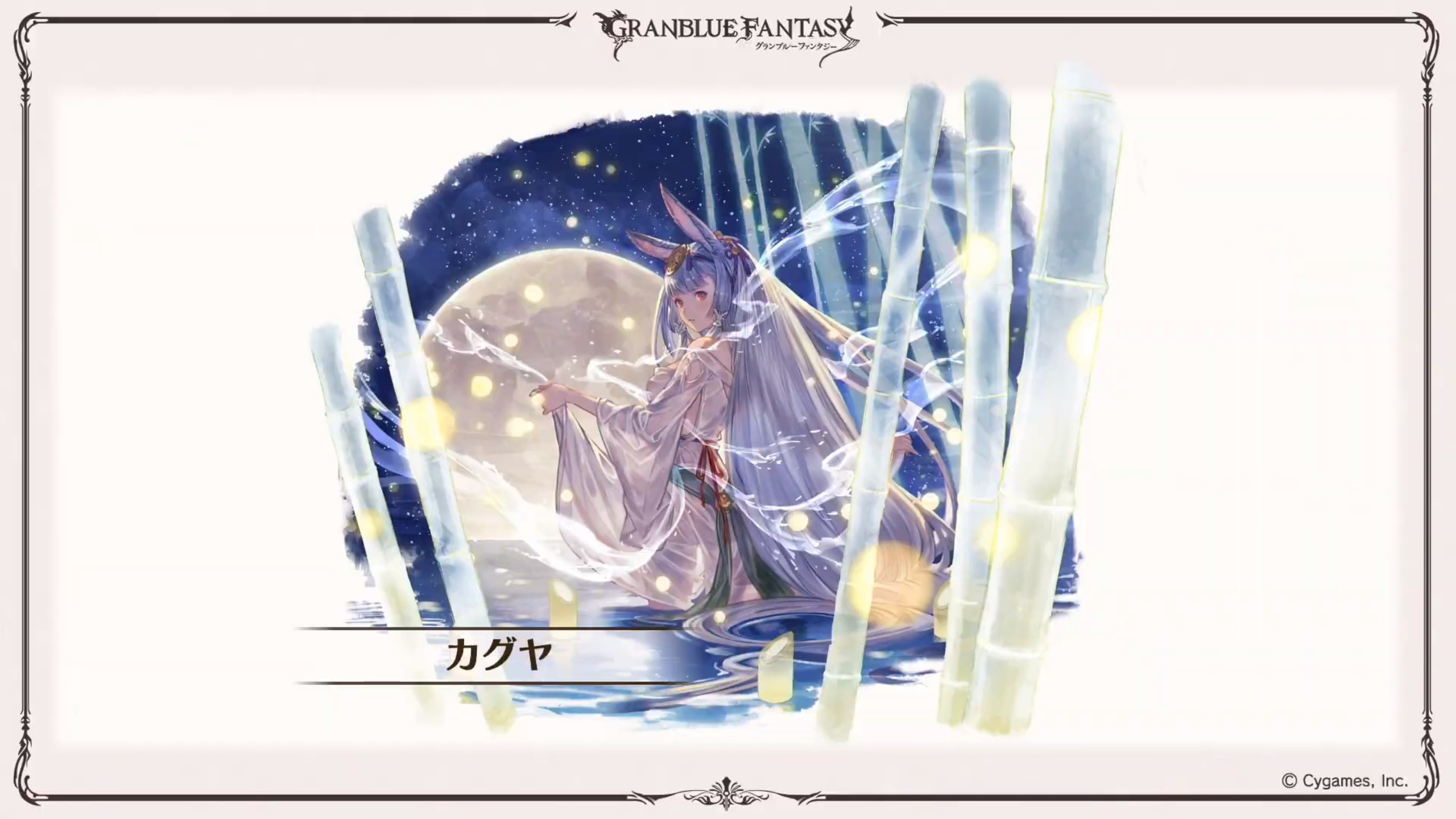 New characters for the summer have been revealed, namely:
Albert
Ferry
Silva
Mimlemel
and Kaguya, who is a Summon instead
New skins were also shown off, with Nier and Alanaan's skins going on sale 9 August 2020.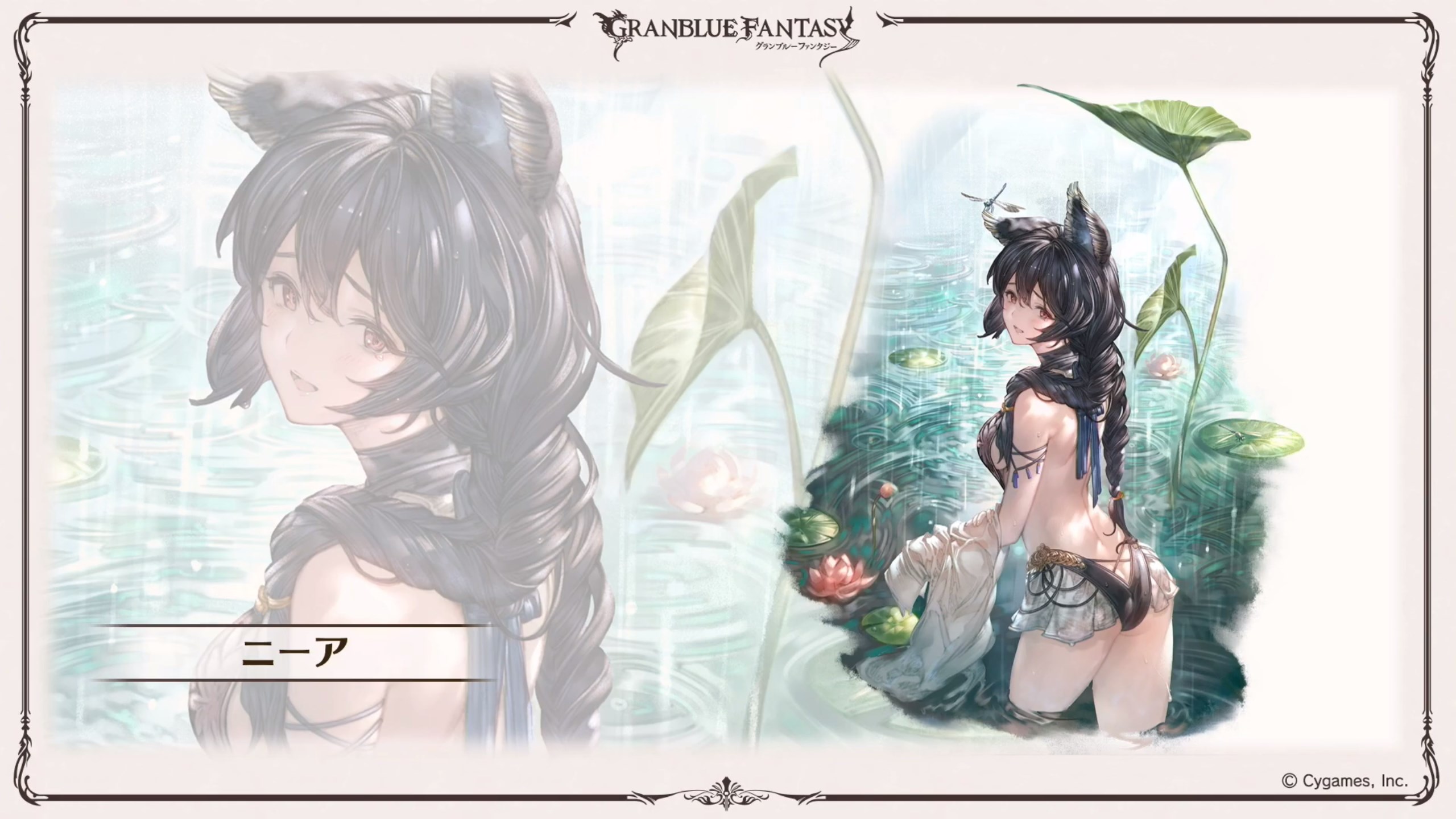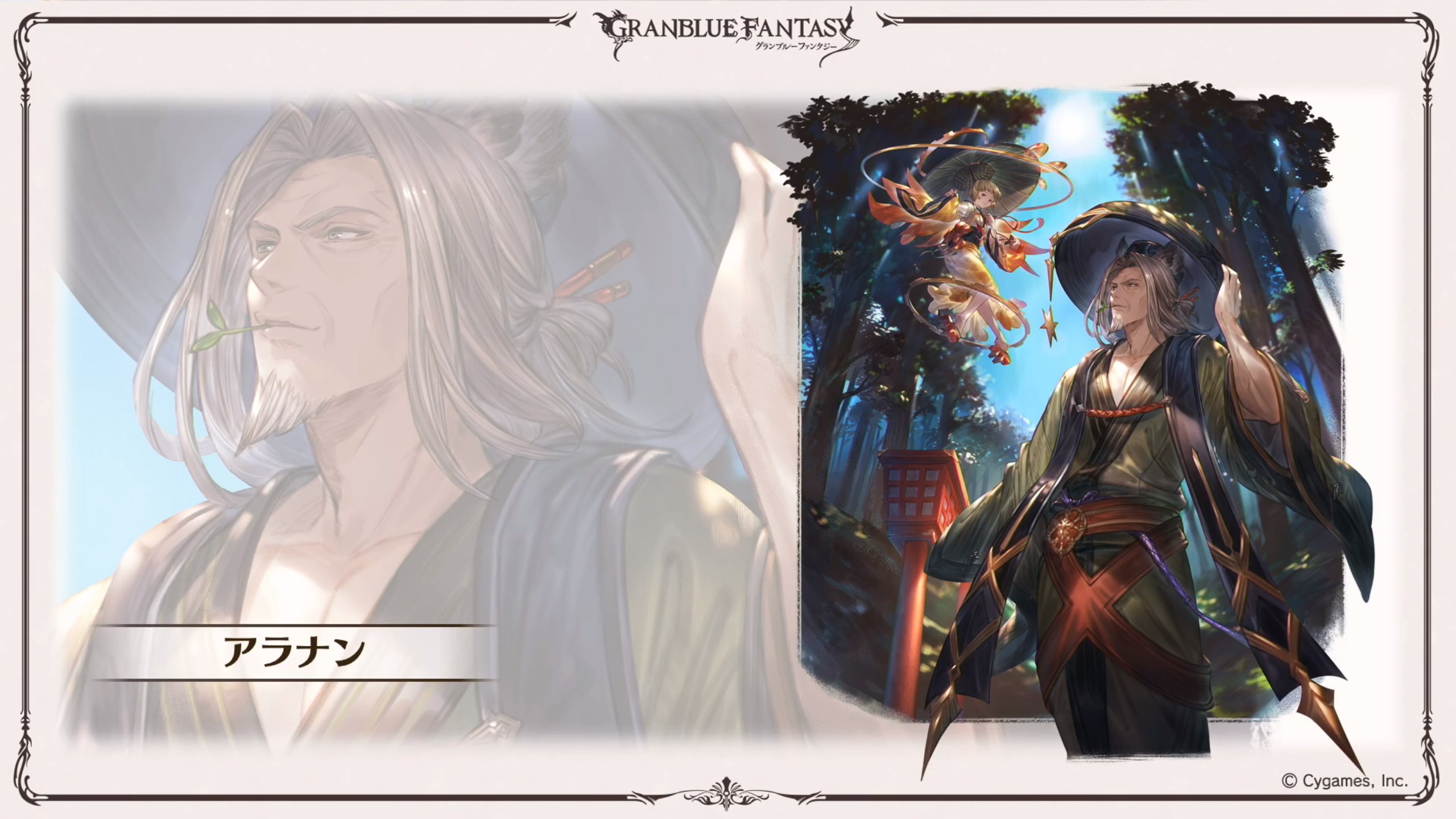 Already live are fifth star uncaps for the Omega series of summons, which are:
Tiamat
Colossus
Leviathan
Yggdrassil
Luminiera
Celeste
They also receive updated calls, with their skills increased to a 140% boost.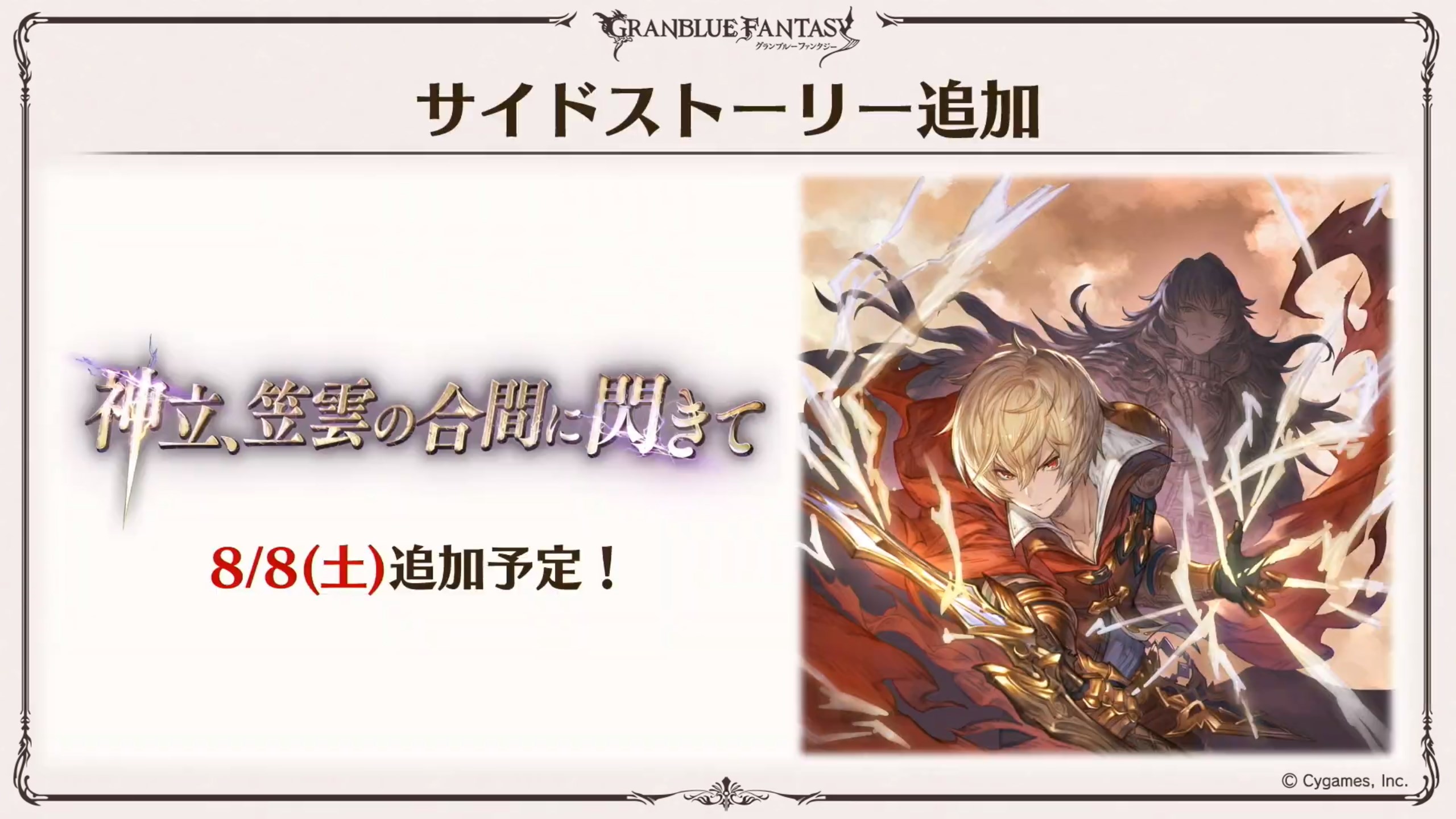 Eye of the Storm has been added to Side Stories.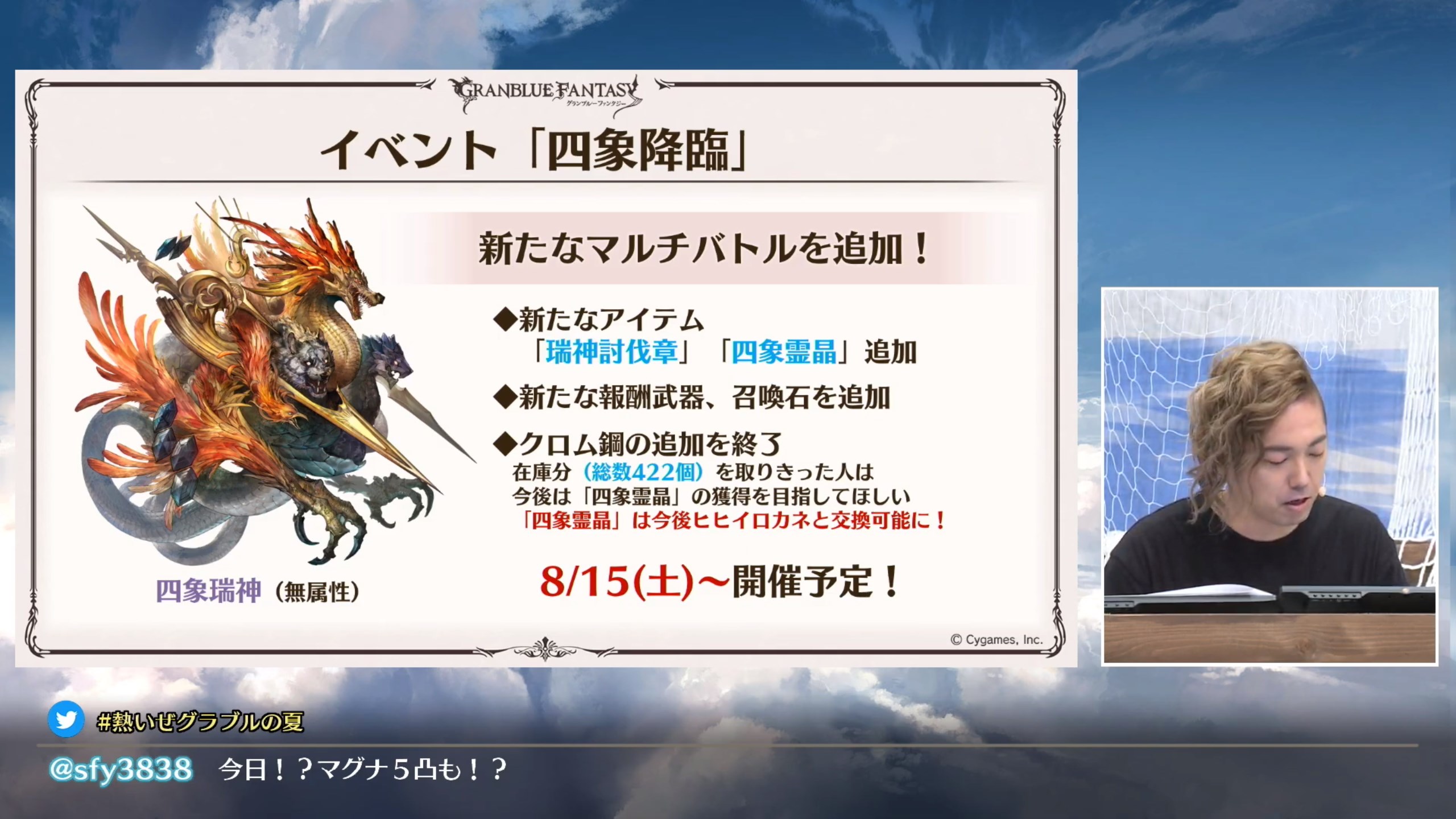 There will be changes to Rise of the Beasts, namely:
New trade items
New weapons

All provide Omega Attack 2, Omega Progression
Fire axe, Water sword, Earth dagger, Wind gun

New summons

Zhuque, Baihu, Qinglong Xuanwu summons all have 4th star uncaps and rarely provides Instant Standby, and always raises CA damage on call

New raid
Xeno Sagittarius will be rerunning on 8 September, with corresponding Xeno Sagittarius summon and a fifth star uncap for the Xeno Sagittarius spear. August will see Soriz (Earth SSR) receive a fifth star uncap, and Romeo will also be receiving his during an event sometime in the future. Characters such as Sandalphon, Zeta and Aoidos who received their uncaps during their events will have their uncap item tradable.
Increased drop rates will be coming to the Regalia series of raids (Shiva, et. al.) with corresponding new weapons:
Fire staff
Water melee
Earth sword
Wind staff
Light spear
Dark harp
The raids will be updated on 31 August. Certain flip chests will also no longer play a chime.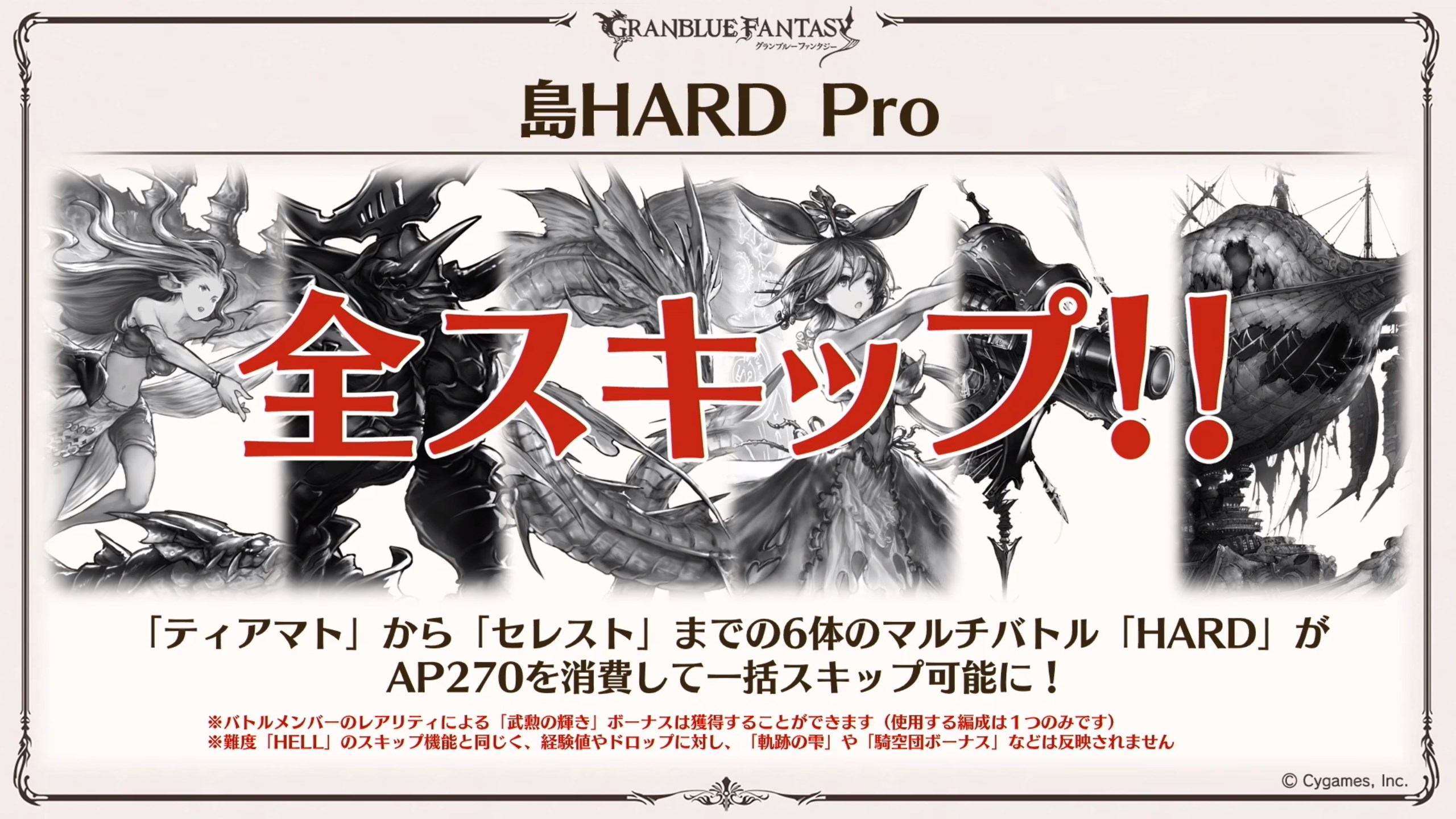 Hard raid skips will be coming. Note that these only apply to the Hard raids, not the Extreme or above raids.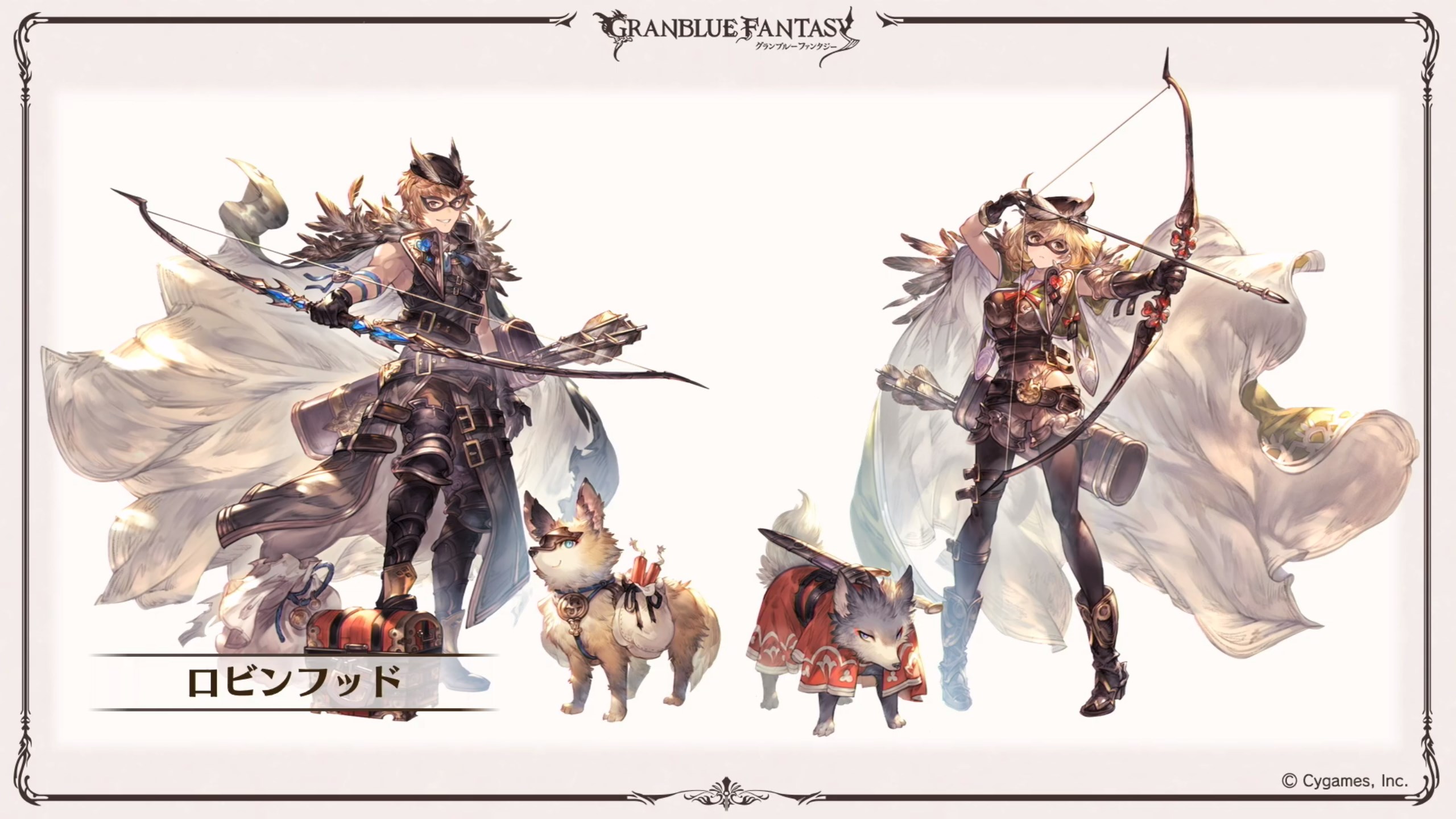 Robin Hood is a new Tier 4 class which will require Nighthound and Chaos Ruler at level 20, clearing a special quest, Distinctions and 4,000 Class Points. Both the class and their Class Weapon is scheduled for mid-September.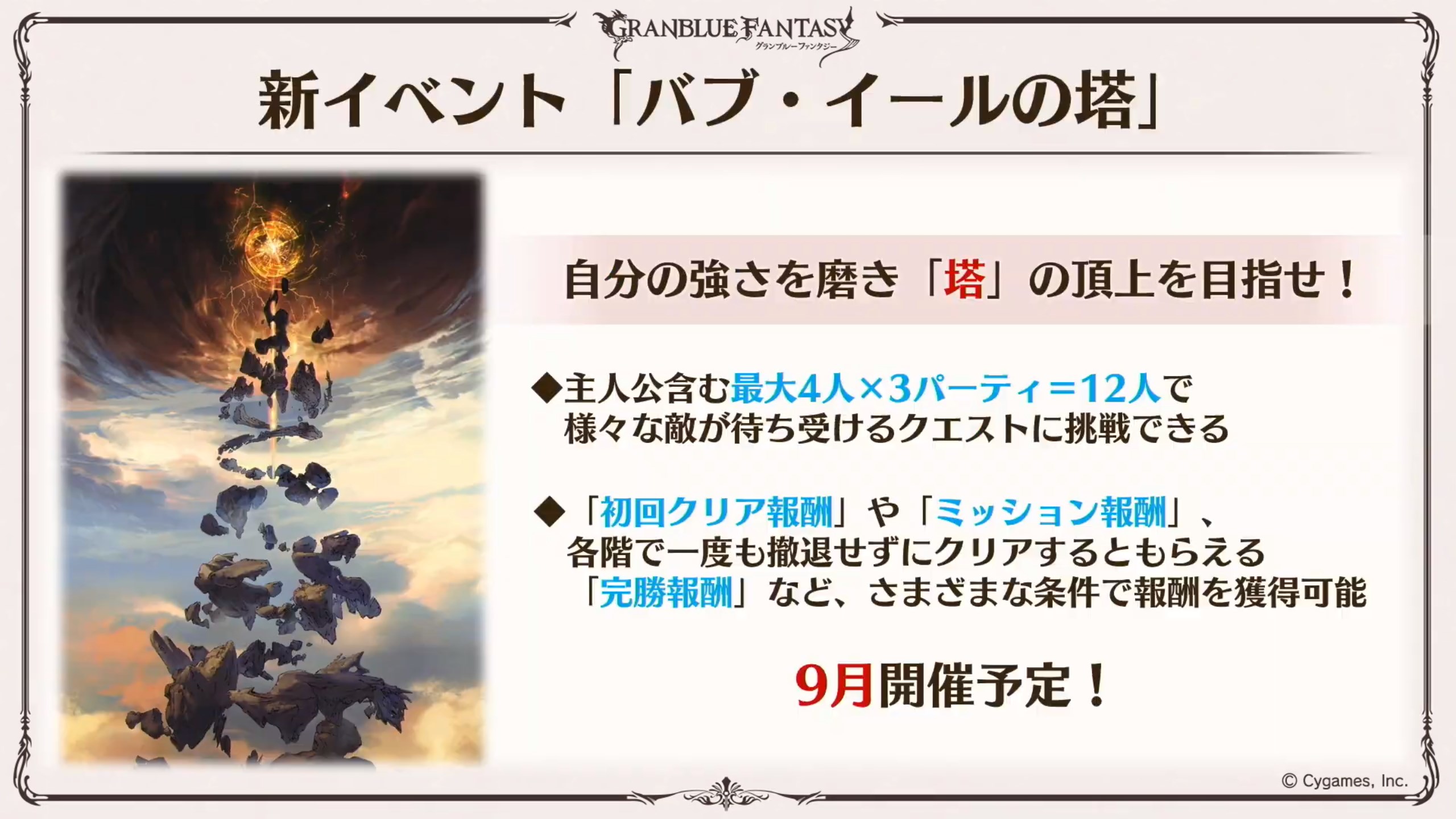 A new game mode, Tower of Babyl, is scheduled for September release. Three parties of four members each will be taking on the fights.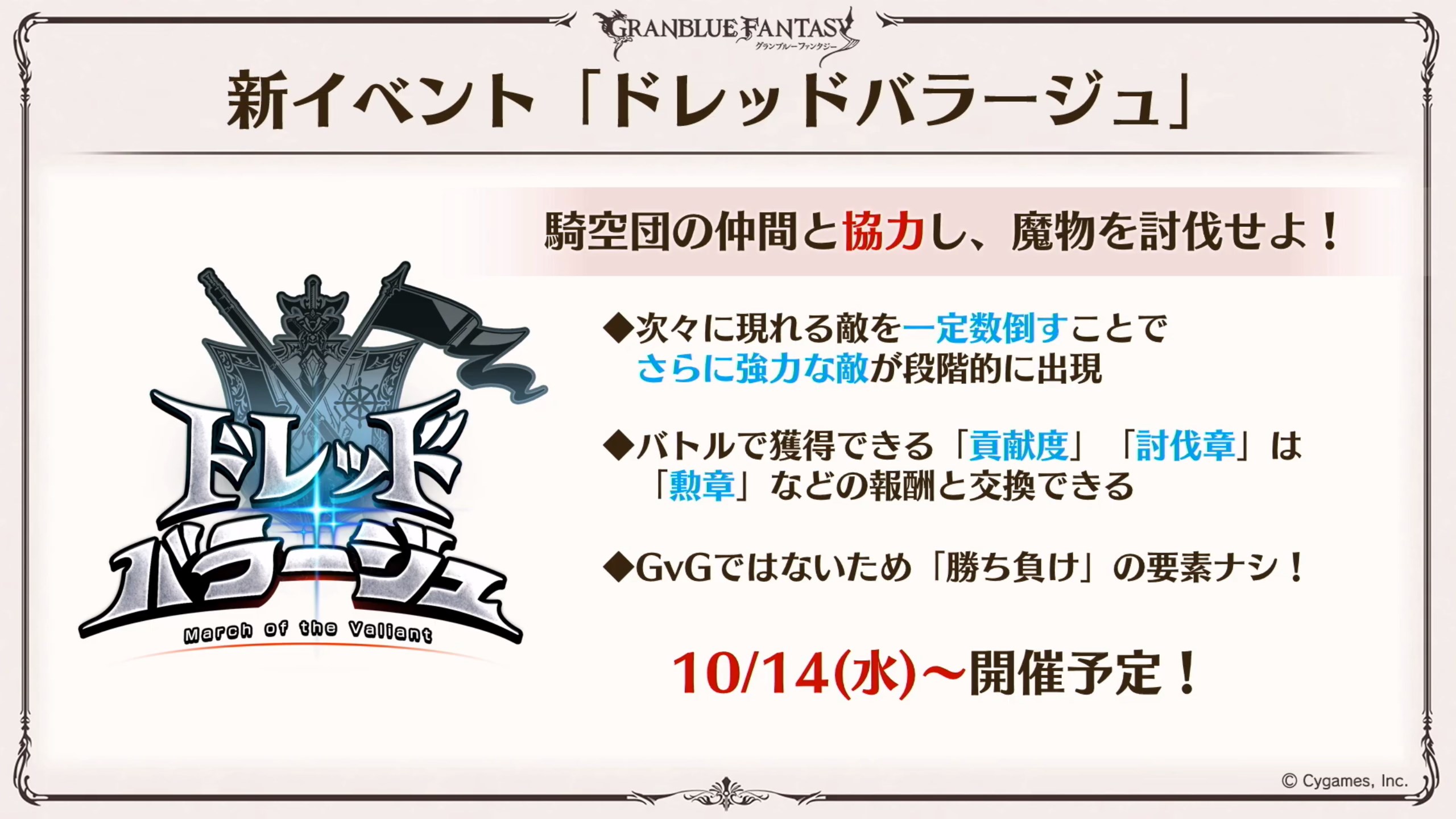 March of the Valiant comes 14 October, a new mode where you fight with your crew to defeat monsters of increasing strength. This will be another way to earn Valor Badges besides Unite and Fight.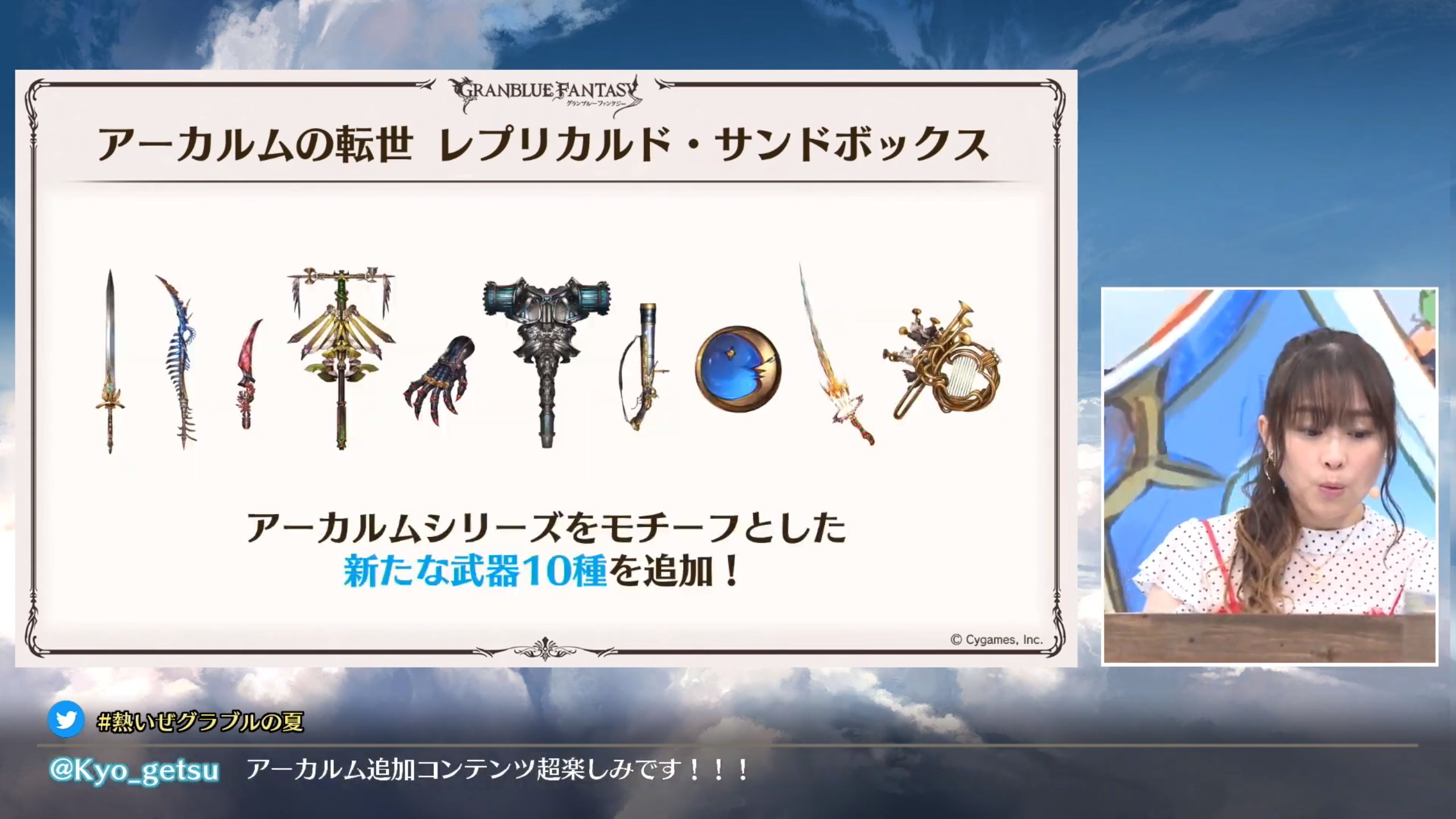 Replicard Sandbox, an Arcarum-related game mode, will take place over multiple game areas and can be started wherever you want. There will be 10 new related weapons, with the mode launching in November.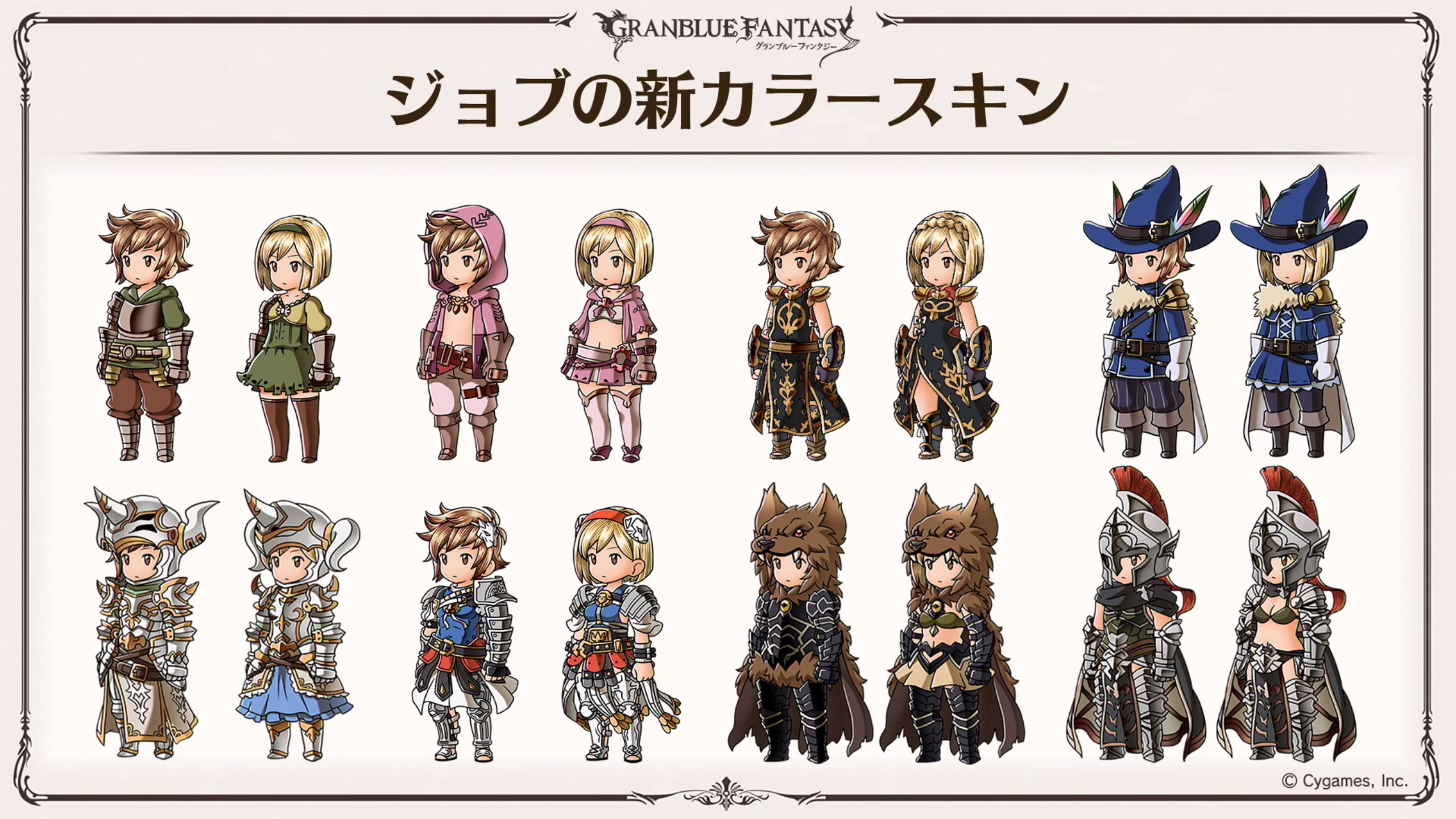 A special skin gacha is planned, giving alternate colour palettes to the main character as well as reskin them as various other game characters (dubbed "Mirage Style"). They will cost 200 premium currency per single roll, and 2,000 for a 10-roll. 200 rolls will allow you to spark your skin of choice. Some new character skins were also showcased for:
Zeta
Gawain
Jeanne
Charlotta
Siegfried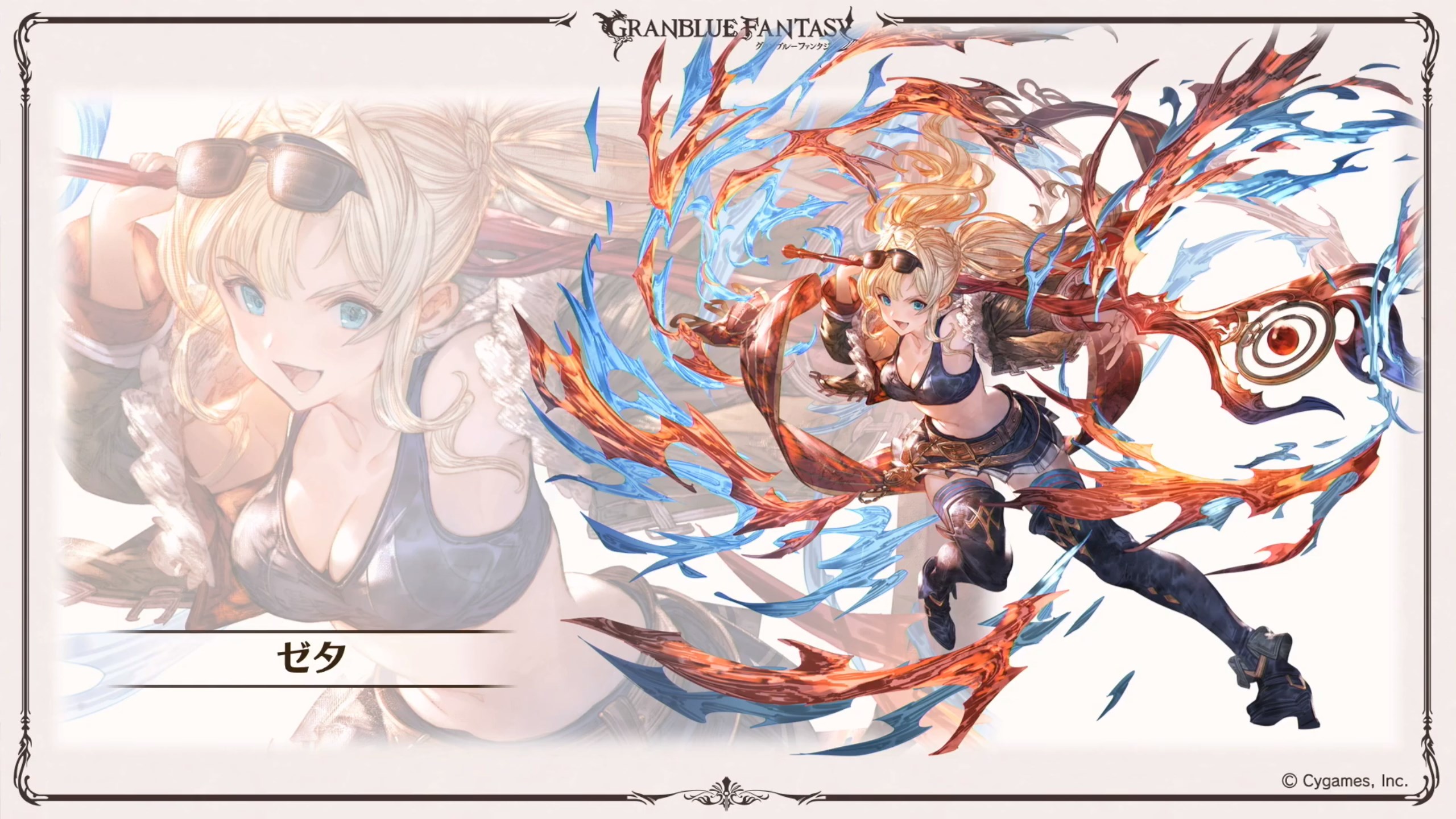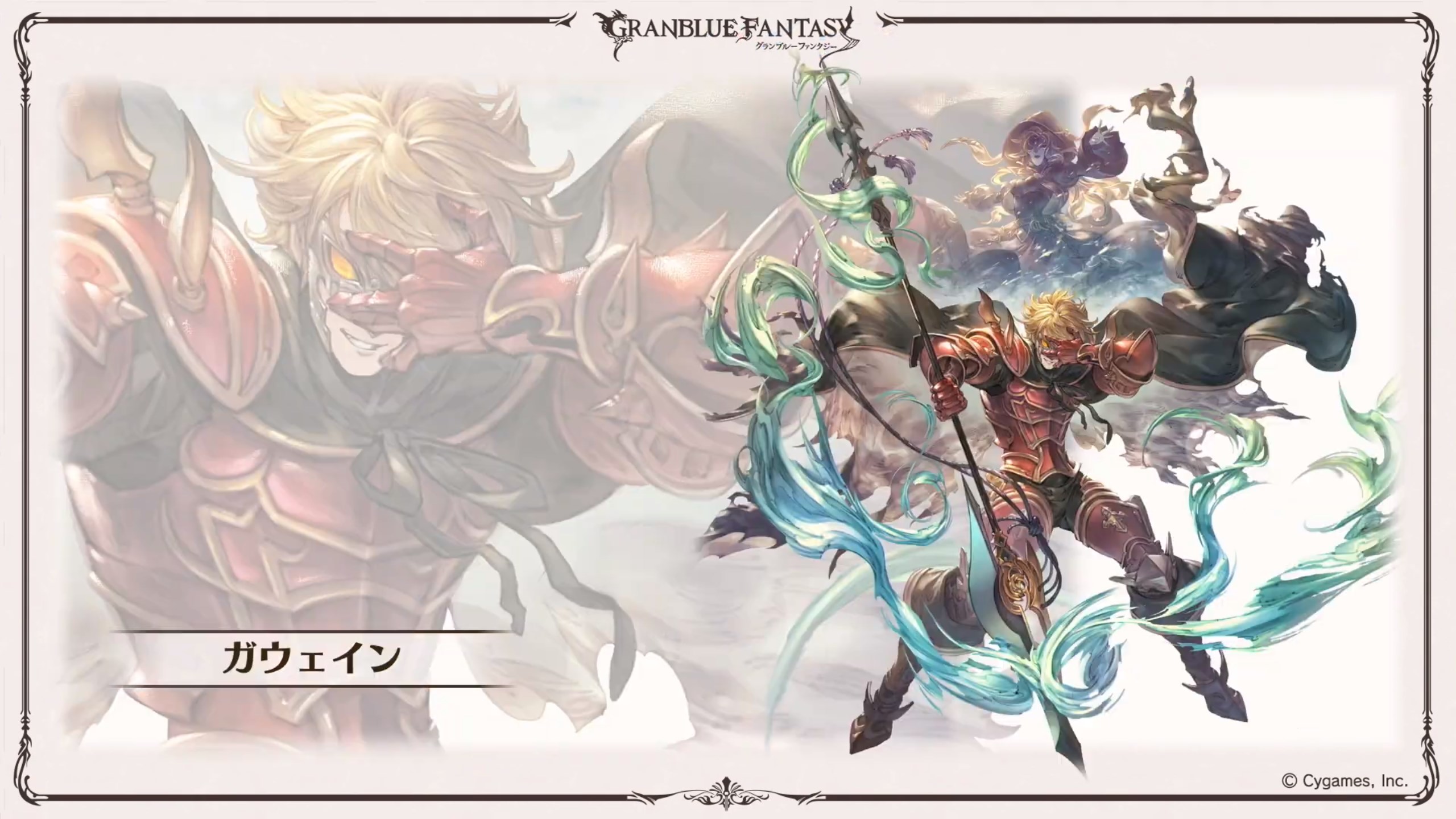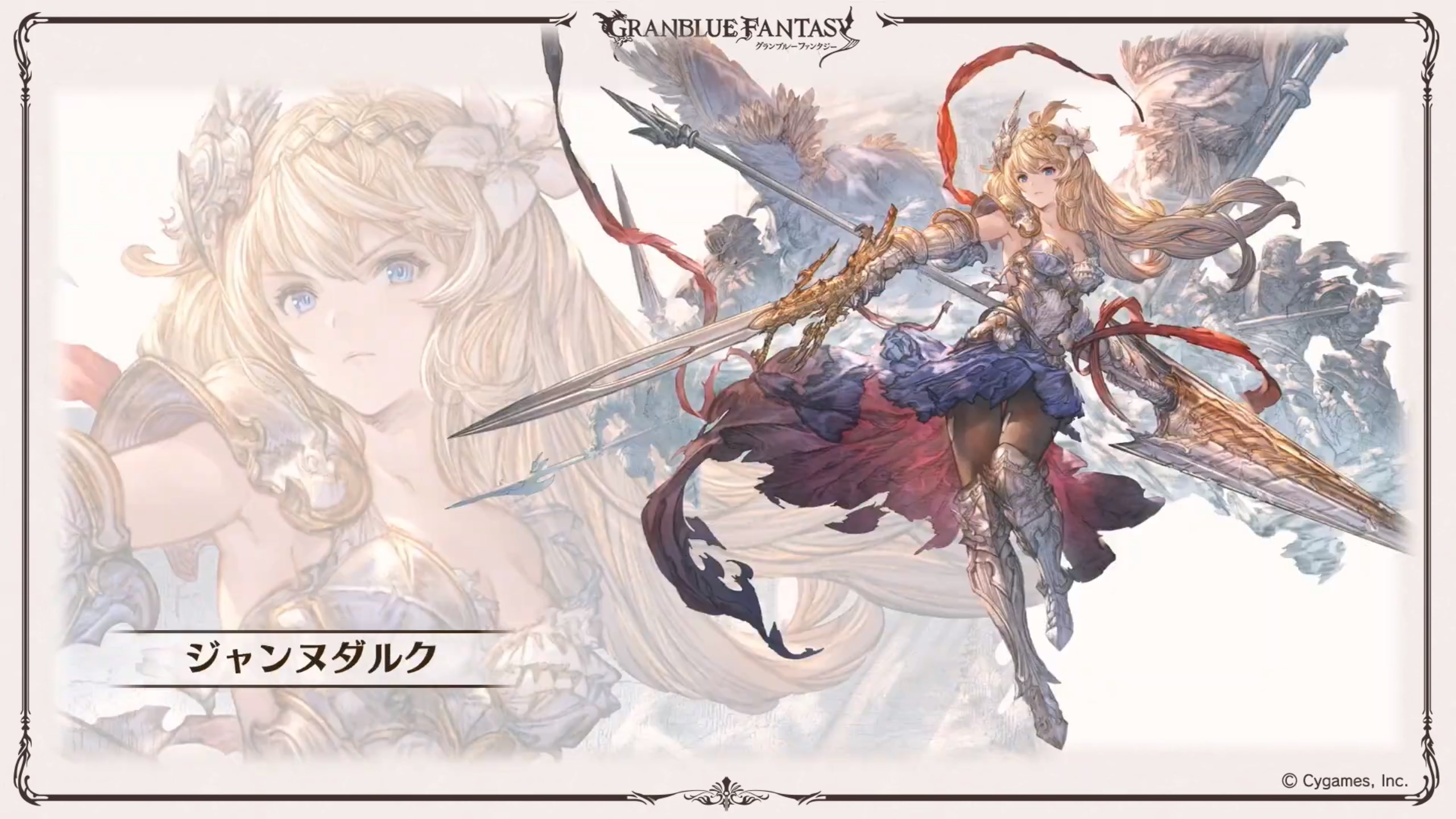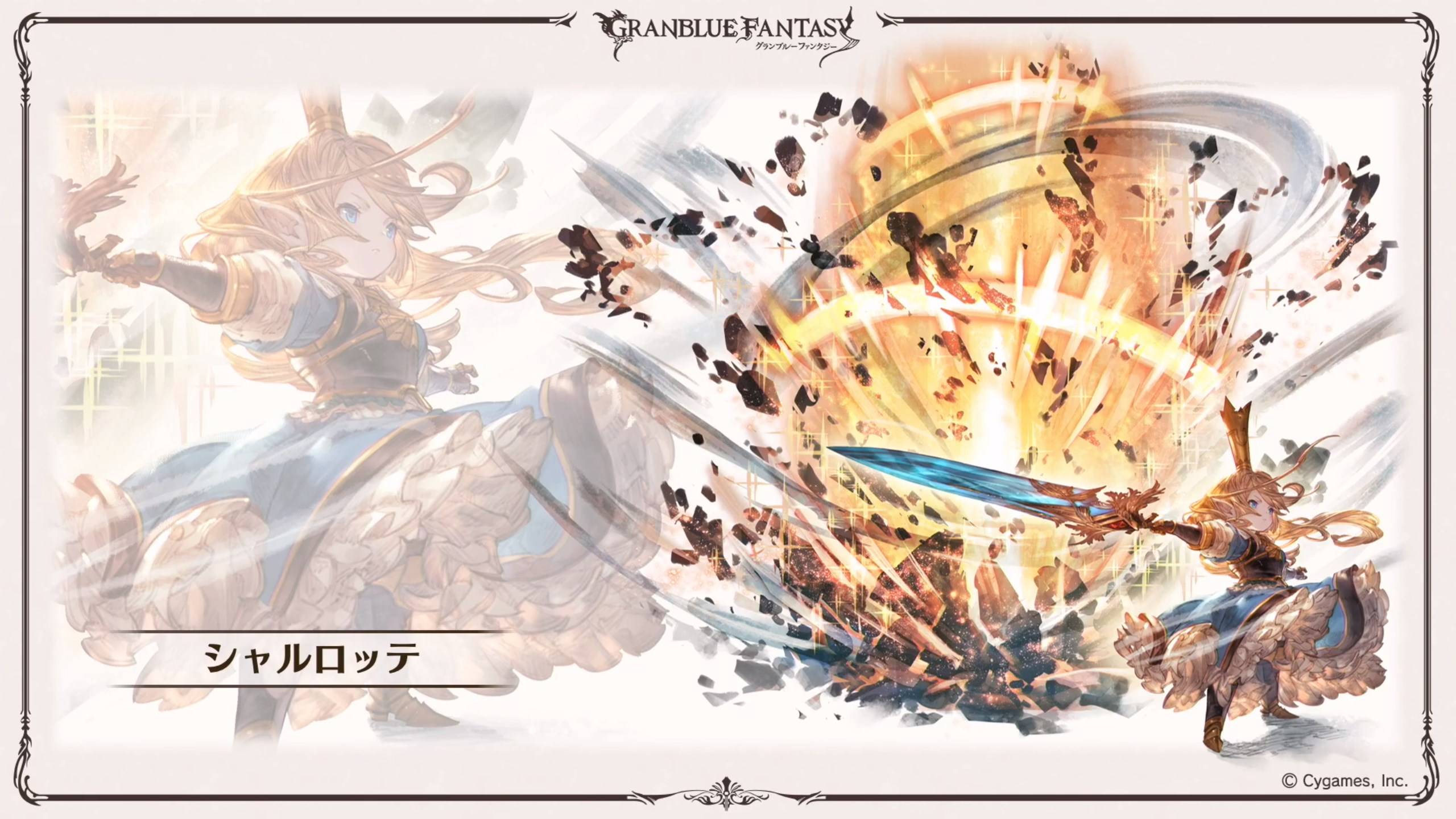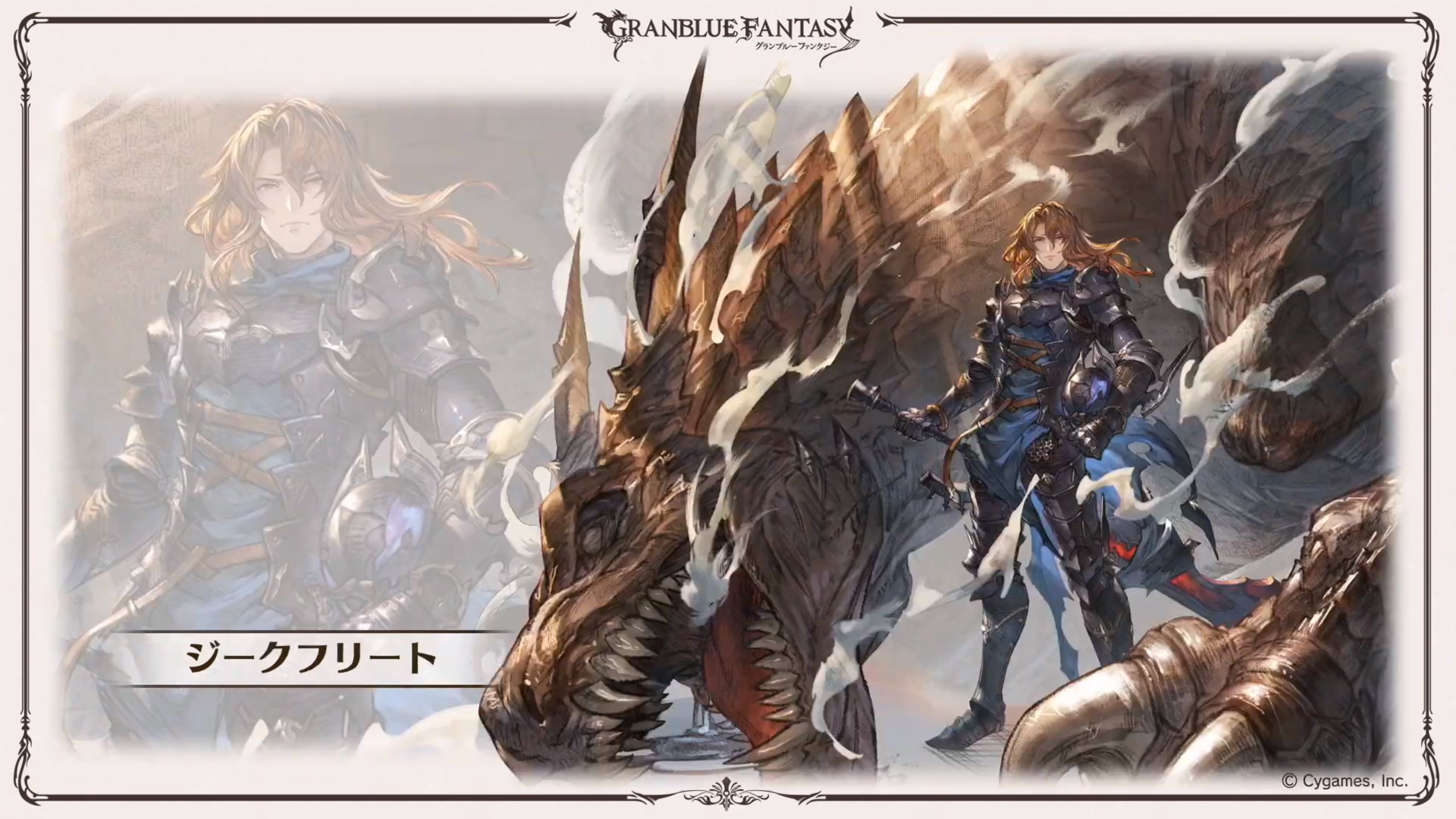 For collaborations, Love Live School Idol Project, featuring the μ's members will be added to Side Stories on 8 September, as well as the fifth star uncap for the Third-Years members, as previously voted for. They will also have the Shadowverse anime collaboration, with Hiro and Mimori showcased. An additional collaboration is planned in December, with details currently secret.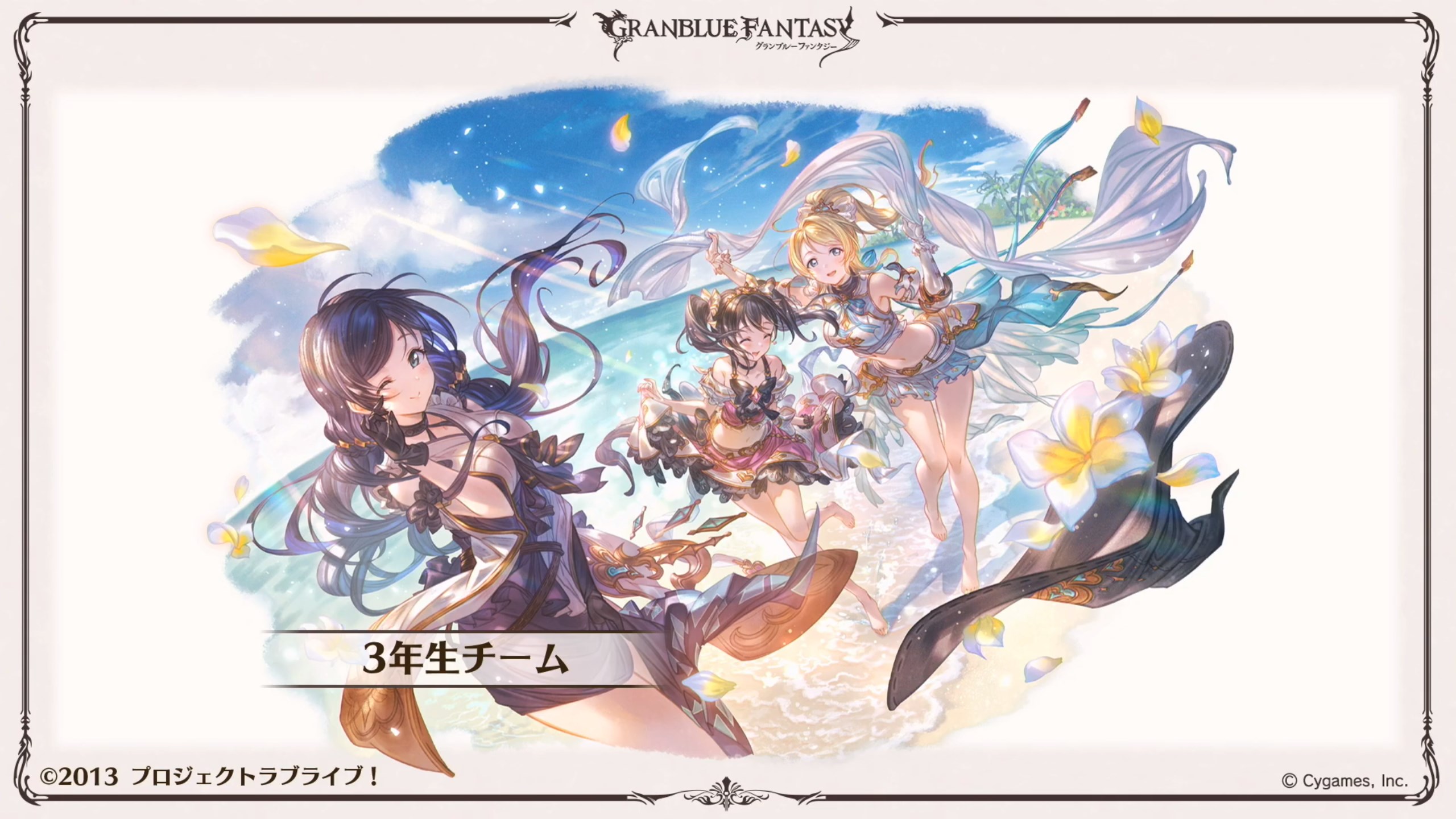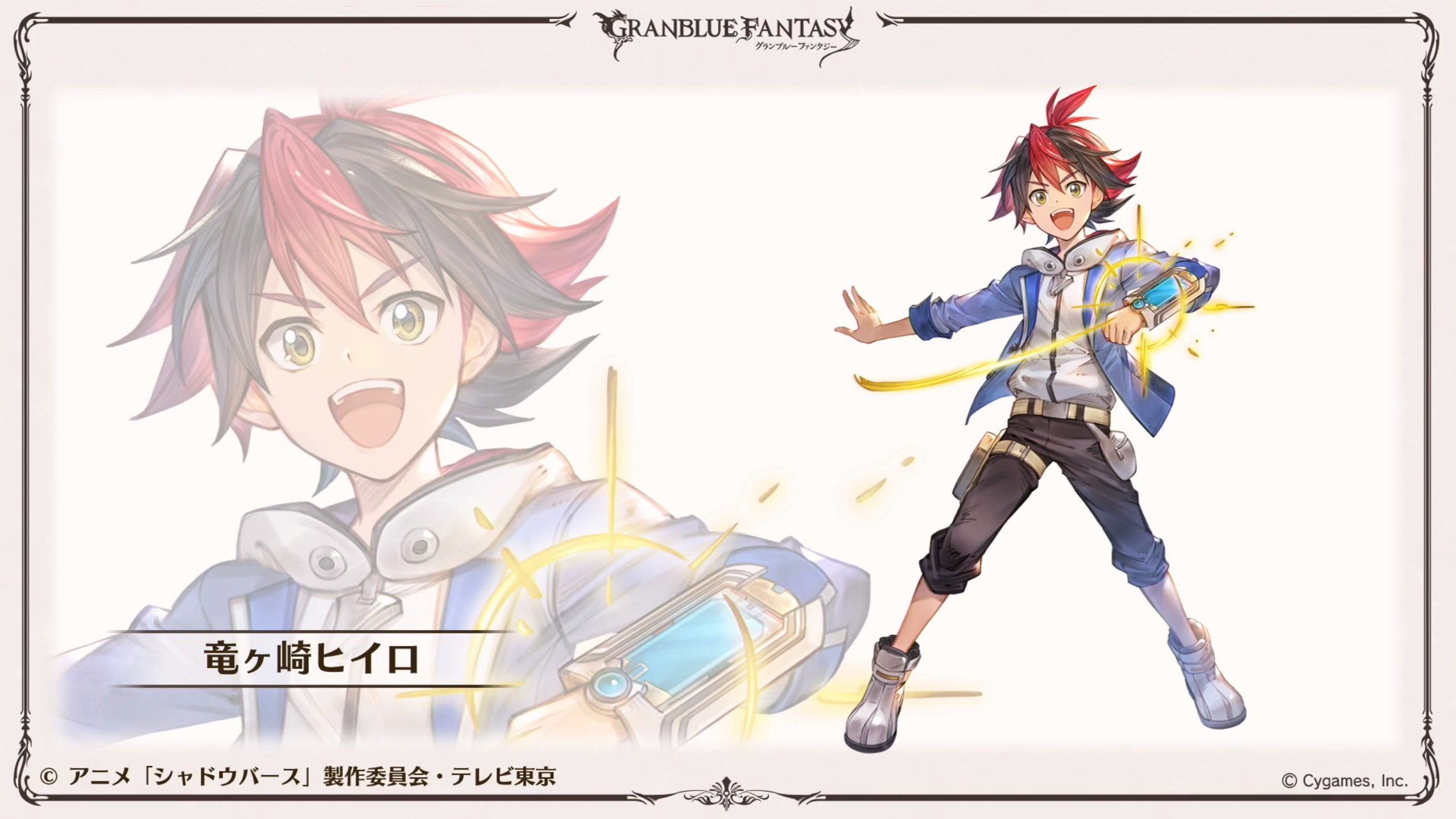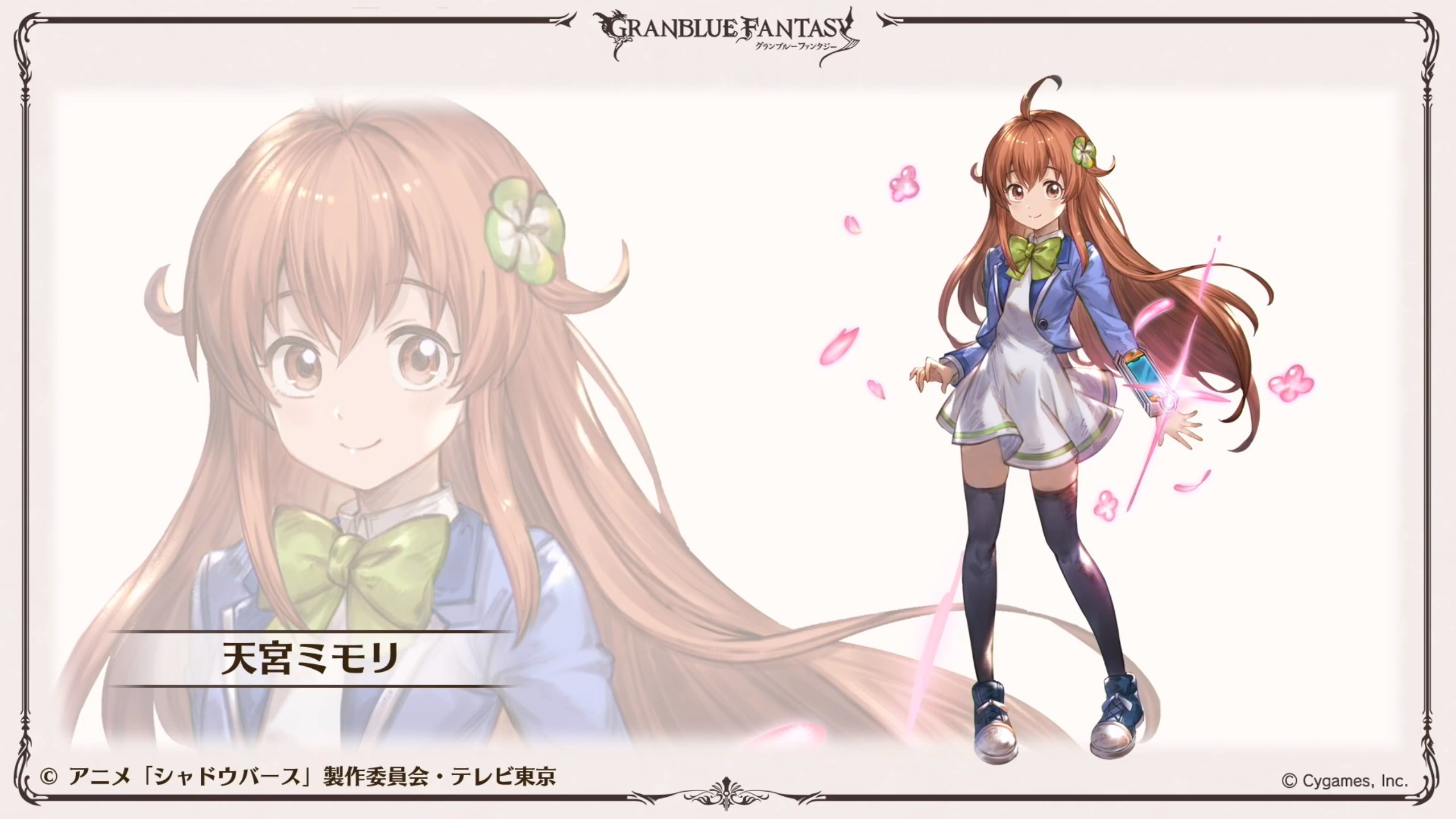 That about wraps up the biggest announcements! If you want to start playing, then check out our beginner's guide to utilizing your resources!
Granblue Fantasy
Android, iOS, Microsoft Windows
Granblue Fantasy (GBF) is a full-fledged fantasy RPG game with quality that will blow you away. It's time to embark on an adventure in the world of the sky. Play it on your browser in English or Japanese!