In the interests of PC master race and one-upping the next-gen home consoles, what better way keep the trend with the NVIDIA GeForce RTX 30 series? Powered by Ampere, NVIDIA's 2nd gen RTX architecture, this gives the GeForce RTX 30 series graphics cards faster 2nd gen Ray Tracing Cores, faster 3rd gen Tensor Cores and new streaming multiprocessors that together bring stunning visuals, faster frame rates, and AI acceleration for gamers and creators.
Besides all that heat it's packing, the GPUs also have several world firsts:
up to 24GB of new, blazing-fast GDDR6X VRAM

HDMI 2.1 for 4K high refresh rate and 8K gaming

support for AV1 codec

Founders Edition: innovative dual axial flow through cooling solutions
The GeForce RTX 30 Series GPUs are also suited for esports, livestreamers, creators and gamers with:
NVIDIA Reflex for reducing system latency

NVIDIA Broadcast to transform a room into a home broadcast studio with AI-enhanced video and voice comms

NVIDIA DLSS updates for 8K HDR gaming

NVIDIA Studio enhanced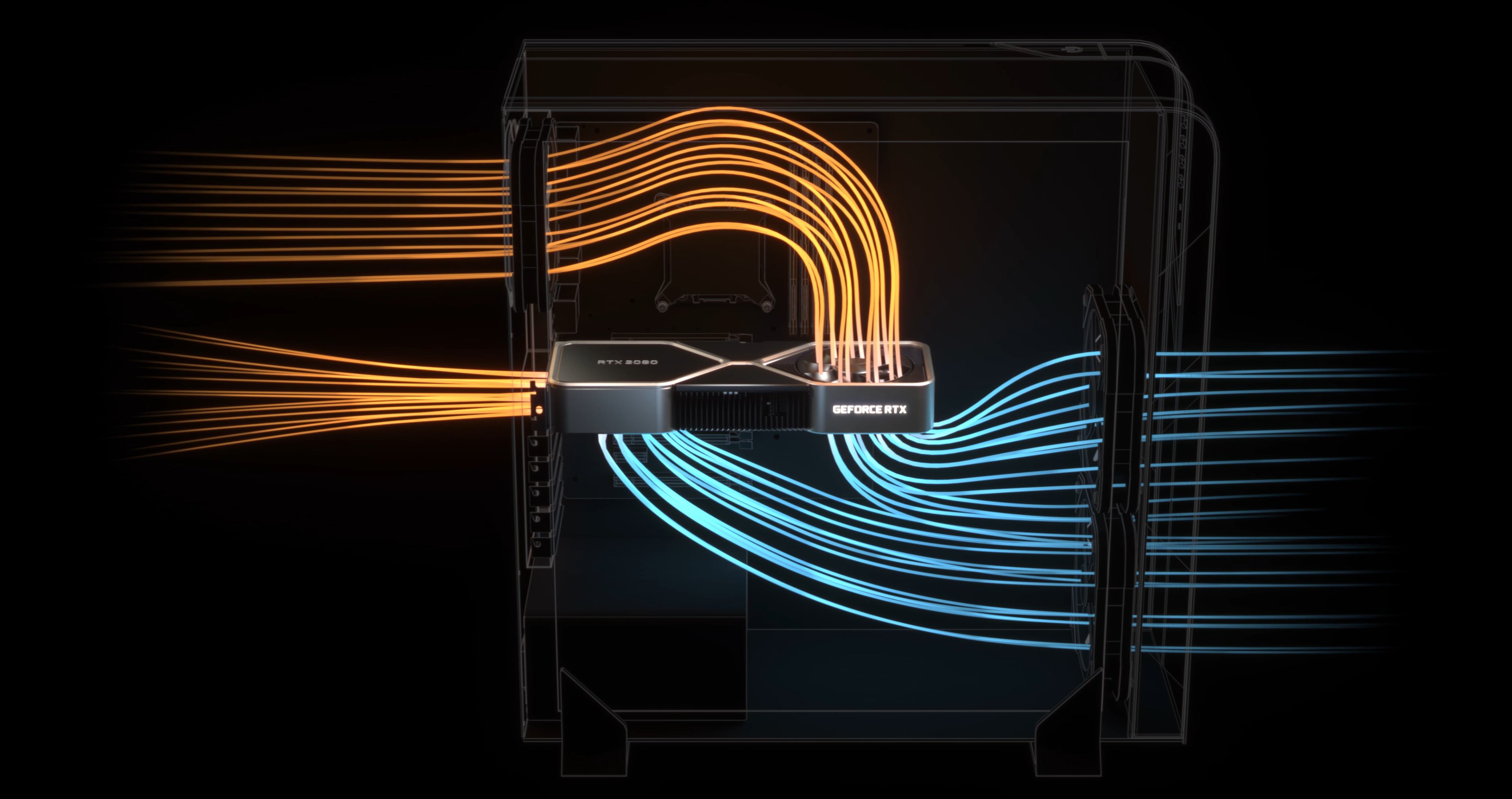 With all that stuffed in, the Founders Edition design is still quieter than traditional dual axial coolers while still delivering nearly 2x the cooling performance of previous generation solutions. The mentioned NVLink and power design changes have created more space for airflow through the largest fin stack to date, with larger bracket vents improving airflow in concert with individually shaped shroud fins. Enjoy maximum airflow, minimal temperatures, and highest performance possible with least amount of noise.
NVIDIA Ampere Streaming Multiprocessors
As we dive further into what makes these cards work, the Streaming Multiprocessors (SMs) are at the heart of NVIDIA GPUs,, with the newest NVIDIA Ampere Streaming Multiprocessors being the best yet, offering 2x FP32 throughput for superior performance. Performance per watt has been increased to ensure higher frame yet, and with PCIE 4.0 support, a 18-phase power supply, and new innovative cooling solutions, GeForce RTX 30 Series GPUs will already provide new performance records even before overclocking.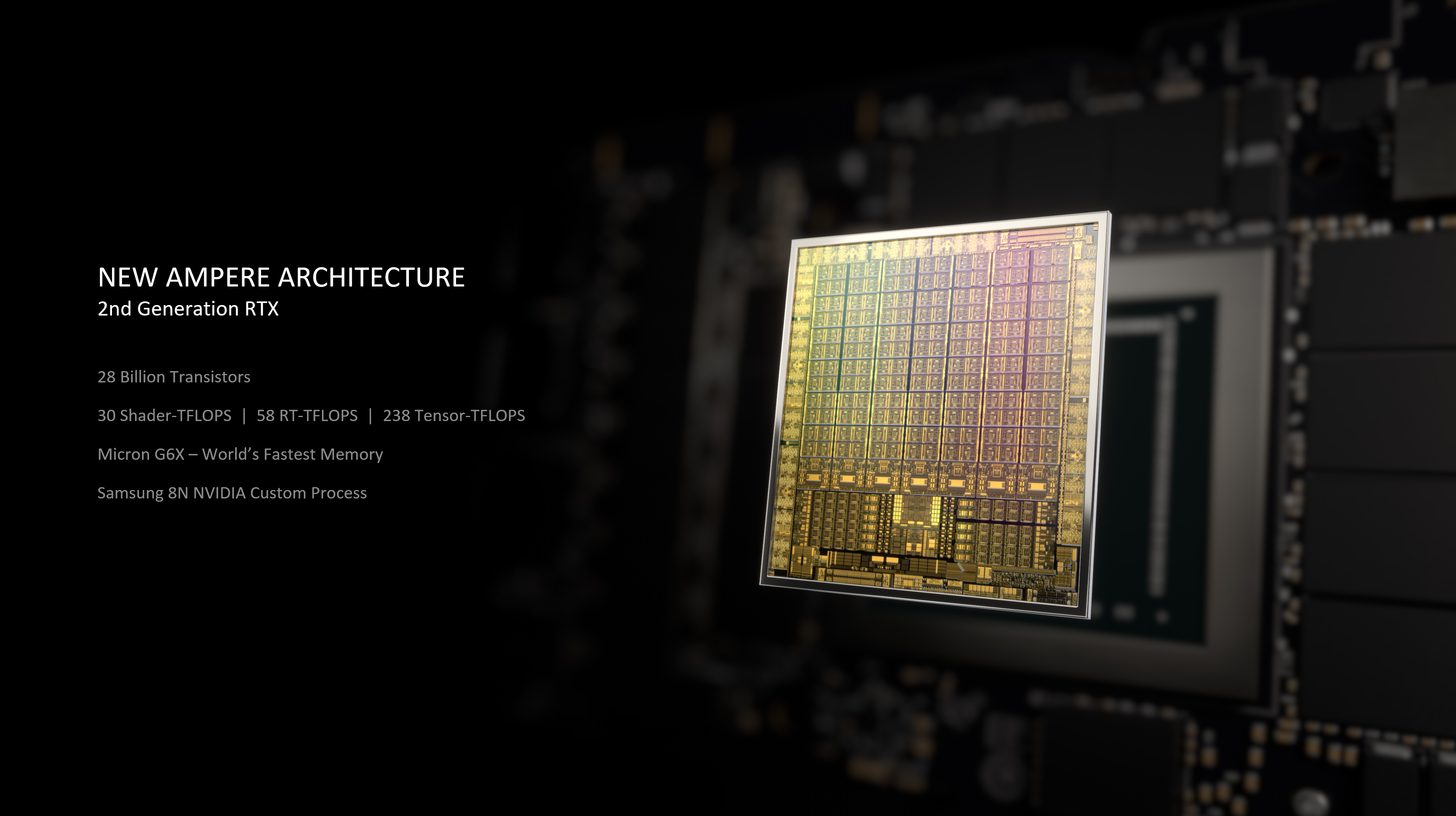 2nd Generation Ray Tracing Cores & 3rd Generation Tensor Cores
With the invention of Ray Tracing Cores, NVIDIA made real-time videogame ray tracing a reality, as dedicated cores on the GPU designed specifically to tackle performance-intensive ray tracing workloads. The GeForce RTX 30 Series GPUs have 2nd Generation RT Cores, packing up to 2x the throughput. Performance is then further accelerated with NVIDIA DLSS, a deep learning neural network, powered by dedicated AI processors called Tensor Cores, boosts frame rates while maintaining crisp, clear image quality, now in its 3rd generation. With the new Ultra Performance mode, DLSS can run up to 8K on the GeForce RTX 3090.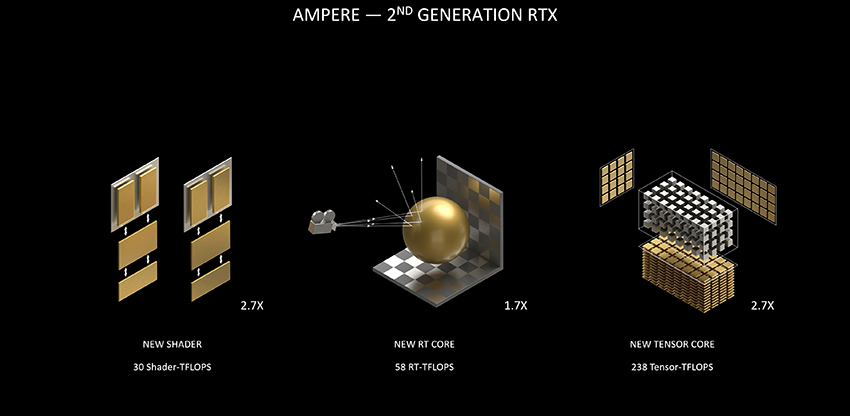 The hits don't stop coming with Micron debuting its new GDDR6X memory on the GeForce RTX 3090 and GeForce RTX 3080. Using innovative PAM4 signal transmission technology to once again double the data rate per clock, it can deliver unprecedented graphics memory performance to feed the most data-hungry workloads, such as gaming, professional visualization, and AI inference. These enhancements ensure the GPU's compute cores and other components receive a constant stream of data, rather than stalling while they wait, maximizing efficiency and performance.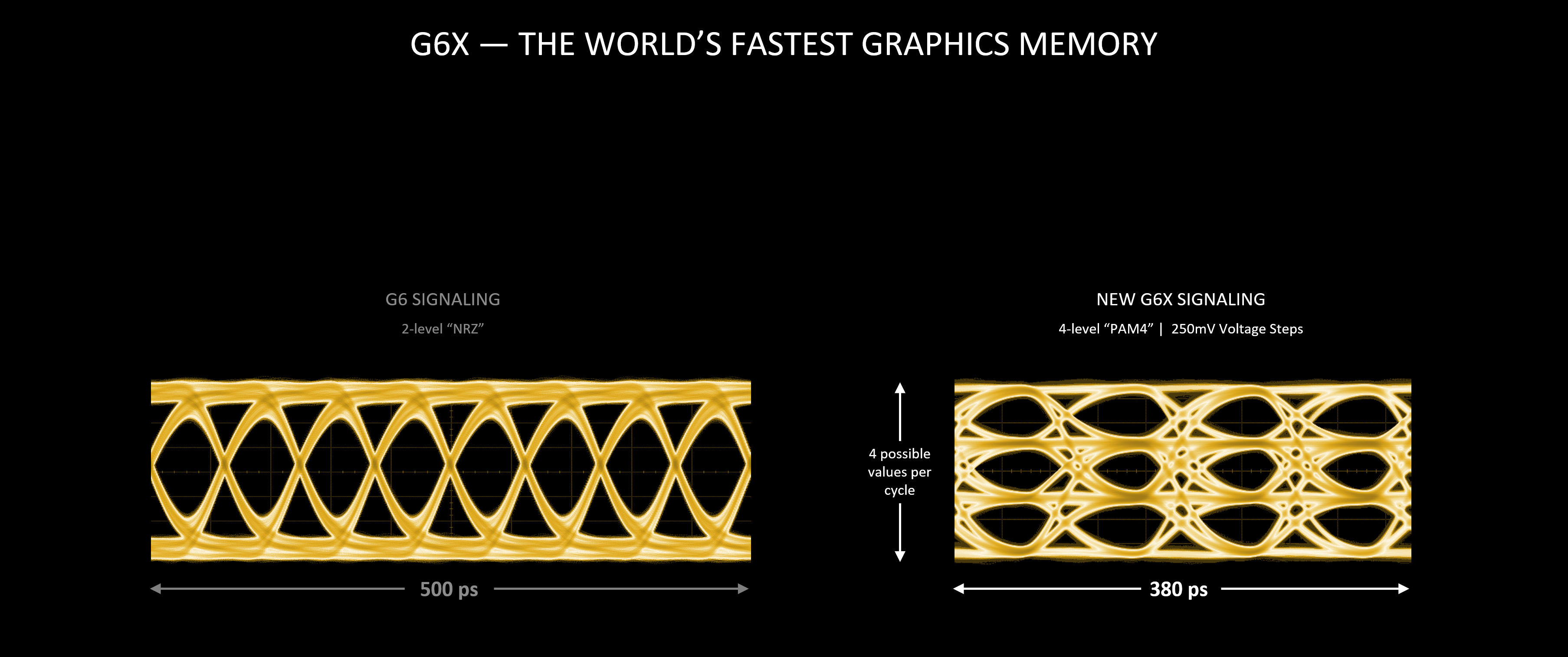 To keep up with new monitor and TV technology, the GeForce RTX 30 Series has got you covered in supporting HDMI 2.1 running 4K at high refresh rates, instead of having connections and output limited to 4K HDR at 98Hz.
AV1 Decode Support
The planet's biggest Internet companies have banded together to create AV1, a royalty-free, highly efficient video codec. This reduces the bandwidth required to stream high resolution video by up to 50% compared to H.264, and makes 4K and 8K high resolution streams feasible for consumers lacking the fastest Internet connections and unmetered contracts. GeForce RTX 30 Series are the first discrete GPUs with AV1 decoders to enable users to take advantage of AV1 on desktops and in media centers.
NVIDIA Reflex Low Latency Technologies
Input lag, or system latency, makes games less responsive and increases the time it takes for your actions to be reflected in game. With NVIDIA Reflex in the GeForce RTX 30 Series GPUs, gamers can measure and optimize system latency to make your PC more responsive to mouse input. NVIDIA Reflex is a revolutionary suite of GPU, G-SYNC display, and software technologies to aid gamers to make every millisecond count, and will soon be supported in top competitive titles including Apex Legends, Call of Duty: Black Ops Cold War, Call of Duty: Modern Warfare, Call of Duty: Warzone, Destiny 2, Fortnite, and Valorant.
GeForce RTX 30 Series Performance
All this tech, along with driver optimizations, memory compression techniques, and other NVIDIA Ampere architecture enhancements, makes GeForce RTX 30 Series graphics cards the absolute fastest available. Get up to 2X faster performance in ray-traced games compared to the previous generation. For razterized games without ray tracing and DLSS, expect the GeForce RTX 30 Series GPUs to deliver the performance necessary for max setting, high resolution, high framerate gameplay for the definitive experience. Whether or not you're a competitive esports player or a more 'regular' one wanting the absolute highest levels of fidelity, rest assured your expectations will be exceeded.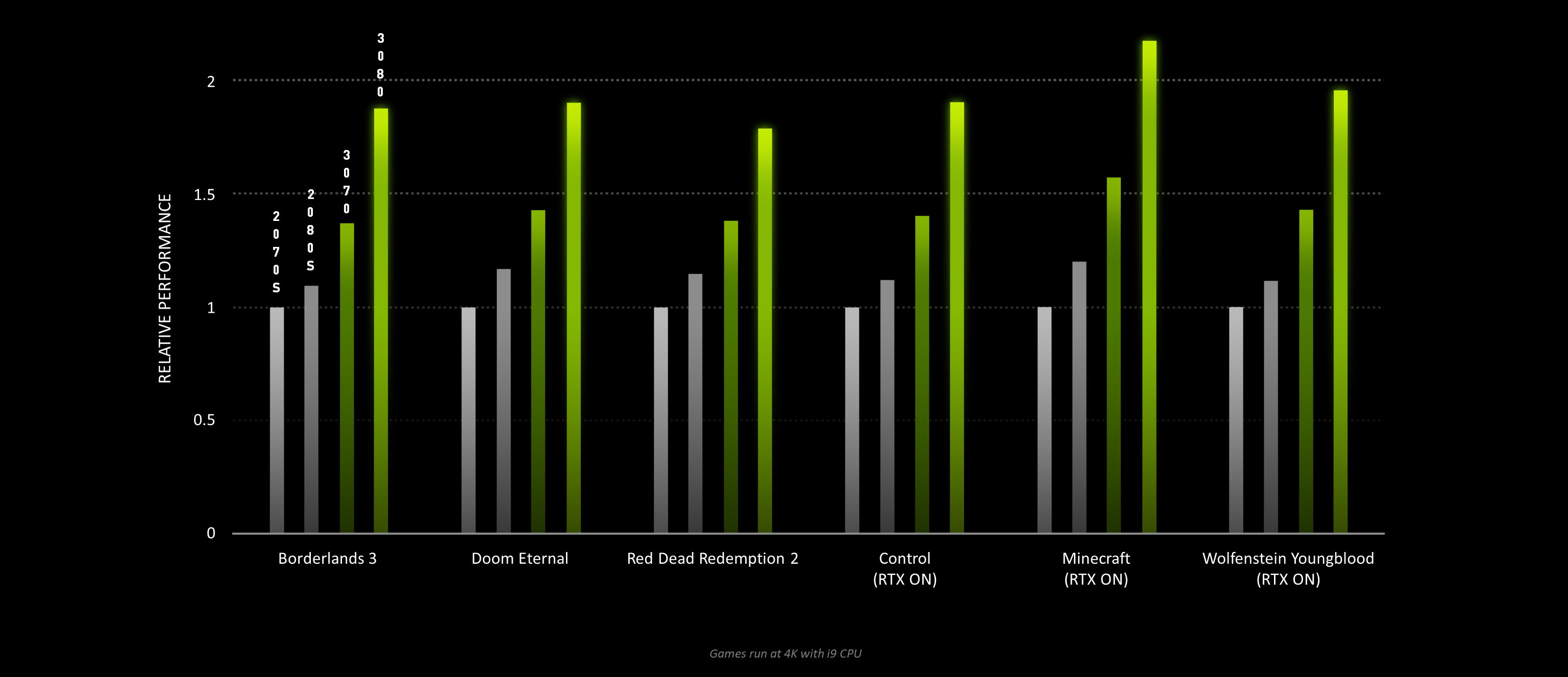 RTX IO: GPU Accelerated Storage Technology
With the launch of blazing-fast Gen4 PCIE NVMe SSDs for up to 20x faster read speeds of drives from a few years ago, PC storage solutions are yet another aspect entering a new era. Developers and game engines are working on advanced streaming and loading solutions to create larger worlds with less loading, less pop-in, and more detail, and all this is supported with NVIDIA's RTX IO technology to deliver GPU-based lossless decompression, and low-level, super-efficient APIs architected specifically for game workloads. Working with Microsoft to have the technology be fully compatible with Windows API DirectStorage, next gen games will be able to take full advantage of RTX IO-enabled hardware to accelerate load times and deliver larger open worlds, all while reducing CPU load.