Two new cookies will be entering the Cookie Run Kingdom today with the latest update, these being Clotted Cream Cookie and Wildberry Cookie. Two new events are also being released in the May update.
The update will commence after maintenance at 18:00 on the 3rd of May MYT.
Wildberry Cookie
"Filled to the brim with wild tropical berries, Wildberry Cookie's ardent loyalty to the Hollyberry Kingdom is unquestionable. And the brightly gleaming jewel embedded into his mighty gauntlet is proof! Wildberry Cookie has sworn to protect his kingdom and its loyal dynasty! Even though sometimes what it takes is serving generous amounts of berry juice!"
Wildberry cookie is a new defense cookie that stands in the front row, protecting the rest of your team. He is voiced in English by Kamran Nikhad in English, Bok-hyun Han in Korean, and Tomoaki Maeno (Kinro in Doctor Stone) in Japanese.
Interestingly enough, there was previously a villainous NPC on Cookie Run Kingdom named Wildberry Cookie, who was an evil alternate universe version of Strawberry Cookie. Coincidence? We shall see.
Clotted Cream Cookie
"A mixture of cream, ambition, and respectability, and you will get the Republic's youngest Consul ever. But beware: each of his sweet smiles is thoroughly calculated. This Cookie is always on the winning side."
Clotted Cream Cookie is a magic type cookie that stands in the middle row. He is voiced by Aaron Dismuke in English, Jiyui Kim in Korean, and the legendary Akira Ishida (Gaara in Naruto, Togami in Danganronpa) in Japanese.
What's interesting about Clotted Cream is that he's an entirely new tier of cookie, a 'Super Epic'. How this will make him different from a regular epic, or how much rarer it'll make him, is yet to be seen.
In addition to these new cookies, there will also be new events coming to the game: The beginning of "The Republic Trilogy", and a new Champions League for PvP.
Are you excited to see Clotted Cream and Wildberry Cookie join Cookie Run Kingdom?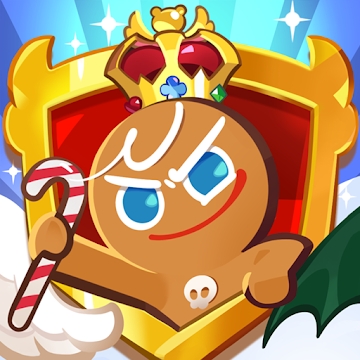 Cookie Run: Kingdom
Android, iOS
Build your dream Cookie Kingdom and reclaim the land lost against the evil that lingers in the shadows. Fresh out of the oven and from the Cookie Run: OvenBreak creators comes Cookie Run: Kingdom! Build a delectable Kingdom while battling against evil dessert monsters! Team up with friends in Guild Battles! Fight alongside other Guild Members and defeat new rivals. Battle against powerful enemies to level up together. Earn soul stones, guild level-up items, guild treasures, and more!
---
Check This Out Next
---