With the new banner refresh that will last until 29 June 2021, we have the addition of Hishi Amazon to the Uma Musume: Pretty Derby lineup. As the third natural chaser in the roster, Hishi Amazon will fulfill that role for the middle and mile distances.
★3 [アマゾネス・ラピス]ヒシアマゾン(CV:#巽悠衣子 さん)が登場!
マイルや中距離を舞台に追い込みで活躍する、タイマン上等!姉御肌なウマ娘です!
ガチャで獲得すると今だけ「ヒシアマゾンのピース×90」がおまけで付いてきます!#ウマ娘 #ゲームウマ娘 pic.twitter.com/RtezoRVTEP

— ウマ娘プロジェクト公式アカウント (@uma_musu) June 21, 2021
Let's get the obvious out of the way, first. The guts training bonus is less than ideal, though the power training bonus does make up for it somewhat.  Regardless, if you opt with training her as a chaser for mile, your job is made that much easier, since you can ignore the guts training and just get the minimal amount.
So what does she bring to the table? Among other things, there are an assortment of chaser-centric abilities alongside some generics for middle distances. Unlike Gold Ship who is still the best in her class as she begins rampaging at the middle phase of races, Hishi Amazon prefers to bid her time until the final moments before (hopefully) her overtaking ultimate kicks in alongside the positional and various speed boosts. Given enough power, Hishi Amazon will prove to be a rather formidable chaser in distances not used to having that strategy being prevalent.
Uma Musume: Pretty Derby is currently available on Android and iOS for mobile, and DMM Games for the PC.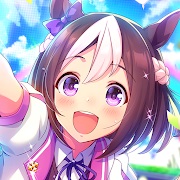 Uma Musume: Pretty Derby
Android, iOS
Horse girls take to the track! Train up these cute horse girls to be the best of the best.
---
Check This Out Next
---