Playing through Shin Megami Tensei III Nocturne HD Remastered reminds me that I never did finish Devil Survivor. When will they remaster that, one wonders? In any case, the former is what we're here for today, the demi-fiend stepping into a new world pre-apocalypse? mid-apocalypse? post-apocalypse? after 18 years with a new coat of paint.
---
PRESENTATION
As a remastered version, I wasn't expecting completely overhauled graphics. Depending on how nitpicky you are, the game isn't going to be winning Best Graphics anytime soon. They remind me a lot of those Ken / Barbie dolls of years past, with that kind of PVC / plastic quality with somewhat stiff animations. Certain cutscenes also start out with the aspect ratio in 4:3, and not all of them become full screen. It's a mostly negligible oddity, but I felt I should point it out regardless.
In the Options menu, you can switch subtitle and dubbing languages. Surprisingly, there's nothing about speeding up animations, and if you're like me, this will wear on you really quickly, because dear god is this game slow. You win some and lose some, I suppose. Otherwise, there's nothing particularly exceptional about the settings unless you count the OST options groundbreaking.
The overworld map's buildings glow if you're able to interact with them to enter, but I feel that it can be hard to see even as I play this on the PS4 version on a larger screen. There are places where the cameras are fixed, so I found myself wondering on occasion where the hell this mark on the map is supposed to be before putting my face in my hands and realizing the stupid thing is in the background. Truly, the most tragic thing is wondering how far the self-own goes.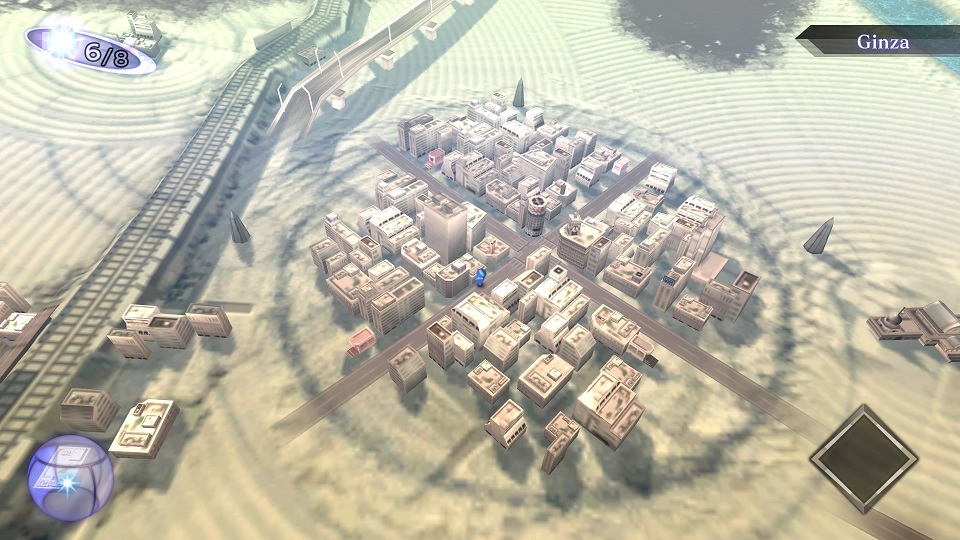 GAMEPLAY
Welcome back to 2003! You're supposed to go meet your teacher in the park and along the way you learn about people dying after some clashes or whatever, cool beans. Some dude named Hijiri hands you an occult mag. You get a brief lecture since you were late so you'll be meeting the gang at the nearby hospital instead. I opted to hark back to the legendary Man Weed in more family friendly terms and not embarrass the rest of the cast with my stupid naming sense.
Teach is nowhere to be found, so obviously we need to head into the creepy basement. Teach stops Mr CEO from murdering me but not that it matters much. She gives some cryptic speec The world goes to shit, Merb is now a demi-fiend, and now he's gotta save the world after having lost both humanity and shirt while befriending demons and avoiding the dreaded Enemy Turn.
Besides the slow animations, the game itself isn't really what you'd call a "fast-paced" one. I'd like to thank the addition of auto mode while I explored in my own time with Merciful difficulty, punching the shit out of randoms and maybe locking myself out of in-battle negotiations, who knows. The DLC gets you access to Dante from the Devil May Cry series, though don't expect to meet him so soon, and the DLC areas to farm for your Macca and EXP.
There's a decent bit of backtracking you do which is slightly lessened relatively early into the game with the Amala Network fast travel system, and every hub area will always have a healing point and the Lady of the Fount to cleanse you of curses, with the bigger areas having shops too. It's sprinkled with the typical moon logic and easily missable stuff if you're going into this blind, leaving you to divine things from snippets of NPC conversations in the world. The general loop is very straightforward, it's the systems which will require some study. Since difficulty affects things like Macca gained and item prices, the fact you can change it whenever is another way to "exploit" the game, should you know your stuff.
CLOSING COMMENTS
For the most part, if you were curious about the whole Shin Megami Tensei series and are interested in picking up V when it launches later this year, this could be a miss. It's a serviceable remaster, with various quality of life updates, but not a great one. Pick the game up if you really want to experience the predecessor games that isn't a Persona title (who knows what happened to 1 and 2, god forbid).
I can't say the remaster endeared me to playing the newest one, no matter how fabulous the protagonist's hair is. Not my style, and I'm only here for the Jack Frosts because I have priorities. You want to actually complete this game? Check out our demon tier list here and go fight god (?) in my place.
Shin Megami Tensei III Nocturne HD Remaster
Microsoft Windows, Nintendo Switch, PlayStation 4
Reawaken your inner demon in a modernized version of the acclaimed ATLUS classic, Shin Megami Tensei III Nocturne HD Remaster.
---
Check This Out Next
---
The Review
Shin Megami Tensei III Nocturne HD Remastered
Featuring Dante from the Devil May Cry series.
PROS
Old game given new life on new platforms
Various quality of life updates
CONS
No animation speed up option
Won't have the polish you'd expect for a "modern" title