Uma Musume: Pretty Derby is now available in Japan!
To recap, Uma Musume: Pretty Derby was first announced in 2016 and was originally scheduled for a launch in winter 2018. Of course, that never happened and the game was pushed back for polishing. The team issued an apology and thanked fans for supporting the franchise still. At first glance, the game seems to be a cross between the famed [email protected] series (it's the same producer after all) and your traditional horse racing game. Akihiro Ishihara, who previously served as [email protected] game series director left Bandai Namco to pursue his dreams to work on this so it will be interesting to see if it was a good decision. At least that was the narrative when the paragraph was previously written in 2018.
Well, now that the Uma Musume game is finally available, in at least Japan, we'll see for ourselves how the game will perform in its home country and if it'll ever make it out globally. As with many non-English mobile games, there's unofficial resources like this translation account on Twitter for fans.
It's been a long time coming, so don't wait anymore and get that headstart into the equestrian world of cute horse girls.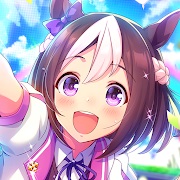 Uma Musume: Pretty Derby
Android, iOS
Horse girls take to the track! Train up these cute horse girls to be the best of the best.
---
Check This Out Next
---