Another year, another Call of Duty, the latest in line being Black Ops Cold War from Treyarch. We've gotten quite a bit of context behind the game with interviews with Dan Vondrak and Kevin Drew, as well as David Vonderhaar and Matt Scronce. Prior to full release, we also gave the multiplayer-only beta a shot, our impressions of which you can check out here. Black Ops Cold War finally launched 13 November, so here's our full review of the game, with more of an emphasis on the Campaign and Zombie modes.
Thanks to Activition and Treyarch for providing us with a review code!
---
REAGAN ERA – CAMPAIGN
The real life Cold War was one of incredible tensions and uncertainty, with plenty of political intrigue and nuclear scares, with the parties on either side just anxiously waiting for someone to pull the trigger. In Black Ops Cold War, it has distinct parts that depart from the bombastic fire fights you'd expect from this series: reconnaisance missions for information, rescue missions, and others. These moments make the game closer to a spy thriller, with your characters working together to stop a threat simply known as Perseus. This threat is seemingly capable of untold destruction, and you will have to stop Perseus from the shadows.
In between missions, you'll convene at a safe house to consolidate intel, watching leaders play their game of chess, and gather the clues on the board to identify your targets and capture them. If you don't manage to get enough information in the previous stages, your subsequent missions could be compromised and influence how successful you are. You get to really be the agent, analyzing your data to pinpoint the enemy, and the clues are also random, so no looking up a guide! The campaign truly shines when you get to do things outside of the "classic" shooting action, and with how far the graphics engine has come, it is a truly immersive experience.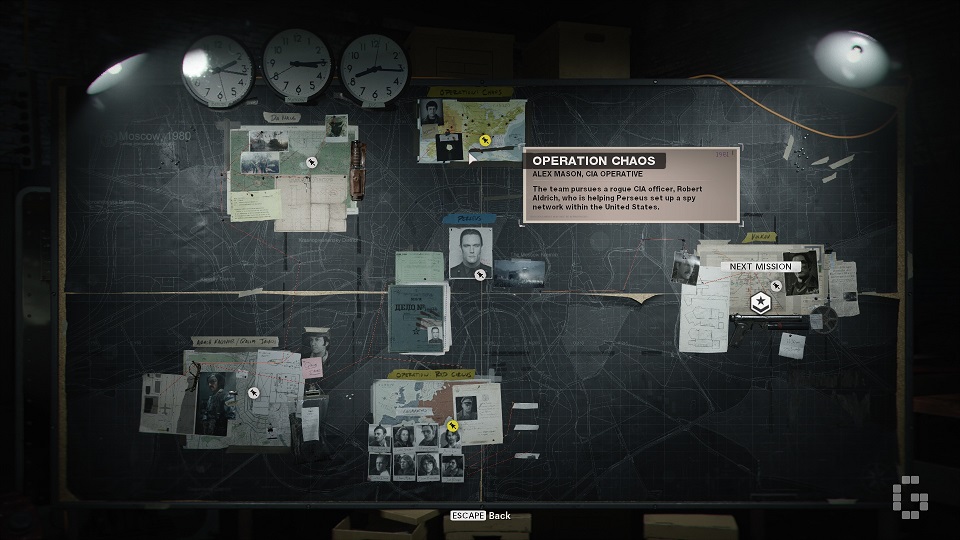 The one shortcoming for the campaign would be that it's quite short all things considered, taking roughly 6 hours to complete, and double that if you're going back to check out the other options, and alternate endings. Well, you could also spend way too much time with the arcade machines scattered around the main story, but it is what it is.
THE SHOOTING DEAD – ZOMBIE MODE
After being absent in 2019's Modern Warfare, Zombies returns to Black Ops Cold War. It has a bit of a storyline for itself:
As part of Requiem, a CIA-backed international response team led by Grigori Weaver, operatives explore a World War II bunker that hasn't only been ravaged by time… A Soviet-led division and rival to Requiem, the Omega Group, also has a keen interest in studying and harnessing the power that lies within.
In any case, this is just an excuse for the walking dead to return as you blast them through and work to uncover everything the maps across the mode offers. However, if you were hoping for some shake up in gameplay, you'll be disappointed: while the gameplay remains solid as ever and has acquired a graphical update, the actual gameplay loop is the same as its previous iterations. Fight off waves with three other friends and gradually unlock more options as you continue playing. It's still fun, but there's nothing too different.
You have three modes within the Zombies mode itself:
Die Machine

Endless

The moment you drop, the waves don't stop. You can die and still respawn even if you don't get rescued, and you'll be able to keep on respawning until the last member of your team dies

20 Rounds

Survive the titular 20 rounds, and works the same way as endless. If everyone dies, though, there'll be no respawning and your run can end before the 20 rounds

Dead Ops Arcade

Diverging from the Die Machine modes, this one's like playing Zombies on ye olde arcade cabinet. It's meant to invoke some nostalgia, but it can feel awkwardly implemented in its controls and gameplay. It's closer to an easter egg than an actual game mode, and will be worth some laughs at least
For the Die Machine modes, you have Perks and Skills that can be upgraded, with six Zombies Perks you can obtain. To upgrade these Perks, you will need to scrounge for Raw Aetherium Crystals from hitting a certain number of rounds in game, or through successful eliminations. You'll also gradually be able to work on Field Upgrades, Ammo Mods and Weapon Classes to help you survive longer to get even more crystals.
The weapons themselves also come out in five rarities: Common being, well, the most common, to Uncommon, Rare, Epic, and finally, Legendary. Their stat spread will accordingly scale to their rarity. As you go further into the rounds, the higher the chances of rarer weapons from Wall Buys and Mystery Boxes. You'll need those rarer weapons, when you come across radioactive boss zombies in later rounds! Pray for some sweet upgrades to help you through these bullet sponges!
WITH THE GROUP CHAT – MULTIPLAYER
Taking some cues from Modern Warfare, you've got the interactable doors and a faster, arcade-y shooting experience that's really fun. You have your stalwart game modes like Team Deathmatch, Hardpoint and Domination which you can throw together in a personal playlist for a lot of that pew pew action over hours. Combined Arms especially plays into the strengths of Treyarch's map design, for one chaotic mess as every opposing party clash to take over objectives.
If you've made yourself intimately familiar with the beta, then it's pretty much jumping back into where you've left off, just with more polish and more map variety. There's even a free-for-all mode to gun everyone else down – including friends you have queued in with – to get the highest score from eliminating anyone who isn't you. There is some wrinkles with the Skill Based Matchmaking as you can still encounter someone who's at a much higher skill ceiling than you, so if you just need to cool off from getting camped, there's the option to go against Bots just for some quick hits.
ON TO THE 90s
Next gen is here, with Black Ops Cold War doing its damnest to pop and be realistic, especially if you can turn RTX on, and making at least a certain percentage of rigs suffer from frame drops. While we in Malaysia still have to wait for our PS5s, those who have the next gen game can enjoy the haptic feedback on their console.
The newest addition to the Call of Duty is a mixed bag of positives and negatives, but it doesn't mean it wouldn't give a good time. There's room for improvement and additions for the campaign, encouraging deeper player involvement like the spy sections and maybe even more possible ending permutations. As for multiplayer, expect hours upon hours of fun in whatever mode you play, whether jumping into quick games solo, or partying up with friends, with Warzone also available to play.
| | |
| --- | --- |
| Pros | Cons |
| Graphical upgrade! | More of the same old gameplay |
| Many modes in one game | Campaign interesting but too short |
| Gunplay is excellent | |
FINAL SCORE
7.5 / 10