Anyone familiar with anime merch is likely to be familiar with Gashapon: vending machines that drop out small plastic toys and accessories based on your favorite anime, video games and other themes caged in colorful capsules. Now Bandai has opened an entire official Gashapon store here in Malaysia at Putrajaya IOI City Mall.
We managed to stop by the new store for opening today and trust me, even as someone that tends not to be a big spender, there'll be at least one machine that'll have you pulling for plastic.
The World of Gashapon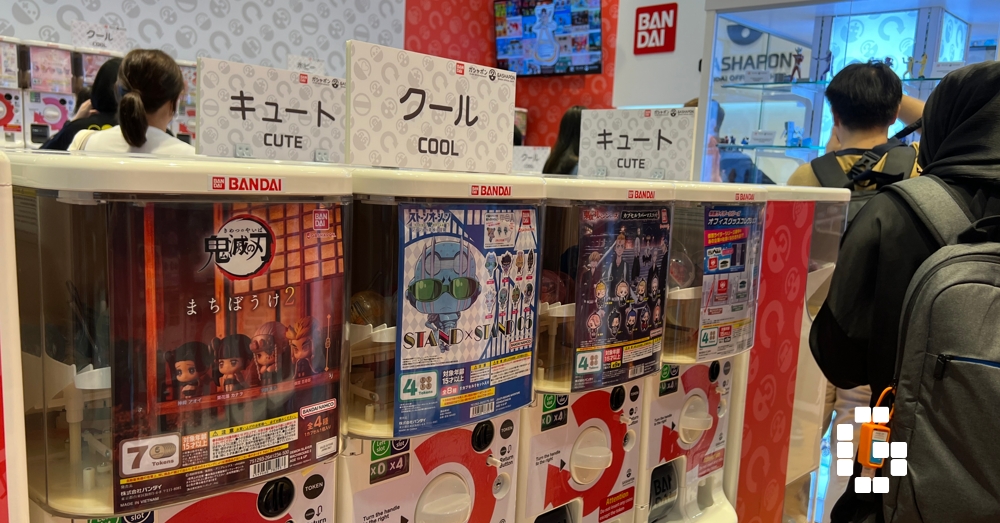 While I haven't been to the Japanese Gashapon store, the overall layout of Gashapon Malaysia looks faithful to the comment appearances seen on TV, anime, and Social media. A very clean, minimalist appearance packed with capsule machines. The store isn't as large as you'd think with the walkway between machines only able to fit one or two people. I can see that being a pain on busy weekends but thankfully it wasn't too crowded so I never felt I was too squished in.
To celebrate the first day of opening, they also had a bonus gift. If you exchange at least RM100 Token at the counter, you will receive an official eco-bag. It's a small but nice gesture to say welcome to loyal customers. 
All The Different Merch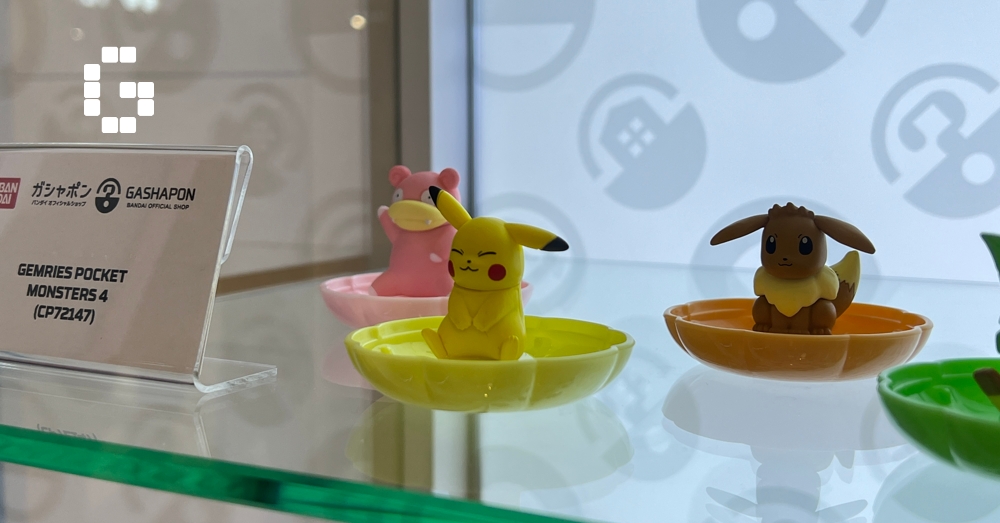 As for the different franchises in the machines, as I said before, if there's a popular Japanese series or game you're looking for, chances are they got at least one machine for it. During our trip, I noticed they had gashapons for Chainsaw Man, Spy x Family, Demon Slayer, Pokemon, and many more. The store is split into different gashapon for different categories like anime, games, and lifestyle.
If there is a series you feel is missing, however, keep in mind they'll rotate out old products with new ones as time goes on. Also, don't be afraid to ask the staff about it, they were very friendly and willing to answer any question I had.
One thing I particularly appreciated is that there were many display cabinets in the store that showcased the currently existing products in the gashapon machines. This gives you a clear idea of what you spending money on, how big they are, and if you wanna try to pick them up. 
They also have a neat little service for the gashapon plastic shells. If you don't want to bring the shell back home, there is a recycling machine that you can throw them into. 
Buying The Tokens
In order to pay for the gashapon products, you'll need to buy tokens. This is made very convenient by the token machine located at the front of the store, just insert money and the tokens drop out.
You can choose cash or cashless (Touch n' Go, Boost, Credit Debit Card, etc.) to exchange the tokens, although the cashless exchange has a fixed amount of RM5,10,20,50, or 100. The cashless process is also a little slow but be patient and it should go through. 
The machines are divided into normal and premium Gashapon. The cheapest requires three Tokens, and the most expensive requires RM100 a piece. I'll be honest, I always thought gacha toys were meant to be cheap but I stand corrected. There is a chance some of these could be picked up for cheaper online but there are still plenty of normal gashapon that don't ask for so much.
Besides, a big part of what makes Gashapon fun is the surprise; physically putting the coins in and twisting the center piece to make the capsule fall out. 
Collecting Capsule toys
Gashapon toys and merchandise have become a major part of otaku/fandom culture. The fact that they inspired one of the most lucrative genres of mobile games is a testament to this. With that in mind, it's cool to see Malaysia get its first-ever official Gashapon Brand store.
Like with any anime merch, you should make sure to only spend within your means but otherwise, that feeling of turning the machine and seeing what pops out is both fun and satisfying. As a fan of Pokemon, it was cool picking up a couple of cute mini-figures to add to my collection and I'm sure it's the same for many fans across the country. If you're ever in Putrajaya for any reason, why not stop by and collect some capsules?
---
Check This Out Next
---