The Iron Oath enters Steam Early Access today, following its reveal at an earlier Humble Games showcase. Since it is early access, this will be my impressions of going through the game, with any bugs, performance issues, or "missing" content to be taken in stride along the way. If you haven't put this on your radar yet, here's an overview from its Steam store page first:
Command, endure, and prosper in The Iron Oath, a turn-based tactical RPG where the fate of your mercenary company rests on your decisions. Lead your band as they age, retire, and die. Build your outfit's renown across decades in the ever-changing medieval fantasy realm of Caelum.
There is a certain narrative backing this game too, but once you're out of the prologue and completed your first mission, you're decently free to roam.
DOTTING YOUR I'S
There's the thing about indies being almost always associated with pixel art, and it's no different here. It looks darker, gritty, so very much suited to its fantasy / medieval setting. The overworld dragon attacks – we'll get to that in a bit – looks incredible, with the dragon emerging from a dark, swirling rift, breathing fire on an unfortunate town. It leaves as quickly as it arrives, and here is where the effect can be further enhanced with visible destruction on the affected settlement. The text is not heavily stylized, but I think some of the icons might be worth resizing, or perhaps a slider. I think a lot of information is squirreled away in the corners, too.
Your company's banner can be customized, unsurprisingly enough. What is is that there's a decent number of options for characters, even though, all things considered, there really isn't that much of them to see.
"THAT NAME HAS A NICE RING TO IT."
The Iron Oath heavily reminds me of Darkest Dungeon in its gameplay. It's resource management and tactics, juggling factors coming from both the inside and outside – so to speak – with battles done on hexes rather than a side-scrolling venture going from room to room. The last of this is technically here in another form, since there is exploration too. Let's just go through this one by one.
STARTING A NEW CAMPAIGN
Flavour wise, you can name your company, change the flag, and give yourself a stupid title if you want. Besides 3 basic difficulty presets, you can customize it for yourself, be it easier or harder. Don't be afraid to mess with those sliders to ease yourself into the learning curve.
COMBAT
So yes, we have turn-based, tactical combat here, with only 4 to a party to start. Characters and enemies take their turns depending on their speed. You can walk normally within the green hexes and perform an action, or head to the greyed ones to sprint and end your turn once you reach there. You can also manually set a path, which ironically, restricts mobility (as in, the number of tiles). Then, you have the terrain to think of, whether it's an elemental tile, trapped, a debuff zone… I shouldn't have been surprised, but when I broke a casket in a cave of undead, another skeleton popped up, and I destroyed that partial cover.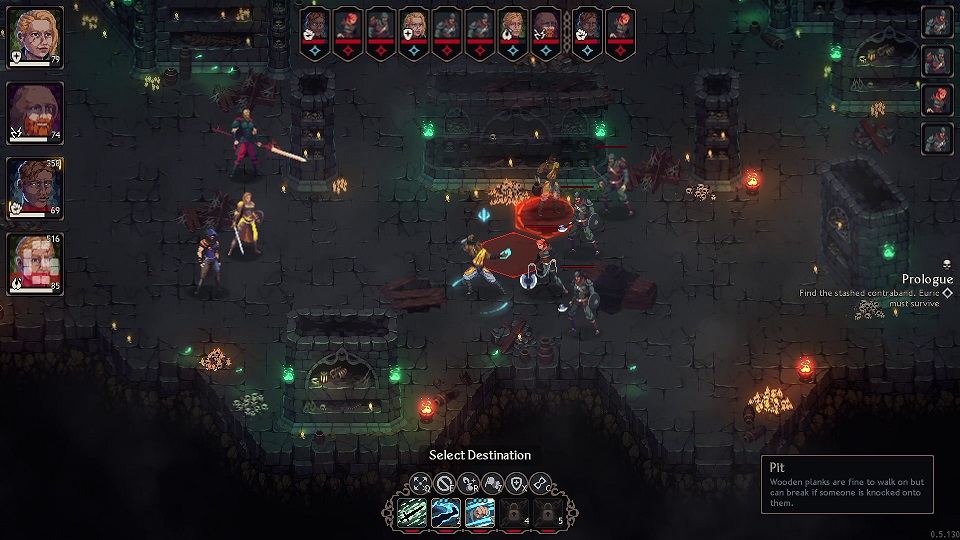 While the game doesn't use a typical "mana" cost, skills have charges instead. That means you're going to have limited uses of spells outside of your regular attacks. They're subject to your accuracy, character strength, the usual stuff. Friendly fire is on, by the way. Charges can be restored by way of resting at a camp, subject to the effects of incense, and whether you have provisions to do so to begin with.
Enemies may have their own traits, like how skeletons will resurrect if you don't completely destroy their little pile of bones. The array of status effects are present, with something like Burn able to set the tile on fire if the enemy dies with it in effect. Units can get grievously injured, a body part here and there affecting their combat performance. Get hit enough, and they can bleed out if you don't stabilize them on time, so if you're out of bandages, say goodbye. Don't forget about unit morale too!
Last but not least, "attacks of opportunity" are a thing, wherein moving away or towards a unit in melee range can trigger an "overwatch" attack. It depends on the direction, but it does add another wrinkle to your positioning, especially when you want to consider flanking, too.
EXPLORATION
There are two "areas" of exploration: the overworld, and the "instances".
The overworld will have towns and nodes that you can travel to, using up in-game time and gold to whichever direction you're planning to shuffle over to. The towns may be affected by certain environmental occurrences, be it bandits blocking the road meaning trade is slow, weather, or a dragon attack. You yourself could get caught in an attack, or, business-wise, you'll have more potential contracts to pick up and swoop in to be their hero. It pays to be friendly with the towns, as you'll be offered discounts at establishments at high reputation.
Instances are just that: depending on the mission, you may be required to enter some cave or somesuch. You can bring in some provisions with you before diving in. Here, you can find event tiles that could send you into combat or items, for example. If you encounter a roadblock, you might have some tools to make that a non-issue. All the while, the turn timer at the bottom right ticks down, applying modifiers to your party. Maybe you'll be more susceptible to ambushes, or your party becomes more vulnerable to injury, who can say? Events may affect your standing with your party depending on their personalities.
Camping out resets that timer, and gives you a breathing moment. Burning incense can have primary and secondary effects, with secondary effects not applying to characters you may have set as lookout. Ambushes are also possible during these moments. Scouting ahead will help you avoid ambushes and help you plan your movement, but scouting takes up more of that turn timer. Diving in is stressful, as the tutorial would like to warn you.
CHARACTER DEVELOPMENT
Characters get points on level up to distribute into their raw stats. They also get skill points to improve their own respective slot skills, with the ability to learn new ones at certain level thresholds. Not all the skills' effects can be learnt at this stage, but they should be easy enough to understand. As far as I can tell, both their initial stat distribution and skills are random, and in fact, the tutorial characters themselves get random, minute changes to their appearances though not their skills. This should be straightforward enough.
MANAGEMENT
Gold gets used in initial recruitment, then for their yearly salaries, for resting at inns, supplies and equipment, and travelling along the road. Did I mention your equipment has durability so you'd need to replace them because there's no way to repair it, at least to start? Easy enough I'm sure.
Your characters have their own quirks, those little personality traits that affect their performance in combat, or how they react in certain random events. If they're not loyal enough to you, I expect they'd ditch the company. I wouldn't know, I get them killed by sheer incompetency before that may happen. If they don't die, then I have to worry about their fatigue that needs to be recovered at the inn to avoid getting demerits that are too harsh. Some of them might even need a hospital stay to fully recover from any injuries. You can field them regardless, if you're living life dangerously.
Contracts (missions) will be the easiest way you can build rapport with the various towns and territories, but you can also only take so many on at a time. You will want to raise your reputation throughout so that you can use those points to improve your company in general. There's the Council system that's not available in Early Access, so stay tuned for that for yourself.
THOUGHTS
I'm genuinely astounded by how much I can write about the various systems in the game, and I haven't covered all the finer points. If you've been hesitant to try out tactics games, the options afforded to you should help you ease into the game. Aside from the few random factors, there's enough consistency that you can learn to master to challenge the harder difficulties.
The Iron Oath as is should have plenty to occupy tactics and strategy fans, and I can only hope to see the game become even more refined in the time it spends in Early Access.
Code provided by Humble Games.
---
Check This Out Next
---