Spongebob Squarepants has certainly proven himself to be absorbent and yellow and porous in the world of gaming. Spongebob Squarepants: The Cosmic Shake is a spiritual successor to the surprise licensed hit, Battle For Bikini Bottom. The game is made by Purple Lamp Studios, the same developers as Battle For Bikini Bottom's HD Remaster and it contains many of the same platformer and battle mechanics as that game.
I'll be honest, while I watched a lot of Spongebob as a kid, I haven't played any of the Spongebob games before this one but I was pretty excited about Cosmic Shake. Big-name 3D platformers aren't the most common of games nowadays and this really had the feel of the old-school PS2 entries, just like Battle For Bikini Bottom I suppose. After playing through the main campaign though, The Cosmis Shake is a solid platformer held back by a few notable faults, mainly its bugs, pacing, and repetitive combat.
The Breaking of Bikini Bottom
It's a lovely day in Bikini Bottom as Spongebob and Patrick prepare for an exciting trip to Glove World. On the way, they come across a mysterious merlady named Cassandra who gives Spongebob a bubble wand that is said to grant all the user's wishes. Our favorite fry cook proceeds to do just that causing it to open wormholes into different universes with friends, locations and more being sucked in. Spongebob and Patrick (who wished to be a balloon) must now visit each world and rescue the inhabitants of Bikini Bottom.
The plot is nothing deep, and it does have a few pacing issues. New plot points tend to spring up out of nowhere pretty much just to get you to your next destination. This wouldn't be too bad but the transitions into cutscenes are also rather janky and abrupt making the plot more disorienting than probably intended. 
That being said, it does a good job of capturing the goofy goober aptitude of the cartoon. It has a wacky tone that fits well with the undersea cast, further helped by the full voice acting from each character's original voice actor. It's hard to believe that Tom Kenny has been playing Spongebob for over 20 years but he still pulls it off and sounds completely natural, although some of these repeated lines during gameplay will be annoyingly fried into your brain (seriously, I never want to hear about Krusty Krab Pizza ever again).
An Homage To Sponge
The game in general pays a lot of tribute to the Natical Nosense of the Spongebob franchise. The hub world of Bikini Bottom is a fun recreation of the town and allows players a good amount of exploration around its well-known locales. It even brings a few more obscure fan-favorite characters for cameos and sidequests. 
I especially like the small touches like how the game will cut the same gross-out close-up of the art of the characters the way the show does. Even the loading times make use of the French narrator and time jump cards as in the cartoon. Overall if you're a fan of Spongebob's world and characters you'll probably have fun with Cosmic Shake.
The Cosmic Worlds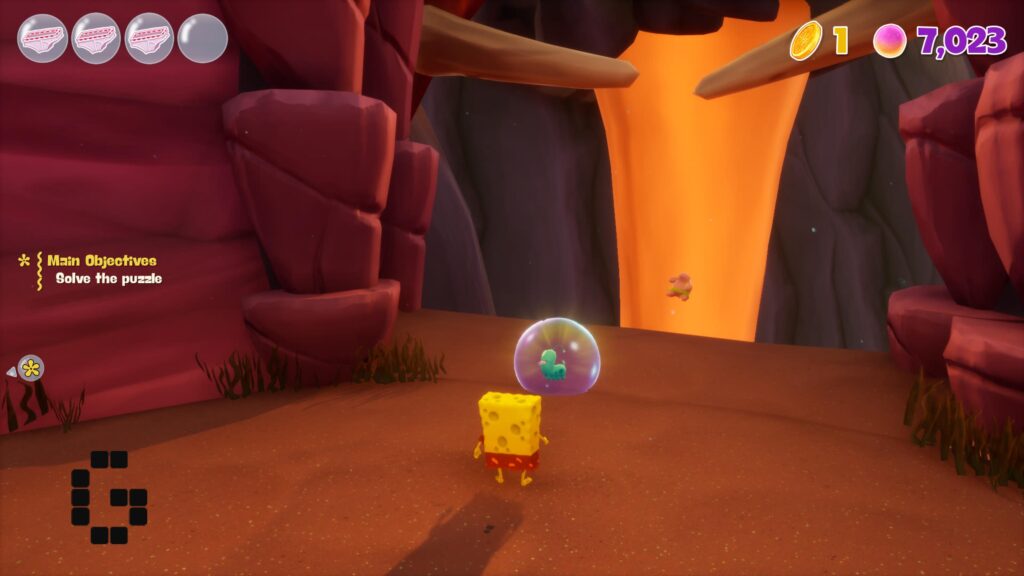 Gameplay-wise Cosmic shake is a traditional 3D platformer. You are given seven large worlds to explore each with a different theme and parallel versions of the Spongebob cast. These range from prehistoric times to a medieval fantasy castles. My favorite was probably the Hollywood-style movie set complete with an alternate Squidward as a grumpy director (the role he was born to play).
There are a lot of fun animations and the models for each cast member are vibrant and expressive. The game does sadly have a number of performance issues though. Most notably there was more than one occasion where characters would clip through the world, with Spongebob's own feet sometimes sinking into the floor.
There was even one bug that forced me the load up an old save because there was no way of continuing the game. There was a section where I came too close to a closed gate with enemies on the other side. The game locked me into the area that was closed off behind a purple jelly barrier in order to fight some enemies. The idea of these battles is that you have to defeat all the enemies to destroy the barrier but I was stuck between the gate and the forcefield and could not leave without loading up the previous auto-save.
The worst part however was that I went back a second time and was able to easily trigger the glitch again. Now it's easy to load up the autosave without losing much progress, but the game would have benefitted from having a lot more polish performance wise. 
Bubbles and Kara-tay
Throughout the game, you'll have to platform and fight your way through hostile jelly monsters. For the basic movement, Mr. Squarepants is tight but his squeaky walk cycle doesn't move beyond a brisk stroll which can be frustrating when facing multiple goons. That being said his normal moves consisting of a spin attack and cartwheel dodge roll work fine. 
That's about it for the main moveset. You get a few more moves and weapons as the campaign goes on but most are very situational and don't add much to your moveset, although I did really like the karate kick and its sonic-esque homing attack.
While it was fun at first, by halfway through the game I did wish there was a bit more variety with the basic combat, especially since the game really likes to throw you into these closed spaces that you can't leave until you kill every enemy. Said enemies are pretty varied in design but often have similar attack strategies with the same solutions to beat them that you'll be doing over and over again. It gets pretty repetitive and I often found myself getting tired of the constant fights. 
F.U.N Throughout The Worlds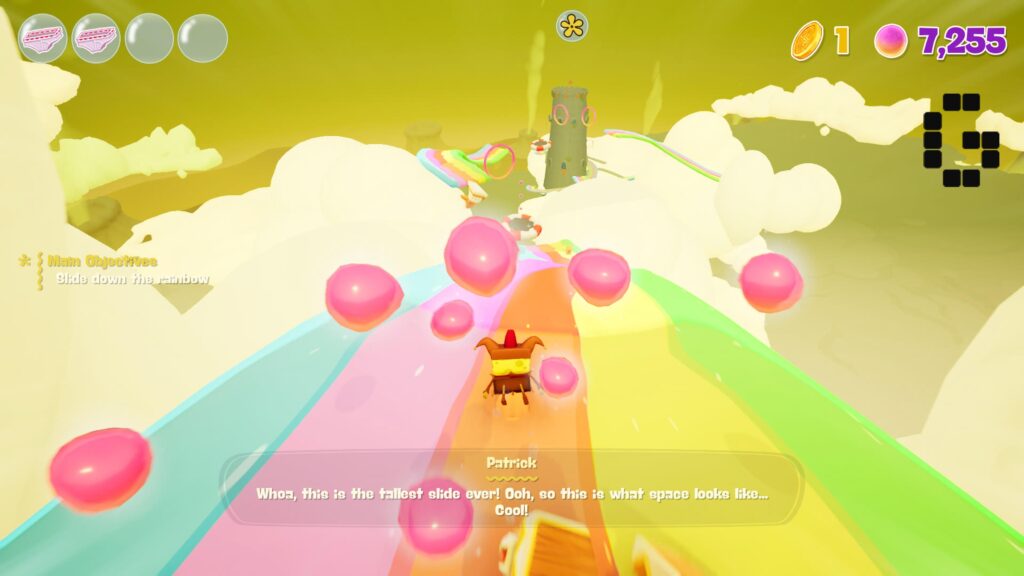 I did however like the platforming of the game. It's a pretty standard platform affair, Spongebob can glide and use a grappling hook but like a homecooked meal, I kind of like how straightforward and familiar it is. Spongebob also controls really well giving a good flow from one platform to another.
The game also breaks up the monotony of combat with a number of pretty fun mini-games across the world. You get to ride a sea horse or pose for paparazzi (with a number of famous SpongeBob memes) and while these moments are short but they help spice the game quite a bit and were a nice breath of fresh air from the central combat. You can even surf on a rainbow with your tongue which was a lot of fast-paced fun. 
A More Casual Platformer
While I found the combat somewhat tedious, it's certainly not difficult. In fact, this is a very beginner-friendly platformer. Spongebob has a health bar that starts with four pairs of underwear (gotta keep comfy), and while you lose a pair in one hit, it's very easy to find more. Underwear is scattered high and low through each world and even if you can't find one, Patrick will often bring one to you. If you run out, you die but even then the checkpoints are incredibly generous and you'll likely respawn exactly where you left off anyway.
I wouldn't say this is a bad thing though since the game is made for a younger audience and it does remove a lot of frustration from the game by allowing you to get back exactly where you were.
Collecting Costumes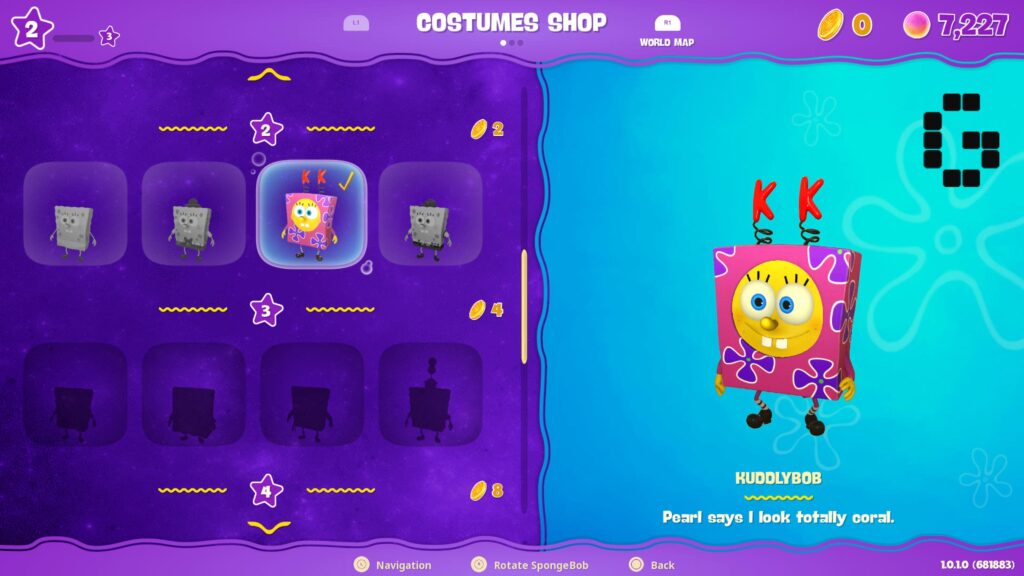 Outside of the primary campaign, the only other thing to really do is unlock new costumes which you can do by finding gold coins throughout each level. Getting enough of these coins will open a new tier of costumes which can then be purchased with the jelly you collect throughout the game. There are sidequests to help out the Bikini Bottom residents like helping Plankton find his pet, but outside of some cute interactions, they mostly just help unlock more costumes.
The new costumes are cool, with a lot of Spoingebob's various get-ups and designs from over the years making for new options. If you're not a completionist or a die-hard fan, however, I wouldn't say these are that worth going back for. You already get a lot of costumes through the main campaign and they don't do much outside of cosmetics so I personally didn't put a lot of effort into getting more of them. 
Spongebob Squarepants: The Cosmic Shake
Sponge Squarepants: The Cosmic Shake's biggest strength is also its biggest weakness: it's just a little too simple. It's a solid 3D platformer with some fun straightforward platforming and fun levels. That being said, it also involves going through the same wave of easy but tedious to-beat enemies, all for rewards that don't feel that rewarding, making it a real slog for large parts of the game. The recurring glitches and choppily-paced story don't help in this regard.
Overall it's not a terrible game but it's also pretty unremarkable. The main thing that stands out is the amount of fanservice and homages to the Spongebob series which are cool and did take me back to being a kid watching the show. I think the game will likely please longtime Spongebob fans but outside of that, it needed a little more bubble soap polish to truly shine.
| | |
| --- | --- |
| Pros | Cons |
| Voice acting and lines from the original actors are great | Some voiced lines repeat too often during gameplay |
| The different levels are vibrant and creative | Central combat and enemies can get repetitive and tedious |
| Lots of loving cameos the Spongebob franchise | Frequent glitches and bugs some of which break the game |
Spongebob Squarepants: The Cosmic Shake is available for PS4, Nintendo Switch, Xbox One, and PC.
Review copy provided by the publisher. The game was reviewed on PS4.
---
Check This Out Next
---