Saber aka Artoria Pendragon from the Fate/Series has just been added to the upcoming fighting game Melty Blood Type Lumina.
UPDATE:
Saber Confirmed!! Here's her trailer:
She won't be in the main story but will have her own separate scenario.
Original Article:
A screenshot of Melty Blood: Type Lumina has been circulating on Twitter. The screenshot is of the game's character select screen which features a certain Fate servant complete with sprite and character art.
The sprite and character artwork are completely original. Some have suggested the sprite is ripped from Saber's guest appearance in Nitroplus Blasterz: Heroines Infinite Duel but upon closer inspection, they don't seem to be the same. Considering how time-consuming it is to draw such art, it hints at this being genuine.
Rumors of Saber being in the new Melty Blood actually date back further to a Reddit post stating that she would be in the game. This Reddit post had accurately predicted other aspects of the game such as the inclusion and name of antagonist Vlov Arkhangel.
Melty Blood Type Lumina is meant to be a spin-off of the Tsukihime series which was made by the same developers and takes place in the same universe as Fate/Stay Night, the visual novel that Saber originated from. Considering how popular Fate and Especially Saber are due in part to Fate/Grand Order, she seems like an obvious pick for a guest character to help drive up sales.
Twitter has shown that Tsukihime/Melty Blood fans have mixed reactions with some disliking that a Fate character is appearing in a Tsukihime game after the franchise only just got out of its decade-long hiatus. Others dislike that Saber is appearing when many other Melty Blood staples like Sion, Satsuki, and Nrvnqsr Chaos will not be in the base game (there's always a chance with DLC though).
It should also be noted though that Saber is not the first guest character to appear in Melty Blood from another Type-Moon property as Shiki Ryougi from Kara no Kyoukai previously appeared as a playable character in Melty Blood Actress Again.
Melty Blood Type Lumina will be released on the 30th of September for PS4, Nintendo Switch, Xbox One, and PC.
If you would like to learn more about Tsukihime and Melty Blood, check out our Tsukihime Retrospective on the entire franchise.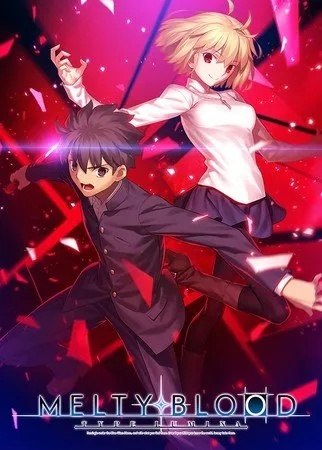 Melty Blood Type Lumina
Nintendo Switch, PlayStation 4, Steam, Xbox One
Explore an all-new MELTY BLOOD world from scenario writer Kinoko Nasu, based on the events of Tsukihime -A piece of blue glass moon-. Unique story events for each character give each playthrough its own feel, adding to the overall experience. Visuals have been updated with HD graphics, and include animation sequences by A-1 Pictures for special attacks. Dialog is fully voiced and will change depending on which characters are brought into battle, giving more insight into the characters' interpersonal relationships.
---
Check This Out Next
---