Type-Moon nowadays is most well-known for the ever-expanding Fate franchise, especially with Fate/Grand Order with its large variety of mythological heroes and Saber waifus. But with this success, I thought it'd be interesting to look over a series from the non-Fate area of Type-Moon. The dark tale of vampires, family secrets, and the moon, Tsukihime, the story of the vampire princess, here's our retrospective.
Tsukihime (Moon Princess) was a 2000 visual novel written by Kinoko Nasu and drawn by Takashi Takeuchi, who would go on the write Fate/Stay Night. For a doujin circle consisting of mainly two people, sold at Comiket (a large Japanese convention where fans and upstarts can sell their work) it was their first breakout hit. While their previous light novel Kara No Kyoukai would kick start the group's shared universe, Tsukihime would be the success that would propel Type-Moon above other contemporaries of the time. While most visual novels consisted of hentai dating sims, Tsukihime (while still being a hentai dating sim) made ground with its heavy emphasis on a dark, horror-oriented plot and character development that took itself more seriously.
Tsukihime would spawn an anime, manga, a semi-sequel, and a fighting game being the company's flagship series for the majority of the 2000s. By the 2010s however, Fate has cleanly taken over as Type Moon's heavy hitter and Tsukihime remained dormant except for a remake that was first announced in 2008, promising to revitalize the franchise.
Said remake finally came this August. Over ten years after the announcement. And only in Japan. Regardless, with the remake finally out, and the fighting game spin-off getting another entry later this month, I thought this would be an apt time to give a quick retrospective of the Tsukihime series. This is a quick guide to explain the various parts of the franchise and why especially if you're a fan of other Type-Moon's other series, it's worth your time to get invested in.
Tsukihime (2001) – The Plot
Let's start with the basic premise. Tsukihime is about Shiki Tohno (no relation to the other Shiki in Type-Moon) a high school boy returning to live with his sister after being exiled from his family estate for many years. Shiki was involved in an accident that gave him the 'Mystic Eyes of Death Perception'. Basically, he sees lines of death across all things, and cutting along them will kill the object instantly. The downside is that humans aren't supposed to see these lines and they're slowly driving him insane. Thankfully he encountered a young magus who gave him a set of glasses that cancel out the sight of the lines.
In the present day, Shiki is attending high school like normal when he encounters a mysterious blond girl on his way back home and suddenly feels a strange murderous intent. He kills her and cuts her into pieces with no clue as to why. The next day however she appears again, completely fine. She introduces herself as Arcueid Brunestud, a vampire that has come to this city to hunt down another vampire that's behind a recent string of murders being reported in the city. She wishes to enlist Shiki and his unique abilities to do this. It's only fair after he killed her.
The Near and Far Side of the Moon
There are five routes in the game with 5 different heroines each. These routes are also split into two different arcs, the Near Side of The Moon (Arcueid and Ciel) and the Far Side of The Moon (Akiha and The Maids). Near Side deals more with the vampire killings happening around the city while Far Side explores the dark backstory of the Tohno household and its effects on the characters that now live there.
The routes are unlocked and must be played in this order:
Arcueid Brunestud – the vampire princess herself (and best girl). Arcueid's route acts as a great introduction to the rest of the game with a good mix of action, tragedy, and romance. Arceuid herself is adorable, she has a very bubbly and innocent personality which heavily contrasts with the fact that she's an all-powerful vampire holding back an extremely potent bloodlust that may break at any moment. As Shiki spends more time with her, I found myself charmed by her upbeat attitude but also a sense of dread in the back of my head reminding me what she really is and as you learn more about her purpose for killing vampires, that dread only increases.
Ciel – An agent of the church disguised as Shiki's upperclassman. Ciel's route is probably the weakest of the five in my opinion. A lot of it retreads the same events from Arceuid which can feel redundant the second time around. That being said she's still a likable character and the climax of her route is outright intense. It's one of the most suspenseful parts of the game. Also, she loves curry and all good characters love curry.
Akiha Tohno – Shiki's strict sister and head of the Tohno Estate. This may be a personal thing, but I'm really not a big fan of little sister characters, which pretty much immediately turned me off to Akiha as a love interest. That being said Akiha's route does a good job of setting the tone of the Far Side routes. It has a more gloomy atmosphere as the dark secrets of the Tohno household are slowly revealed. When you see these come to light it paints a new perspective of Akiha. You see her genuine feelings of guilt and regret for her family's actions as well as her genuine care for her brother. Respect for the little sister, but nothing more than that.
The Twin Maids, Hisui, and Kohaku -The two maids that take care of the Tohno manor. Hisui is quiet and stoic, and Kohaku is laid back and cheerful. It's hard to talk about the two maids without really getting into spoilers that you're expected to know from the previous three routes but these are probably the darkest routes in the vn, especially Hisui's. The two maids have great chemistry with the Tohno siblings and each other which makes them very endearing. In the end, you can't help but feel sorry for both of them.
The Horror
That's a lot of set up but what makes Tsukihime so interesting, compared to Type Moon's other works? For me, the most distinct part of the Tsukihime is its roots in horror.
Of course, being a story about vampires, it includes a lot of descriptive blood and gore but it also has a good focus on phycological horror. Like many of Type Moon's works, it involves many seemingly ordinary characters who lead double lives as supernatural entities like mages.
Tsukihime takes this element of the universe but adds a sense of fear and terror. Each character is not just supernatural but in some ways monstrous: vampires, serial killers, demons, etc, and the dead of night is when their true selves come out to shed blood. If you like what they did with Sakura and the shadow in Fate/Stay Night Heaven's Feel, imagine that but a whole visual novel.
People who on the surface seem eccentric but pretty nice turn out to have significant skeletons in the closet. They twist and change in different ways as these bones of the past are unearthed.
Shiki despite looking like you're your generic high school protagonist is prone to bouts of madness, sudden urges to kill, and 'anemia' induced blackouts meaning you are never certain of exactly what's happening to him and if he's reliable as a narrator. This is what causes him to kill Arcueid near the start of the game and at least a couple of the routes involve him being locked in his room and slowly going insane. Likewise, each heroine and villain is a tragic monster in their own way with Arcueid being a prime example. She's a girl with a heart of gold but we soon learn she's a deadly vampire hiding her need to consume human flesh.
Compared to the high-end fantasy battles of Fate, Tsukihime has a more subdued and slow pace with only a couple of fights here or there in each route. Instead, it focuses far more on character tension. Each person has their own agenda, desires, and resentments that they keep hidden. Some want Shiki dead; some want to manipulate him, and some are being manipulated themselves. As you complete more routes and see the different sides of each character, the paranoia only ramps up. You are never sure who Shiki can trust and if he can even trust himself considering he too holds his own dark secrets. The VN truly keeps you on your toes wondering what will happen with each route depending on your choices.
The Romance
Of course, alongside all this horror is a story of tragic love. It is a visual novel after all but it's the psychological tension that enhances the romance. How do you come to trust and love a person that can and will kill you? When you are a fragile high schooler (except when you're not) and they're a demon. This unpredictable forbidden love aspect leads to many touching moments in each route as characters realize that they may not be able to stay together just as they start getting close.
An important aspect of the novel is despite how dark and monstrous each character may act, at their core they're still just a regular person. They show fear, sorrow, and anger at their flaws the same way ordinary human beings would and cope with these emotions in similar ways:  denial, shame, revenge, it can get heavy. There's both light and tragedy in every route and while I definitely have my favorites, I can't say any of the heroines are badly written.
Accessibility
Probably the first thing you'd be wondering upon deciding to play this game is: how do I play this game? Well, that's the problem.
Tsukihime has not been officially released outside Japan however an English translation patch by the translation group 'Mirror Moon' does exist. The patch expects you to own an official copy of the PC version which is pretty rare and expensive nowadays. It is however pretty easy to find a pre-patched version over the internet or watch a Let's Play on Youtube which is likely going to be how you get your hands on it. Just to be clear, this is not me advocating for piracy. This is pretty much the only way you're going to be able to play the game if you don't speak Japanese.
The text can be pretty verbose but a plus is that compared to Fate/Stay Night or Kara no Kyoukai, Tsukihime's plot is fairly self-contained and not super complicated. Type-Moon works are known for their complex lore that can be hard to understand without a deep dive into the wiki.
Tsukihime has that if you want to look for it, with ideas like the 'archetypes' and how they led to the creation of the true ancestor vampires but for the most part, the VN doesn't expect you to know the thorough details of these concepts. It's a smaller-scale horror mystery story about helping a vampire hunt another vampire. It's good for those that want a bit more of a light read (well, as light as Nasu can get).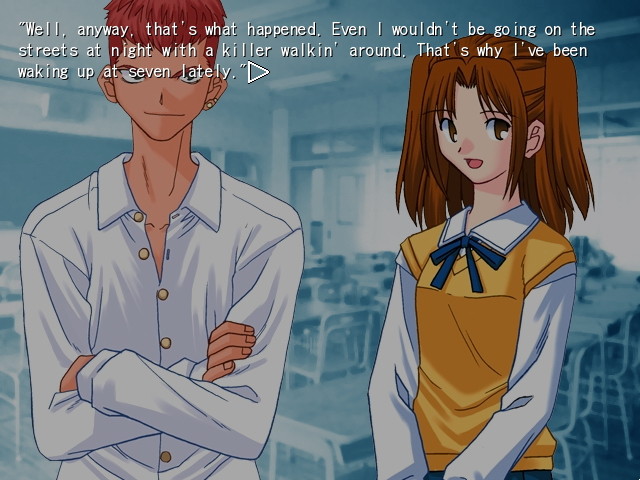 However, not everything in Tsukihime is for everyone though. As you have probably noticed the art has not aged well and the music, outside of the hauntingly serene main theme (which is beautiful) is not much better. This was still the early days of Type-Moon and you can tell this was made on a small budget.
As previously mentioned, it also has Hentai scenes and they're pretty bad. Nasu has stated in interviews that he finds writing them difficult and only did so because it was the style of the time. They're very awkward, bring the story to a grinding halt, and are not even that titillating. By the second or third one, you're probably going to be mashing the space bar for them to end faster.
What's important to understand is that Tsukihime's greatest strengths are its' writing and strong character development. If you like those in your VN, you'll like them here. If you need a better presentation, it might be better to wait for the remake to get translated.
That about does it for Tsukihime itself, but there are a few fellow ups and adaptations that are worth mentioning.
Kagetsu Tohya
In 2001, Type-Moon released a sequel to Tsukihime called Kagetsu Toyha although the sequel is a pretty loose term here. Kagetsu Tohya is primarily a fan disk, pretty much a series of quick bonus scenarios featuring the main cast in more outlandish situations that wouldn't really work in the original VN's canon.
The main plot is about Shiki attempting to escape a dream of repeating the same day over and over again. Being set in a dream means that the game can be set after any of Tsukihime's endings and that a lot of the wackier parts of the game can happen without questions. It's more or less a throwaway plot that exists the set up the different short stories.
I wouldn't call it essential to understanding the world of Tsukihime but Kagetsu Tohya can still be quite fun if you're a diehard fan. It gives a little more backstory to a few of the characters and events mentioned in the previous title. It also has some pretty funny skits, and yes, even includes some more h-scenes (and they're still not very well written).
My favorite part of the fan disk would probably be 'The Tohno Family Con Game' event where the entire cast gets together to play an elaborate game of tag. It's just fun seeing the entire cast just having a good time and not trying to kill each other, kinda like Carnival Phantasm.
The Tsukihime Anime
A Tsukihime anime adaptation was made in 2003 by JC Staff and released to a generally negative reception.
There's a major joke in the fandom that "there is no Tsukihime anime". It doesn't exist. That's because the Tsukihime anime was so bad and does such a poor job of capturing the game that fans believe that it shouldn't be seen as a true adaptation.
Is it that bad though?
Well, it's not terrible but it's far from good. The animation is stiff and lifeless even compared to the game's art which is especially a problem in the anime's few fight scenes. These are supposed to be the point where the characters show themselves for the super-powered forces of nature that they are but instead, they're just kinda slow and boring. It also had a bad idea of trying to combine routes together which makes the story feel muddled and badly paced. Unless you're a real Type-Moon completionist, I'd give it a skip.
The opening is pretty cool though.
The Tsukihime Manga
Tsukihime got a manga adaptation from 2003 – 2010 by Sasaki Shonen. The manga only covers Arcueid's route but incorporates the backstories of other characters found in other routes for greater detail.
I dare say, this is one of the best manga adaptations of a Type-Moon work. The art is fantastic. Up until the remake came out, this was by far the best-looking version of this story. It captures the dark atmosphere perfectly with nice detailed shots of deep blood. At the same time though, it also captures the cute slice-of-life scenes perfectly and the character's range of expressions is well-drawn through each of the different chapters.
Taking parts from other routes could have been a recipe for disaster but the manga knows to keep the core story intact and only use parts from the other routes when it's appropriate. It allows the manga to better flesh out the side characters and feel more complete as a standalone work while still capturing the narrative of the original text of the novel.
I bring up the manga because if for whatever reason, you can't or don't want to read the visual novel, I'd say this is the next best way to experience this story. You won't get the entire picture of the VN, it is one route out of five after all, but it still serves as a great self-contained horror romance in its own right and a good introduction to Tsukihime's cast and the world.
Melty Blood
Chances are if you've heard of anything in the Tsukihime series, it's Melty Blood. The fighting game spin-off series went on to become its own series with the latest entry Melty Blood: Type Lumina being released later this September.
Melty Blood takes place about a year after Tsukihime in a route where the previous bad guy was beaten but all of the heroines are also still alive and around. It's a bit of an excuse to get all the characters back without having to explain why but it works. The main heroine of this game is a new character named Sion Eltnam Atlasia. She wants to hunt down another evil vampire and enlists Shiki to help.
The game was developed by Soft Circle French Bread, who would later go on to make the Under Night Series which acts as something of a spiritual successor to Melty Blood. Sion even appears as a guest character under the name 'Eltnam'. I won't go over the fighting mechanics but the sprites for a doujin game are beautiful and it features a brand new story from Nasu that adds and expands on the pre-existing Tsukihime lore.
As of right now, these games are the only entries in the series that have been released officially overseas with Melty Blood Actress Again Current Code available on Steam and Melty Blood: Type Lumina releasing on PS4, Switch, and Steam. The new game is supposed to be a reboot of the subseries that will take place in the same continuity as the remake so it will likely be another good jumping-on point.
For more information on Melty Blood: Type Lumina, check out our review of the game.
Tsukihime Remake – A Blue Piece of Glass Moon
This finally brings us to the recent release of Tsukihime – A Piece of Blue Glass Moon for Nintendo Switch and PlayStation 4.
A Tsukihime remake was first announced in 2008 by Nasu with more details trickling out over more than a decade, including redesigned characters, music, and concept art. When asked why the remake took so long, Nasu said in an interview it was because his team was busy with Fate/Grand Order, and considering what a surprise success that game is, I can't exactly blame him.
The game has not been released in English and Nasu has asked for the game not to be spoiled so without giving any details away, the game is not just a remake but a complete reimagining of the original game from the ground up similar to the Final Fantasy VII Remake. While the overall plot is the same certain scenarios have been changed including new characters being added, old characters being removed, and vastly different plot points. The remake also does not have any h-scenes in it, which I'm fine with.
This game currently only covers the Near Side of the Moon Routes (Arcueid and Ciel). While this may be seen as a turn-off after 10 years of waiting, it is important to remember that with the original game, the Far Side routes were released after Near Side and they were only compiled together later.
Localization
As of this article, the game has not gotten an official release outside Japan which is a crying shame. I can understand why the original wasn't since it was released in the early 2000s when visual novels didn't really leave Japan but times have changed. Visual novels have been translated far more regularly, etching out a small but growing niche overseas. If popular VNs like Dangaronpa, The Science Adventure Series, and Higurashi can make it over, I don't see why Tsukihime can't.
This isn't even mentioning that many of Type Moon's recent works have been brought over including Fate/Extra, Fate/Grand Order, and the aforementioned Melty Blood games. Perhaps we'll see the remake later down the line but for now, we can only hope.
Update – 10/12/22: The Arceuied Route Tsukihime Remake has now received a fan translation, for English-speaking readers. The localization group, Tsukihimates, has started work on the Ciel route which is likely to be finished next year.
The Type-Moon visual novel, Witch on The Holy Night has also received an official localization from Aniplex USA so perhaps there is some hope that Tsukihime could also make it over.
Update – 03/06/23: The Tsukihime Remake is now confirmed to be getting an English localization! The game will release in Western markets in 2024.
The Blue Glass Moon
Hopefully, this long Tsukihime Retrospective has given you some idea of what Tsukihime is and what makes it so special among Type Moon's other works. The sense of dread and horror, lovable characters, and a more self-contained plot among other aspects.
If I were to pick certain areas to start with, I would go with the original visual novel (with the translation), the Tsukihime manga, or one of the Melty Blood games since even if they're spin-offs, they're still a great introduction to the cast. They're also the only Tuskihime media that is widely available. There is also of course the remake which will probably serve as the basis for the series going forward but unless you speak Japanese, that's going to have to wait for a bit.
While it may sound difficult to access, I genuinely believe Tsukihime is one of the best visual novels (and manga) that I have ever read and I implore you to seek the Blue Glass Moon in any way you can.
Tsukihime -A Piece of Blue Glass Moon- is available for Nintendo Switch and PS4 exclusively in Japan. Melty Blood: Type Lumina will be available for Switch, PS4, and PC in September.
Now if only they would make an actual Tsukihime anime. That would be great. Well, until then, there's always Carnival Phantasm.
Tsukihime A piece of blue glass moon
Nintendo Switch, PlayStation 4
---
Check This Out Next
---