After a while and a closed beta later, Konosuba Fantastic Days will finally release on 27 February 2020! The smartphone game adaptation of the wacky light novel series KonoSuba: God's Blessing on this Wonderful World! will open its doors to waiting fans wanting to see Kazuma and his posse of goddesses and friends. Below is the original trailer for the game:
From crossing_arcadia's comment, here's what you can expect:
Pre-registration rewards

1 guaranteed 4-star ticket
5,000 quartz

Battle arena mode

Time attack mode against an infinite HP boss. Deal as much damage as you can in 40 seconds

"Tons" of voice lines
Live 2D, changeable costumes and backgrounds, cute battle sprites
Fully-voiced game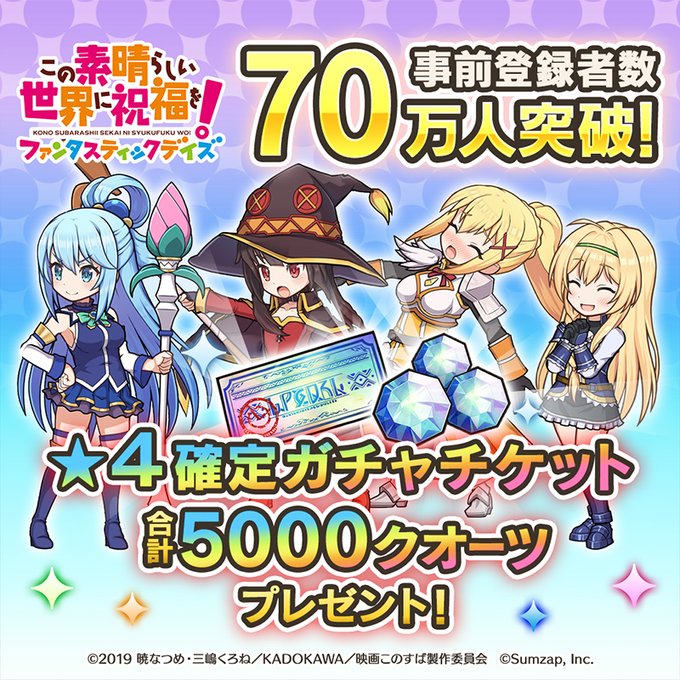 As a note, a 4-star is equivalent to an SSR, 3-star for SR, 2-star for R. A solo gacha pull is 300 quartz, with a 10-roll being 3,000 quartz. The game opening movie has also been shown off on the game's Twitter which you can check out below, as performed by machico, who voices Ibuki Tsubasa from The [email protected]: Million Live!.
It would seem you can expect the "Konosuba" experience from the story, so look forward to the various shenanigans! Perhaps later on in the game's life, we can also expect collaboration events with other series of this genre, like Re:Zero, maybe even Sword Art Online. Meanwhile, you can watch the livestream reveals below:
---
Check This Out Next
---